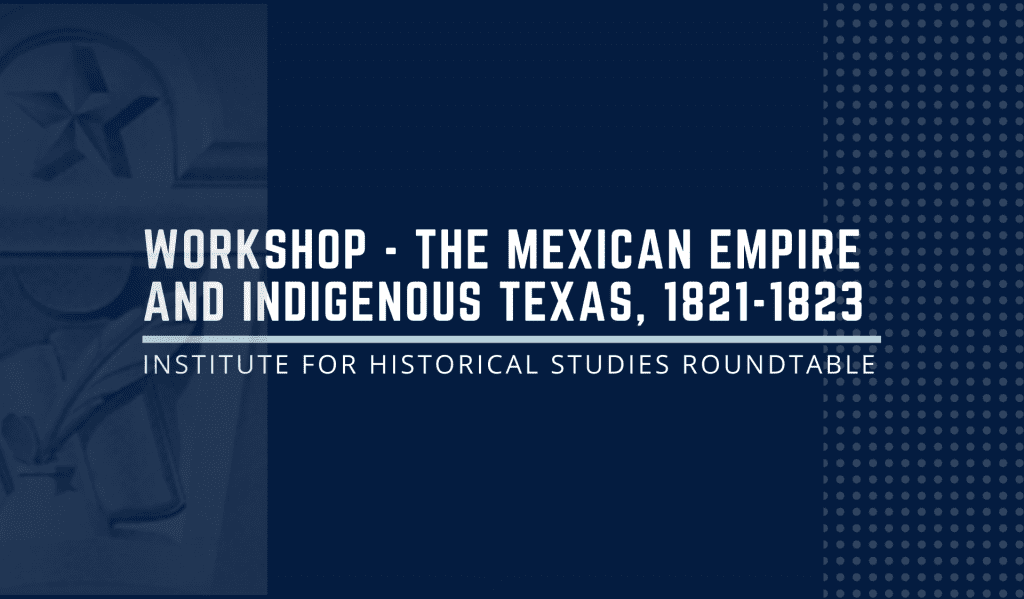 Monday September 20, 2021 • Webinar
12:00 PM – 1:30 PM
With the arrival of Iturbide's Mexican Empire in Tejas, the alliance of Apache with Comanche and with patriot-exile-Tejano raiders became the temporary victors. The creation of Empire led to the return of diplomatic negotiations between Comanches -Apache-Tejano raiders and Iturbide's Empire. The new Empire relied on defeated, exiled Tejano patriots to reconstitute peaceful alliances with Comanche and Apache. In Central Mexico the triumph of Iturbide's empire signified the triumph of casta insurgents' irregular armies led by pardo leaders like Vicente Guerrero. The Empire's Plan de Iguala secured radical new notions of citizenship, one in which rights were no longer linked to special packages of racial privileges or lack thereof. The triumph Empire linked the center of Empire and Tejas in new ways. When the Empire triumphed, Iturbide, who had neglected Tejas as general of the of armies of northern provinces, appointed Tejano allies of Comanches and Apaches to invite the indigenous raiders to the capitol to reestablish diplomatic relations. Iturbide and Guerrero did not want Tejas to be controlled by Anglo settler's bent in bringing slavery across the Sabine River into Mexico. Sheena studies these few months of radical novel possibilities and their ultimate undoing. This Imperial project ultimately collapsed as the ideas of Eurocentric civilization in the discourses of radical pardo liberals like Guerrero never considered Apaches and Comanches as more than potential citizens to civilize.

Sheena Cox is a Borderlands Ph.D. Candidate at The University of Texas at Austin. Her research is focused on the Liberal Enlightenment in Texas and its impact on Indigenous relations with Tejanos and Mexicans, 1810-1839. In addition to her dissertation research, Sheena is also dedicated to public history and historic preservation through projects with the Bullock Texas State History Museum and the Texas Historical Commission. From 2019-2021, Sheena worked as the coordinator for TSHA's annual meeting program. She has served as a graduate research assistant for the Handbook of Texas, and as an assistant editor for the Handbook of Texas Women and Handbook of Dallas Fort-Worth Handbook projects.

Respondents:

Dr. Miruna Achim
Associate Professor of Humanities,
Universidad Autónoma Metropolitana-Cuajimalpa, Mexico City

Dr. Paul Conrad
Associate Professor
University of Texas at Arlington

Dr. Catherine Andrews
Secretaria Académica
Centro de Investigación y Docencia Económicas (CIDE), Mexico City

Read about the IHS Graduate Research Fellows this Year:
https://notevenpast.org/institute-for-historical-studies-race-and-caste-research-theme-2021-22/

About the "Race and Caste" Theme in 2021-2022:
https://liberalarts.utexas.edu/historicalstudies/theme/overview.php

Please register at this link in order to receive the pre-circulated paper and link to access the event: https://utexas.zoom.us/webinar/register/WN_96QRVTaCSyydpp2jZMWuwg.
---
The views and opinions expressed in this article or video are those of the individual author(s) or presenter(s) and do not necessarily reflect the policy or views of the editors at Not Even Past, the UT Department of History, the University of Texas at Austin, or the UT System Board of Regents. Not Even Past is an online public history magazine rather than a peer-reviewed academic journal. While we make efforts to ensure that factual information in articles was obtained from reliable sources, Not Even Past is not responsible for any errors or omissions.