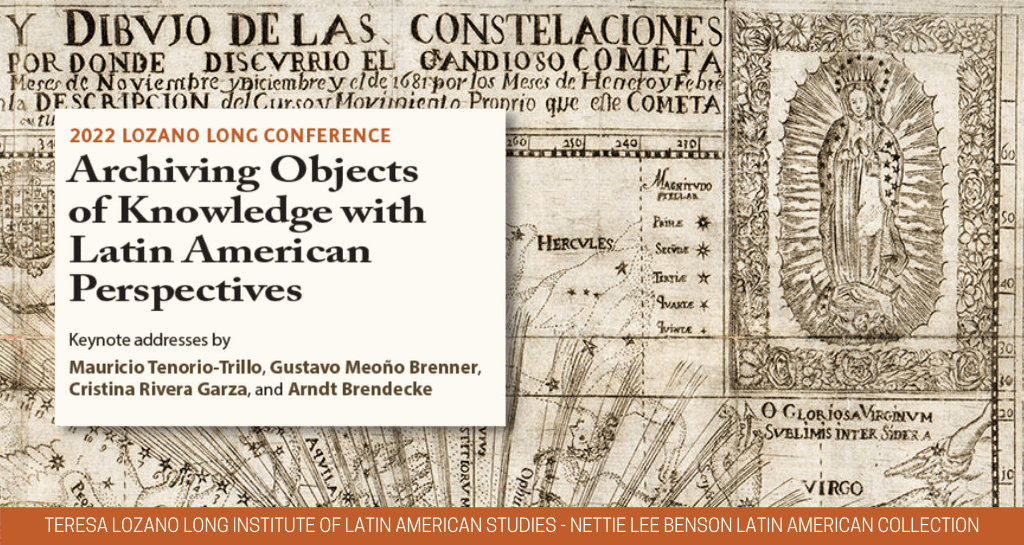 Not Even Past is excited to collaborate with the organizers of the 2022 Lozano Long Conference which will take place on February 24-25 2022.
In honor of the centennial of the Nettie Lee Benson Latin American Collection, the 2022 Lozano Long Conference initiates a conversation on archives with Latin American perspectives and practices. Archives, broadly speaking, are sites where the collection, organization, and processing of documents and objects have preserved memories or silenced pasts. Archives also serve as repositories of knowledge and spaces of interpretation where we can uncover and reshape past and present power relations.
The Benson Latin American Collection at The University of Texas at Austin offers a unique archival vantage point to study the colonial, republican, and modern histories of Latin America and the Caribbean. From that platform, this interdisciplinary conference will explore evolving practices, philosophies, and politics of archival work; identify ways to improve access to cultural heritage; and foment community engagement and empowerment. It brings together leading and up-and-coming scholars, archivists, social activists, and digital humanities practitioners. In assembling this diverse group, the organizers seek to strengthen archival networks while also activating dialogues between and among U.S., Iberian, and Latin American academic communities working on and with archival materials.
While significant scholarly work has engaged in the "archival turn," and pioneering scholarship has considered the role of archives for the North Atlantic world, relatively less consideration has been given to the early-modern Iberian Atlantic and subsequent Latin American and Caribbean worlds. This, despite the fact that Latin American archives have historically played critical roles in state-building processes, enabling academic research, safeguarding national memory creation, empowering communities, or even contributing to post-conflict reconciliation efforts. Furthermore, recent developments in the digital humanities as related to Latin America and the Caribbean are expanding and reformulating archival practices of display, outreach, and collaboration in ways that seek to democratize access. In short, centering the conference on Latin America allows for a rethinking of archival practices and their ethical and political implications on a global scale.
Confirmed speakers include
Cristina Rivera Garza who is at the University of Houston and award winning novelist https://www.uh.edu/class/spanish/faculty/rivera-garza-c/
Gustavo Meoño Brenner (Guatemala, ex director del Archivo Histórico de la Policía Nacional).
---
Thursday, February 24
Archival Politics, Philosophies, and Practice
Opening Ceremony and Keynote Address
Opening Remarks
Adela Pineda Franco, Director, Teresa Lozano Long Institute of Latin American Studies (LLILAS); Melissa Guy, Director, Benson Latin American Collection; and Lina Del Castillo, Associate Professor, LLILAS and Department of History
Opening Keynote: "On History and Monuments"
Mauricio Tenorio-Trillo, University of Chicago, CIDE
Respondent and Q&A moderator: Lina Del Castillo
More to Explore:
---
Panel 1 – Histories of Collecting and Stories
This panel centered on collecting, understood as the process of categorizing things as similar and then bringing them together into the same space, be it in physical or virtual forms. Each process of collecting has a history, and the collectibles themselves each also have stories to tell. The case studies explored here include tangible objects, such as documents or artifacts, as well as intangibles, such as literary narratives. By opening an interdisciplinary dialogue on narratives of collecting and collecting narratives in Latin America, we hope to highlight diverse ways of understanding processes behind the creation of archives.
Moderator: Lina Del Castillo, Associate Professor of Latin American History, The University of Texas at Austin
Discussant: Sylvia Sellers-García, Professor of History, Boston College
Individual Presentations
"Erotic Archival Imaginaries: Collecting, Archiving, and Destroying Pornography in Mexico"
Zeb Tortorici, New York University
More to Explore:
"Jade drawers and speculative cartographies: collecting, storing, and configuring Mesoamerica since the nineteenth century"
Miruna Achim, Universidad Autónoma Metropolitana Cuajimalpa
More to Explore:
"Escritoras que no existen. Repensando la función del archivo frente a la producción literaria contemporanea"
Adriana Pacheco, Founder/Producer, Hablemos, Escritoras podcast
More to Explore:
"Boom and Bust: Locating Revolution in the Benson Collection's Julio Cortázar Papers"
César A. Salgado, The University of Texas at Austin
More to Explore:
"Los papeles y los días (terrenales) de José Revueltas"
José Manuel Mateo Calderón, Universidad Nacional Autónoma de México
More to Explore: