by Andrew White
In "The Devil's Rope," first place winner in the Senior Individual Website category, Andrew White explores the fascinating history of barbed wire, including its invention, role in the American West, applications in war and modern usages:
"Barbed wire transformed the West, the United States, and the world. The cheaply made twisted wire cost pennies-per-mile to fence the endless plains. The simple design allowed it to be mass-produced by machine, an innovation in itself. It took great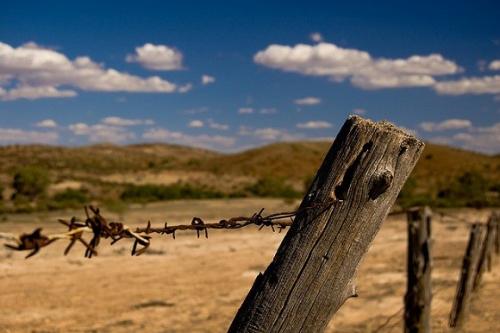 salesmanship and nearly caused a civil war, but barbed wire became commonplace on every range and prairie in America. This superb animal deterrent soon became a human deterrent and has been used in all military operations since the late 19th century. Trench warfare would never have been effective without some form of cheap, portable obstruction.
Barbed wire was one of the most important inventions used during the World Wars. As technology raced ahead, barbed wire was still being used and it still is. Nuclear reactors, space shuttles, particle accelerators, all marvels of the modern era, all utilize simple barbed wire protection. Visionary men saw a need and they did not stop until that need was answered. Barbed wire represents a true American invention that has withstood the test of time."
Photo credits:
All photos courtesy of "The Devil's Rope"