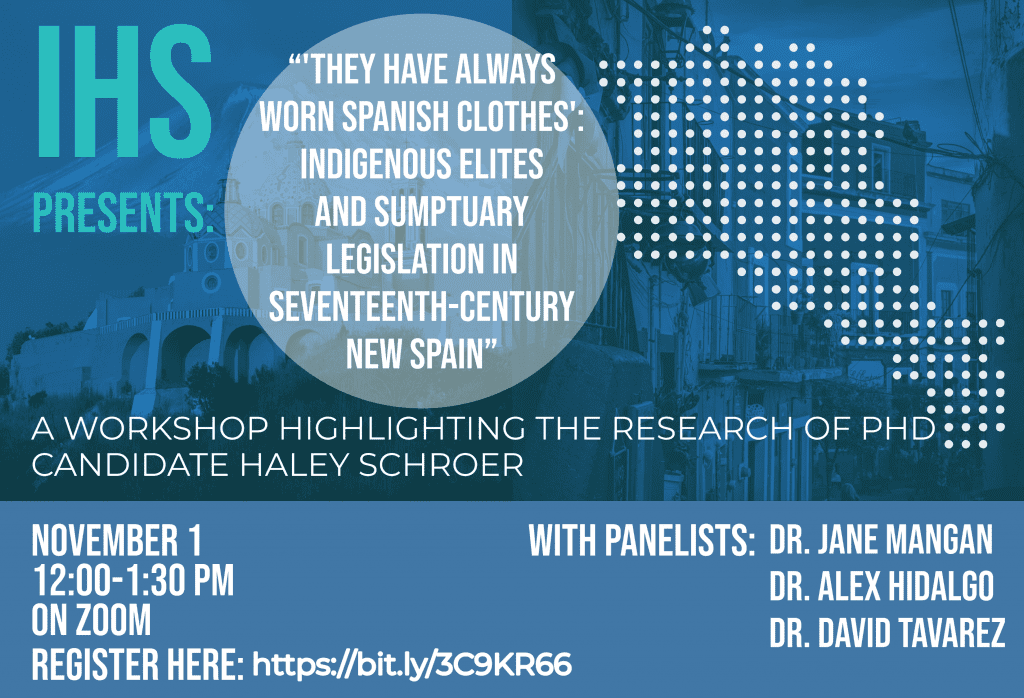 Institute for Historical Studies – Monday, November 1, 2021
Notes From the Director
At the start of the seventeenth century, colonial Mexico experienced the rise of discriminatory sumptuary legislation – statutes that barred select ethnic groups from wearing certain dress or using particular items. This article evaluates the positions of indigenous individuals who requested clothing exemptions and the local authorities who sought to deny those privileges. As colonial authorities increasingly marginalized native groups within the legal sphere, elite men sought to assert their belonging through material means. In turn, sumptuary legislation played an active role on the local level as town officials utilized restrictions to consolidate their fragile power base. Just as clothing and honorific objects provided opportunities for native elites, so too did the control of those items allow petty administrators to assert their own authority amidst fears of declining prestige. "They Have Always Worn Spanish Clothes" thus evaluates how racial dynamics played out through attire and appearance.

Haley Schroer is a Ph.D. candidate in colonial Latin American history. Her work focuses on the intersection of race and material culture in colonial Latin America. In particular, her dissertation examines the rise of racialized clothing laws in the Spanish Empire throughout the seventeenth century. Her research has received support from the Fulbright Program, The Social Science Research Council International Dissertation Research Fellowship Program, the P.E.O. Sisterhood, and The Conference on Latin American History's James R. Scobie Award. Schroer received a B.A. in History and Spanish, Summa Cum Laude, from Texas Christian University in 2016. She earned her M.A. from UT Austin in May 2018 where her master's report, "'Scandalizing the Public': Clothing and Perception in Mexico City's Seventeenth-Century Inquisitorial Sumptuary Trials" won the 2019 Perry Prize for Best Master's Thesis/Report. She is currently completing her dissertation under the direction of Dr. Susan Deans-Smith and Dr. Ann Twinam.

Respondents:

Dr. Alex Hidalgo
Associate Professor of History and Director of Undergraduate Studies,
AddRan College of Liberal Arts
Texas Christian University

Dr. Jane Mangan
Mary Reynolds Babcock Professor of History and Latin American Studies; Acting Chair of History (Fall 2021); Director, Center for Interdisciplinary Studies; and Director, Davidson in Peru,
Davidson College

Dr. David Eduardo Tavarez
Professor of Anthropology and Director of Latin American and Latinx Studies,
Vassar College
Sponsored by: Institute for Historical Studies in the Department of History, and Center for European Studies.