by Priya Ramamoorthy, Kavya Ramamoorthy, Smrithi Mahadevan and Maanasa Nathan
On August 6th, 1965, President Lyndon B. Johnson signed the Voting Right Act of 1965 into law, outlawing any state effort to "deny or abridge the right of any citizen of the United States to vote on account of race or color." This law was a watershed moment for the Civil Rights movement and helped ensure a generation of African-Americans access to the polls.
For their Texas History Day submission, Westwood High School students Priya Ramamoorthy, Kavya Ramamoorthy, Smrithi Mahadevan and Maanasa Nathan created "The Voting Rights Act of 1965: One Vote, One Voice," a website that tells the story behind this iconic piece of legislation: the legal impediments that prevented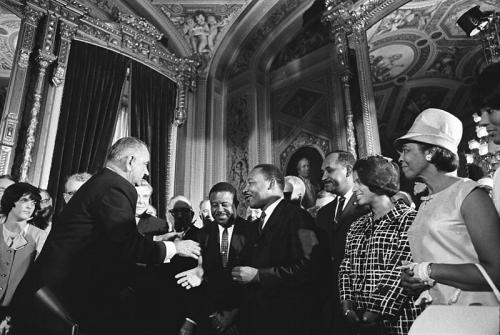 African-Americans from voting in the 19th and 20th century; the political activists who fought for voting reform; the provisions of the law; and its social, political and economic impact on the United States. The site even includes first person interviews with Amelia Boynton, Matriarch of the Voting Rights Movement, and former U.S. Attorney General Ramsey Clark.
The group concludes that the Voting Right Act of 1965 represented a "pivotal turning point in legislative history" which ensured that "discriminatory practices such as literacy tests and other barriers could no longer hinder minority voters." Moreover, they argue that the increase in minority voters that resulted from the VRA "vaulted many talented African-American politicians into positions of power." However, the students also caution that much work is left to be done as many "vestiges of discrimination in voting continue to exist which hinder minorities' ability to participate in voting." Even today, the Voting Rights Act of 1965 remains critical to American democracy.
Click on the link at the top of the page to check out this remarkable website, which was just awarded National History Day's History of Congress Award recognizing "an outstanding entry in any category and from either division which has as its primary focus the history of Congress."
Photo Credits:
President Lyndon B. Johnson greeting Dr. Martin Luther King Jr. at the signing ceremony of the Voting Rights Act, August 6, 1965 (Image courtesy of the U.S. Government)