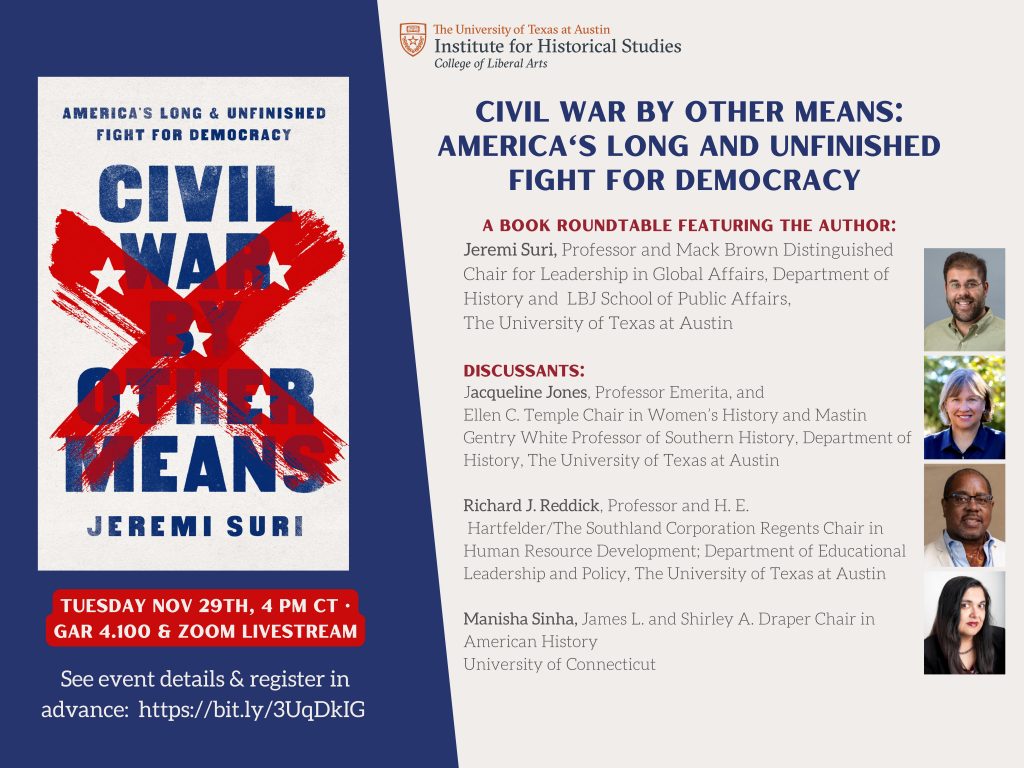 Civil War by Other Means: America's Long and Unfinished Fight for Democracy
(Public Affairs, Hachette Book Group, October 2022)
In 1865, the Confederacy was comprehensively militarily defeated, its economy shattered, its leaders in exile or in jail. Yet in the years that followed, Lincoln's vision of a genuinely united country never took root. Apart from a few brief months, when the presence of the Union army in the South proved liberating for newly freed Black Americans, the victory was squandered. Old white supremacist habits returned, more ferocious than before. In Civil War by Other Means, Jeremi Suri shows how resistance to a more equal Union began immediately. From the first postwar riots to the return of Confederate exiles to the impeachment of Andrew Johnson to the highly contested and consequential election of 1876, Suri explores the conflicts and questions Americans wrestled with as competing visions of democracy, race, and freedom came to a vicious breaking point. What emerges is a vivid, and at times unsettling, portrait of a country striving to rebuild itself, but unable to compromise on or adhere to the most basic democratic tenets. What should have been a moment of national renewal was ultimately squandered, with reverberations still felt today. The recent shocks to American democracy are rooted in this forgotten, urgent history.
Jeremi Suri holds the Mack Brown Distinguished Chair for Leadership in Global Affairs at the University of Texas at Austin. He is a professor in the University's Department of History and the LBJ School of Public Affairs. Professor Suri is the author and editor of eleven books on politics and foreign policy, most recently: Civil War By Other Means: America's Long and Unfinished Fight for Democracy. His other books include: The Impossible Presidency: The Rise and Fall of America's Highest Office; Liberty's Surest Guardian: American Nation-Building from the Founders to Obama; Henry Kissinger and the American Century; and Power and Protest: Global Revolution and the Rise of Détente. His writings appear in the New York Times, Washington Post, Wall Street Journal, CNN.com, Atlantic, Newsweek, Time, Wired, Foreign Affairs, Foreign Policy, and other media. Professor Suri is a popular public lecturer and comments frequently on radio and television news. His writing and teaching have received numerous prizes, including the President's Associates Teaching Excellence Award from the University of Texas and the Pro Bene Meritis Award for Contributions to the Liberal Arts. Professor Suri hosts a weekly podcast, "This is Democracy."
Discussants:
Jacqueline Jones
Professor Emerita, and
Ellen C. Temple Chair in Women's History and Mastin Gentry White Professor of Southern History
Department of History
The University of Texas at Austin
Richard J. Reddick
Senior Vice Provost for Curriculum & Enrollment and Dean of Undergraduate Studies Designate;
H. E. Hartfelder/The Southland Corporation Regents Chair in Human Resource Development;
Professor, Higher Education Leadership Program, Department of Educational Leadership and Policy;
Assistant Director of the Plan II Honors Program, College of Liberal Arts; and
Faculty Affiliate, African and African Diaspora Studies Department, and John L. Warfield Center for African and African American Studies
The University of Texas at Austin
Manisha Sinha
James L. and Shirley A. Draper Chair in American History
University of Connecticut
Profile Page: https://manishasinha.com