Not Even Past is a digital magazine that serves as a robust platform for Public History with a global reach. It was founded in 2010 and developed by academics in the Department of History at the University of Texas at Austin. It is read by around half a million users each year. The site has three main goals. Not Even Past aims, first, to bring great History writing to the public. The faculty and graduate students in the Department of History are committed to making our research freely accessible to anyone interested in History and Not Even Past provides a key vehicle for this. Second, the site serves as a reliable and frequently updated resource for History online. We publish extended research features, book recommendations, reviews of historical films and digital archives, teaching and course profiles, and stories that shed light on intriguing corners of the past. Although much of our content comes from scholars associated with the University of Texas at Austin, we also publish the work of academics and students from different institutions across the world. Third, Not Even Past provides a way for past graduates and supporters of the History program to stay in contact with the department and the full range of its activities.
In addition to our standard features, we work each year with the Institute for Historical Studies to develop an online library of resources related to the IHS theme. As historians at the flagship public university in Texas, we also devote special attention to the diverse histories of the Lone Star state via our Texas section. Finally, Not Even Past is associated with 15 Minute History which is intended for teachers, students and anyone interested in history.
The title of the website reflects our professional and ethical commitment to bringing the work of professional historians into a public conversation that illuminates the importance of the past in shaping our actions, values, and beliefs in the present. In short, we believe that the past is never dead, it's not even past.
Evolution of Not Even Past since 2010
CURRENT STAFF
Dr. Adam Clulow, Editor
Gabrielle Esparza, Associate Editor and Communications Director
Raymond Hyser, Digital Humanities Developer
Courtney Meador, Administrator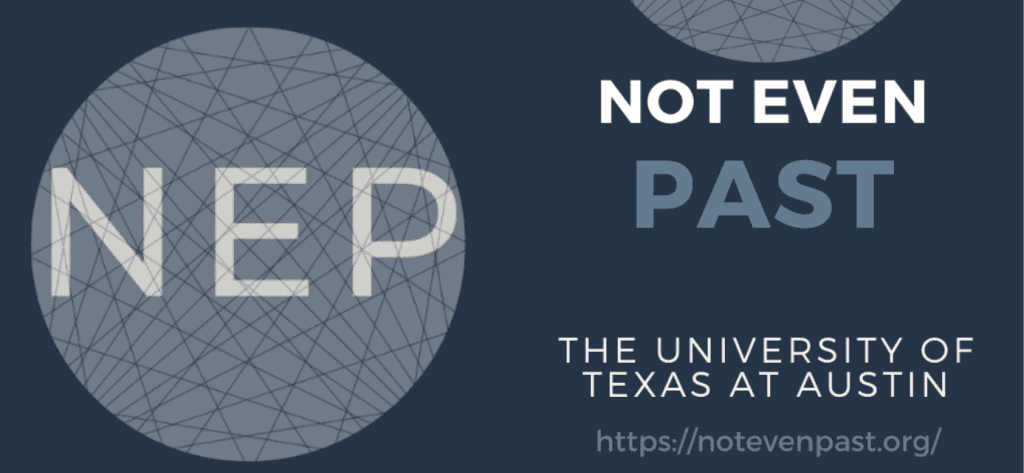 PAST STAFF
Dr. Joan Neuberger, Founding Editor
Alina Scott, Associate Editor and Communications Director, 2018-20
Stacy Vlasits, LAITS, Technical Coordinator
Jesse Ritner, Assistant Editor, Books Editor (2018-19)
Natalie Cincotta, Assistant Editor, Books Editor (2017-18)
Emily Whalen, Assistant Editor, Books Editor (2016-17)
Edward Shore, Public History Editor (2016-17)
Mark Sheaves, Senior Assistant Editor, Books Editor (2014-2016)
Henry Wiencek, Assistant Editor, Books Editor (2012-14)
Yana Skorobogatov, Assistant Editor, Books Editor (2011-12)
George Christian, Assistant Editor (2010-11)
Ben Breen, Assistant Editor, Books Editor (2011)
Kelli Mosteller, Assistant Editor, Books Editor (2010)
Charley Binkow, Daniel Resler, Undergraduate Interns (2013-14)
Kevin Stewart, Undergraduate Intern (2012-13)
Karl Hagstrom Miller, Theme Music Arrangement and Performance (prior to 2020)
Transcriptions: Yana Skorobogatov, Angela Smith, Kevin Stewart, Charley Binkow
Original site design, Suloni Robertson and What Will They Do Next?
Revised site design: Stacy Vlasits
Site implementation, Kate Broussard and David Johannes
Site development & technical Support, Ming Gong, Lauren Moore, Ryan Miller, Stacy Vlasits
Development Team, George Christian, Rick Geyer, Joel Kocher, Courtney Meador, Kelli Mosteller, Joan Neuberger, Alan Tully
Image of Garrison hall kindly supplied by Ray Rafidi.
NOT EVEN PAST wishes to thank the following for their support: the Department of History Visiting Committee, Josiah Daniel III, the current and former deans of the College of Liberal Arts, Gary Susswein and Kathleen Aronson at COLA, College of Liberal Arts Instructional Technology Services, Tim Fackler and Joe TenBarge at LAITS, Rick Geyer, Alan Tully, Jackie Jones, Daina Ramey Berry, Joel Kocher and the College of Liberal Arts.
All content © 2010-present NOT EVEN PAST and the authors, unless otherwise noted.
Disclaimer – The views and opinions expressed on Not Even Past are those of the authors and do not necessarily reflect the official policy or position of the Department of History or the University of Texas at Austin. Not Even Past is an online magazine rather than a peer-reviewed academic journal. While we have made every effort to ensure that the information contained across the site has been obtained from reliable sources and is line with academic standards, Not Even Past is not responsible for any errors or omissions