January 26 is Australia day, a national public holiday where the good people of that great southern land celebrate 'straya by taking a paid day off work, having a barbie in their backyards, and listening to Triple J's countdown of hottest 100 songs of the year, all while wearing the country's flag as a cape. Traditionally, these celebrations involve the consumption of copious quantities of alcohol.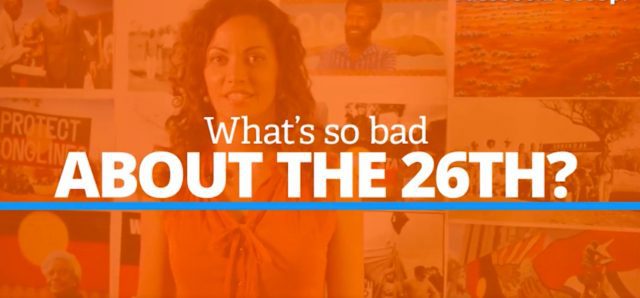 But this year Australia day is surrounded in controversy.  January 26 is the anniversary of the 1788 British invasion of Sydney – the beginning of the violent British conquest and colonization of the Australian continent. The British stole Aboriginal people's land (in one of the biggest acts of land theft in world history), and waged a genocidal war against the original inhabitants of Australia. Many Aussies are calling for the prime minister to #changethedate and move Australia day, because this important part of our history is not cause for celebration.
This viral video from Juice Media asks viewers, you wouldn't celebrate the 9/11 or the anniversary of the bombing of Hiroshima, so why would you celebrate 26 January?
In another video the Australian comedian Jordan Raskopoulos suggests we move Australia Day to May 8 (Mate – get it?) so our national holiday becomes a celebration of friendship, rather than genocide.
This year's #changethedate campaign has a long history. Many Aboriginal people rallied in Sydney against Australia Day on January 26, 1938: the 150th anniversary of the British invasion of the continent. On this 'Day of Mourning,' protestors demanded Aboriginal people be recognized as Australian citizens and granted equality before the law.
This year some local governments have responded to the call to #changethedate. The city of Freemantle in Western Australia has cancelled fireworks scheduled for January 26 and will host a free concert on  January 28. But the Federal Government won't follow suit any time soon. Earlier this week Senator James McGrath issued a press release in response to protests (along with a joke about "feral lefties in their vegan pyjamas calling for #Australiaday to be changed.")
Senator McGrath thinks he's pretty funny. We're not laughing.
At least one good thing has come from this debate. In a nation that is adept at forgetting, the #changethedate campaign has pushed the history of Aboriginal genocide into the public spotlight. This war to erase Indigenous people continued long into the twentieth century as the Australian government forcibly removed Aboriginal children from their families. Some argue that it continues today as the rate of Aboriginal incarceration and deaths in police custody remain high, and big mining corporations attempt to force Aboriginal communities from their resource-rich lands. Recognizing injustice in the past is key to achieving justice in the present.

You can learn more about the genocidal war against aboriginal people in Sydney by listening to this speech by Padraic Gibson to a Solidarity public meeting marking invasion day 2015.