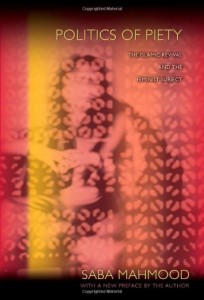 Pakistani anthropologist Saba Mahmood began her field research among Muslim women's revival (da'wa, Arabic "call") movements in Cairo in 1995 with a number of admitted preconceptions. An ardent feminist and leftist scholar, Mahmood assumed a certain degree of internalized subordination in women who find solace and meaning in deeply patriarchal traditions. Yet, over the course of two years listening to and learning from several religious revival groups run by da'iyat (female "callers"), she discovered an entirely different understanding of religious devotion. Her innovative ethnography of that time, Politics of Piety, sets out a new vision of feminist theory that re-examines the complicated, underexplored relationship between gender and religion from the perspective of women who participate within – as opposed to fight against – patriarchal systems. In doing so, Piety advances a new and timely approach to the study of ethics, identity, agency, and embodiment in post-colonial cultures.
Popularly accepted da'iyat are historically quite new. Concerns about possible gender-mixing improprieties and the belief that only men are intellectually and spiritually able to lead Muslim communities mean that, generally speaking, Islamic preaching and community leadership have been the prerogative of men alone. Female Islamic preachers arose as part of the resurgence of Islamic devotion that swelled region-wide in the Middle East beginning in the 1970s. They continued to gain popularity and acclaim as modern communications technologies facilitated women's access to Islamic education. By the 1990s, Muslim women from different social classes and backgrounds, all interested in rediscovering their religious community's rich traditions and ethical moorings, were regularly attending classes associated with local mosques, learning at the feet of dai'yat known for their moral rectitude and religious wisdom.
Mahmood describes Hajja Samira, a da'iya associated with a working-class mosque, and Hajja Faiza, a quiet, articulate Qur'anic exegete who teaches women from upscale neighborhoods, both of whom are deeply concerned with what they view as the modern abstraction of Islam into a private, personal affair that can be distinguished from other aspects of life. They teach their students to counter this secular division, emphasizing the "old Islamic adage: 'All life is worship.'" Other da'iyat engage in lively debates with their students and each other about the purpose and function of the hijab, or Islamic headcovering.
Mahmood meets with students as well, interviewing participants in the mosque movement from all walks of life, educational levels, and philosophies. She notes the complex self-awareness with which many women seek to negotiate the conflicting claims of modern life and Muslim morality, including, for example, women whose work demands require them to participate in practices of dubious piety like transacting business with men or traveling in mixed-sex vehicles. Throughout, Mahmood observes that the wilting, oppressed Muslim woman of popular imagination is nowhere in sight. This is, in part, because the women of the urban women's mosque movement are not primarily concerned with political equality or the implications of gender hierarchy. Rather than view their lives through a filter of political rights, they orient their understandings of self and role in terms of their obligations to God. Mahmood explores the intersection of that understanding with embodied practices, ethical issues, and personal identity, elaborating a theoretically dense and evocative approach to religion that will be useful to scholars in a variety of fields.
Images used under Fair Use Guidelines