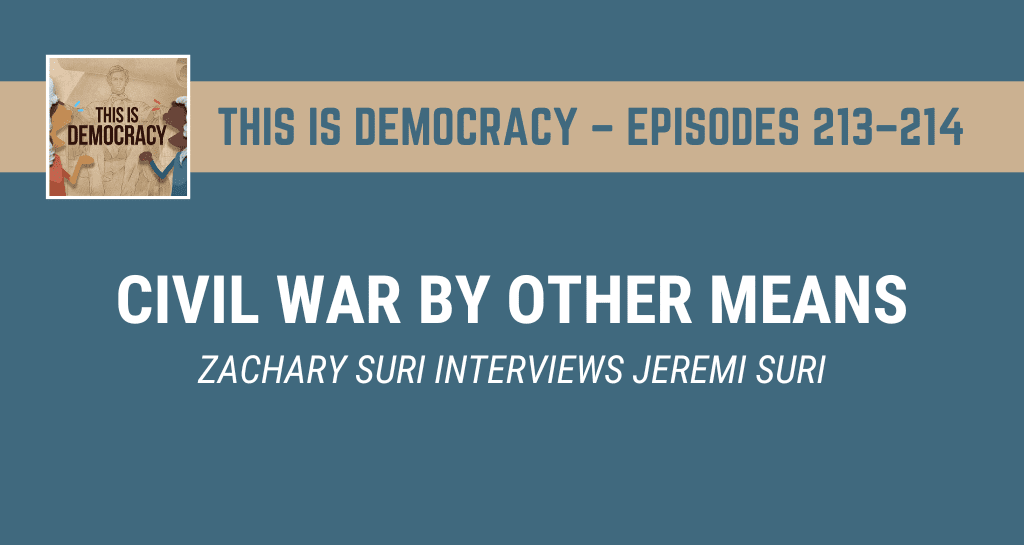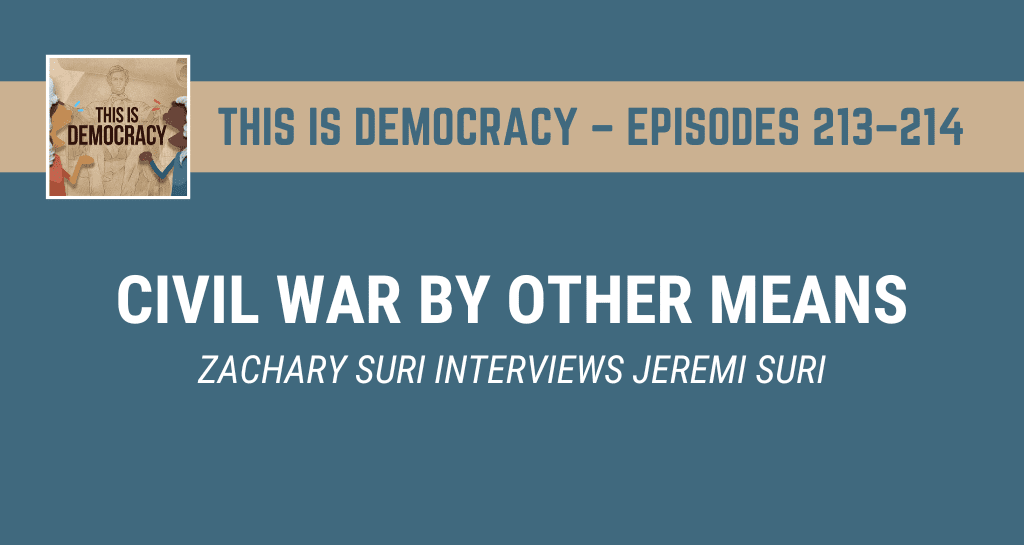 In this two-part episode, Zachary takes a turn at hosting and interviews Jeremi about his new book, Civil War By Other Means: America's Long and Unfinished Fight for Democracy. Tune in next week for part 2 of this discussion.
Zachary sets the scene with his poems "Every Season Goes" (Part I) and "The People Interrogate the Spirit of Democracy" (Part II).
Guest
Jeremi Suri holds the Mack Brown Distinguished Chair for Leadership in Global Affairs at the University of Texas at Austin. He is a professor in the University's Department of History and the LBJ School of Public Affairs. Professor Suri is the author and editor of eleven books on politics and foreign policy, most recently: Civil War By Other Means: America's Long and Unfinished Fight for Democracy. His other books include: The Impossible Presidency: The Rise and Fall of America's Highest Office; Liberty's Surest Guardian: American Nation-Building from the Founders to Obama; Henry Kissinger and the American Century; and Power and Protest: Global Revolution and the Rise of Détente. His writings appear in the New York Times, Washington Post, Wall Street Journal, CNN.com, Atlantic, Newsweek, Time, Wired, Foreign Affairs, Foreign Policy, and other media. Professor Suri is a popular public lecturer and comments frequently on radio and television news. His writing and teaching have received numerous prizes, including the President's Associates Teaching Excellence Award from the University of Texas and the Pro Bene Meritis Award for Contributions to the Liberal Arts. Professor Suri co-hosts a weekly podcast, "This is Democracy." His professional website is: http://jeremisuri.net.
About This Is Democracy
The future of democracy is uncertain, but we are committed to its urgent renewal today. This podcast will draw on historical knowledge to inspire a contemporary democratic renaissance. The past offers hope for the present and the future, if only we can escape the negativity of our current moment — and each show will offer a serious way to do that! This podcast will bring together thoughtful voices from different generations to help make sense of current challenges and propose positive steps forward. Our goal is to advance democratic change, one show at a time. Dr. Jeremi Suri, a renowned scholar of democracy, will host the podcast and moderate discussions.
---
The views and opinions expressed in this article or video are those of the individual author(s) or presenter(s) and do not necessarily reflect the policy or views of the editors at Not Even Past, the UT Department of History, the University of Texas at Austin, or the UT System Board of Regents. Not Even Past is an online public history magazine rather than a peer-reviewed academic journal. While we make efforts to ensure that factual information in articles was obtained from reliable sources, Not Even Past is not responsible for any errors or omissions.