President Woodrow Wilson's address in January 1918, later known as the "Fourteen Points," outlined the principles for the post-war new world order. According to this speech, the U.S. would support the right of every people to "self-determination" and "consent of the governed." Wilson also proclaimed that every nation, regardless of the size of its territory or population, should hold equal rights among the family of nations. Did Wilson honestly intend to grant every nation those rights? Can this message be considered universal? These vague questions are the basis for Erez Manela's The Wilsonian Moment.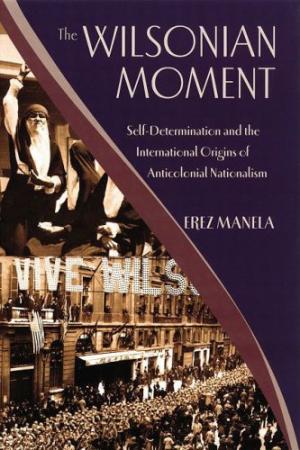 Manela closely examines the events that followed Wilson's address to Congress in a few distinct contexts. He identifies four nascent national movements that exemplify the profound impact Wilson had over the colonial world. These case studies — Egypt, India, China, and Korea – illustrate Wilson's emergence, development, and downfall as the great liberator of the colonial world. Manela begins with the contradiction that was embedded in America's new vision: as a small, but nevertheless active colonial power, how could America champion an anti-colonial order? That contradiction was expressed in the concept of "Benevolent Supremacy."  Americans viewed their project in the Philippines as a civilizing mission that would eventually enable the native people to take control over their fate. The success of previous endeavors, such as Cuba, gave them good reason to believe in this policy. The U.S. propaganda service (Committee on Public Information-CPI) supported this view by creating an inspiring, universalist message that became well known all over the world by the end of the First World War. The "dawn of a new era" that Wilson promised was well anticipated everywhere on the colonial world.
Manela's book is enjoyable and readable. With his rare breadth of expertise, Manela writes effective and illuminating introductions to each section. His ability to examine the exact same moment in five different countries (including the US) shows the genre of International History at its finest. His use of such sources as diplomatic correspondence, newspapers, journals, memoirs, and biographies in four different languages make the story more comprehensive than anything that has been told so far about this period.