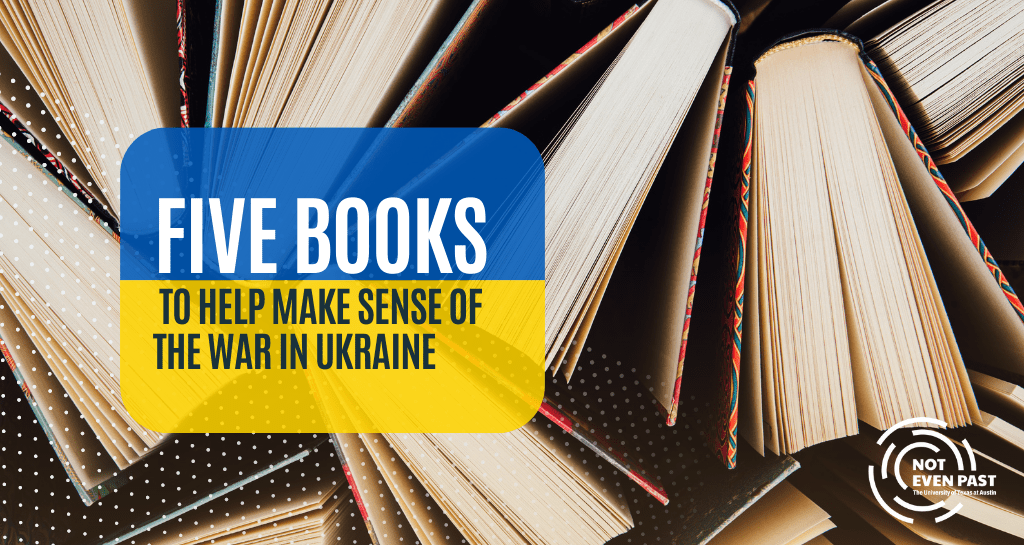 On 24 February, 2022, Russia shocked the world by dramatically escalating its longstanding war with Ukraine. Since then, numerous experts—including students, faculty, and alumni of the University of Texas at Austin—have performed a vital public service by commenting directly on the Ukraine crisis, unpacking its complicated origins and exposing its devastating impact. Inspired by their work, and hoping to enrich it further, graduate students enrolled in UT's History PhD program have prepared the following list of recommended books by leading scholars, all of whom have analyzed historical events and processes relevant to the war in Ukraine. None of the books listed below are about the war itself. Instead, they provide readers with background information that will help illuminate the war's broader historical contexts.
Brands, Hal. The Twilight Struggle: What the Cold War Teaches About Great-Power Rivalry Today. New Haven, CT: Yale University Press, 2022.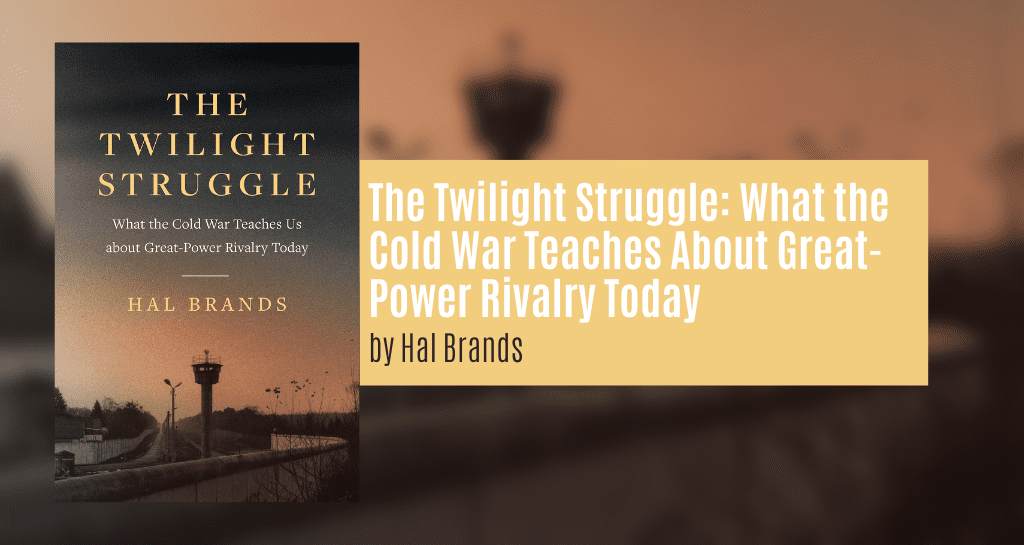 Proxy wars. Information warfare. Nuclear brinkmanship. These unsettling developments might seem out of place in our day. Yet what's going on inside and outside Ukraine's borders is nothing new. It's straight out of Moscow's Cold War playbook. As diplomatic historian Hal Brands shows in his new book, The Twilight Struggle, the Cold War offers American leaders lessons on how to take on today's great-power adversaries.
One of them concerns Russia. Given its invasion of Ukraine, the Russian Federation is behaving like its Soviet antecedent. The Twilight Struggle provides not only an overview of U.S. Cold War strategy but also lessons for the ongoing rivalry with Putin's Russia based on the past rivalry with the Soviet Union. Now that the United States and its NATO allies are becoming more and more involved in the war in Ukraine, academics and policymakers should study the historical record. This book is a great place to start.
U. S.-Russia sparring over the war in Ukraine eerily resembles U. S.-Soviet sparring during the Cold War. Both superpowers tried to limit the other's reach in Europe. They decried the other's ideology. Mutual distrust abounded. Many may have assumed the Cold War is a historical relic the likes of which we'll never again see. Not so fast, says the war in Ukraine. Brands' book is recommended reading for anyone who thinks the past informs us about the present and future.
—Daniel Samet
Horne, John, and Alan Kramer. German Atrocities 1914: A History of Denial. New Haven, CT: Yale University Press, 2001.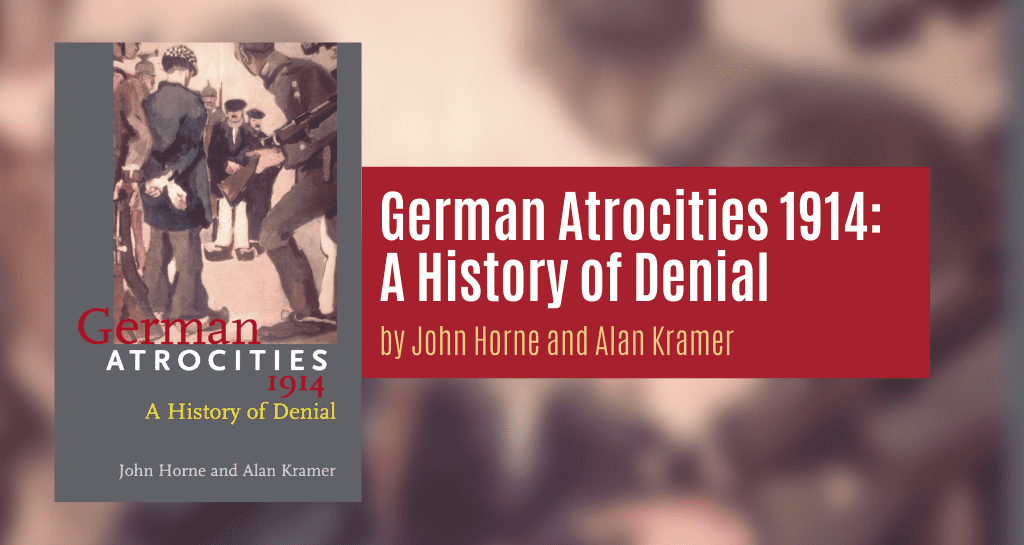 German Atrocities 1914 is a book about the German invasion of Belgium during the First World War. It's over twenty years old, and its authors, John Horne and Alan Kramer, have little to say about Eastern Europe. Nevertheless, it can teach us a great deal about a topic of grave and immediate import: war crimes.
Since the beginning of the war in Ukraine, the Russian army has been dogged by war crimes allegations, borne out by a growing body of eyewitness testimony and forensic evidence. The allegations, which may constitute proof of genocide, are extremely serious. They have also assumed enormous geopolitical significance, consolidating international support for Ukraine and further isolating the Russian government. Despite the Kremlin's increasingly strident and often ludicrous denials, Russian guilt seems clear. Ukrainians and their allies have every right to demand that Russian war criminals be held responsible for their crimes. But the incipient politicization of atrocity allegations presents investigators and concerned citizens alike with a serious challenge. How can they hope to ensure that justice prevails in the long run when competing claims to truth are transforming into weapons of war?
This same question occupies center stage in German Atrocities. Horne and Kramer don't provide an answer, but their thoughtful, well-researched book brings the scope of the problem into sharper focus. German Atrocities proves beyond a reasonable doubt that invading German soldiers—the "beastly Huns" vilified in Allied propaganda—really did commit war crimes in Belgium. It also describes the politically-charged clash of interpretations that began once evidence of German atrocities came to light. Allied leaders made German brutality a central theme of their calls to arms. The Germans, by contrast, wrongly insisted that they were fighting an equally brutal Belgian insurgency and that lawless violence was a legitimate means of reprisal. Horne and Kramer point out the many ways in which both sides dehumanized their opponents and distorted facts; they also suggest that many Germans sincerely believed their own delusional claims. Nevertheless, it remains clear throughout that the Allied position, though closely intertwined with wartime political objectives, stood much closer to the truth. Therein lay the seeds of a great tragedy. For when Allied propagandists demobilized at war's end, well-meaning skeptics combined with Germans denialists to discredit the atrocity allegations entirely. The history of German war crimes in Belgium thus became, according to Horne and Kramer, "a history of denial" that prevailed well into the twentieth century. That's a history we can't afford to repeat.
The investigation into Russian war crimes in Ukraine is likely to prove long and difficult. Over time, opinions about the Russian invasion could shift or diverge; political priorities in the United States and Europe might change, too. But so long as the ghastly reality of crimes themselves continues to haunt us, our duty to bring the perpetrators to justice will remain undiminished.
—John Gleb
Plokhy, Serhii. Lost Kingdom: The Quest for Empire and the Making of the Russian Nation. New York: Basic Books, 2017.
When Vladimir Putin, president of the Russian Federation, launched a new phase in his invasion of Ukraine in February 2022, he made it clear that he did not believe that Ukraine is a real country with its own distinct identity. He claimed that a "special operation" (i.e. a war) was necessary to bring Ukraine back under Russia's influence, not so much as it was in the Soviet Union, but rather as it was under the Russian tsar more than a century ago. With these claims, Putin ignores and tries to rewrite the actual history of both Ukraine and Russia.
In Lost Kingdom, historian and director of the Harvard Ukrainian Research Institute Serhii Plokhy lays out the entangled histories of Russia and Ukraine. He focuses on showing how Russian identity has been tangled up with the borderlands between Poland and Moscow and with the Muscovite (later Russian) empire. Russian nationalism evolved in response to repeated Polish uprising against the tsar in the 19th century. Imperial elites attempted to formulate a basis for the Russian empire's claim to Belarusian- and Ukrainian-speaking lands, which had been part of Poland-Lithuania until 1772. Such a basis would need to legitimize Moscow's claims not only abroad, but more importantly in those same borderlands. Since then, and despite Moscow's efforts, activists and intellectuals have largely succeeded in establishing a well-defined sense of Ukrainian nationhood on both sides of the Dnipro (Russian: Dnieper) river. Meanwhile, Russian nationalism remains entwined with Russian imperialism.
Because of the specific claims, myths, and justifications put forward by tsarist Russia in the past, Belarus and Ukraine hold special importance for Russian notions of Russia's empire and national identity. These claims reach back to the medieval realm of Kyivan Rus', which was a loose conglomeration of peoples and smaller principalities ruled over by the Viking or Varangian Rurikid dynasty. Kyivan Rus' was destroyed around the year 1240 by invading Mongol armies. Moscow came under Mongol rule while lands further west in what is modern-day Belarus and Ukraine came under Lithuanian (later Polish-Lithuanian) rule in the 1300s. Plokhy argues that the modern Russian state has again and again justified its imperial expansion by laying claim to the "mantle" of Kyivan Rus', seeing for itself a mission to "reunite" the Eastern Slavs in Great Russia (Russia), Little Russia (Ukraine), and White Russia (Belarus). These claims have consistently ignored the wishes and interests of Ukrainians, who stress their cultural and linguistic distinctiveness from Russia and emphatically reject the belittling label "Little Russians". The current war is thus an attempt by Moscow to subordinate Ukraine not only politically, but also culturally. Peace can only be achieved when Russians renounce their imperial claims and accept Ukraine as an independent state.
—Jonathan Parker
Renz, Bettina. Russia's Military Revival. Cambridge, UK: Polity Press, 2018.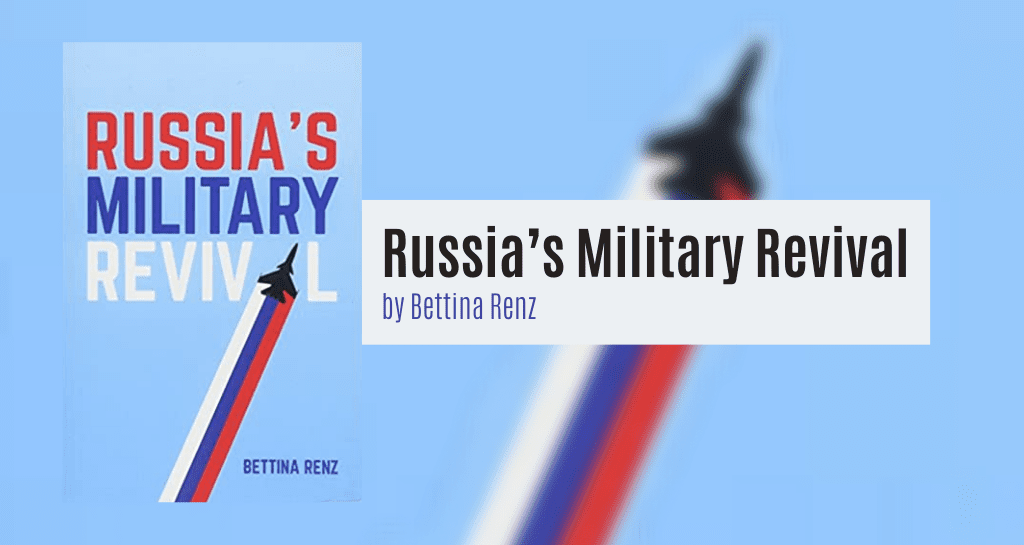 Russia's 2014 annexation of Crimea and subsequent air campaign over Syria surprised many countries. The actions demonstrated the extensive modernization of the Russian armed forces and signaled Russia's return as a serious global military power. Although some pointed to Russia's military revival as a paradigm shift in foreign policy, Bettina Renz contends that the army's improved capabilities and efficiency under Putin are part of longstanding trends in Russian military strategy and foreign policy. She divides her study into five chapters, which seek to provide historical and international context for the military's revival since the early 1990s. Focusing on the post-Soviet period, Renz provides an overview of Russian foreign policy, the reforms of the armed forces, the structure of the military establishment, foreign conflicts, and Russian military thinking.
Each chapter of Russia's Military Revival can be read as a stand-alone piece. This structure makes the book useful to experts and non-experts alike. Of particular interest to those looking to understand the current war in Ukraine is Chapter Four: "Russian Uses of Military Power Since 1991." Renz examines the 2014 annexation of Crimea and military actions in Ukraine and outlines various motivations for Russia's use of force. She also highlights the limits of Putin's efforts to modernize the Russian armed forces. Russia's Military Revival provides a comprehensive study of Russian military reforms and actions under President Putin while offering greater insight into his use of force as a tool of foreign policy and statecraft.
—Gabrielle Esparza
Sarotte, M. E. Not One Inch: America, Russia, and the Making of the Post-Cold War Stalemate. New Haven, CT: Yale University Press, 2021.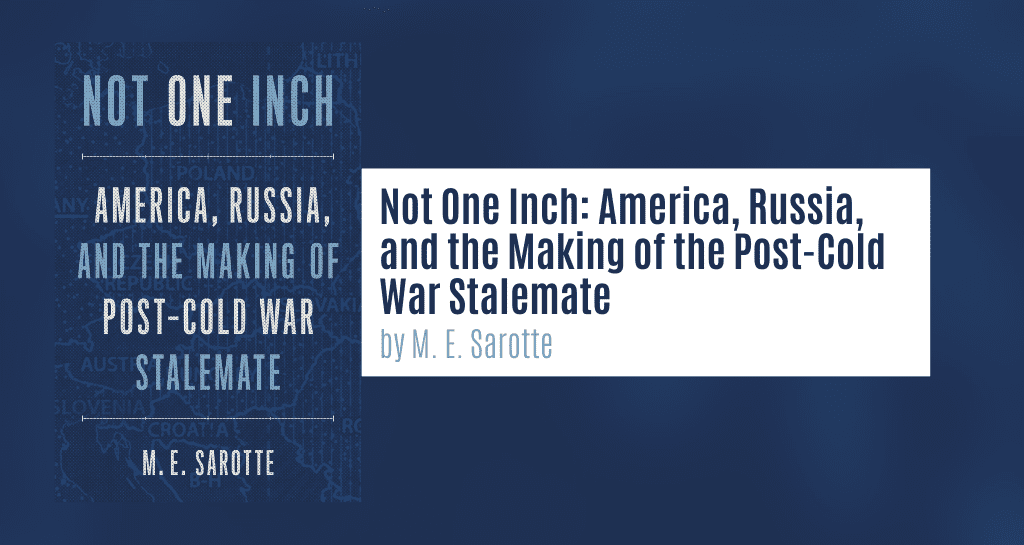 In an effort to justify his recent invasion of Ukraine, President Vladimir Putin has repeatedly cited a purported promise by former US Secretary of State James Baker to Soviet leader Mikhail Gorbachev that NATO would "not shift one inch eastward from its present position." Mary Sarotte's timely book Not One Inch (2021)uses this exchange as an entry point to examine Russo-American relations since the collapse of the Soviet Union. Sarotte convincingly shows that Baker's "pledge" was not delivered as a binding commitment but instead framed as a hypothetical bargain over the fate of a united Germany and its potential integration into NATO.
For Sarotte, Soviet collapse signaled the opening of a window of opportunity to transform relations between Cold War rivals. However, her account acknowledges the profound disruptions to the former Soviet bloc that complicated any such effort. Sarotte laments that US policymakers proved unable to capitalize on this moment to establish "lasting cooperation, rather than confrontation" with Russia. Instead, over the ensuing decades, NATO expansion into Eastern Europe and clashes between successive presidents on both sides "foreclosed" options for collaboration and soured Russo-American relations.
The accession of successive former Soviet states into NATO increasingly troubled Putin, and President George W. Bush's eventual push at a 2007 summit to include Georgia and Ukraine proved a tipping point. Putin's subsequent assault on Georgia in 2008, its occupation of Crimea in 2014, and its invasion of Ukraine in 2022 serve as the final death knell for more constructive relations between the West and Russia. Putin's actions have underscored the prescience of the final US Ambassador to the USSR, Robert S. Strauss. In November 1991, as the Soviet Union broke apart, Strauss wrote that "the most revolutionary event of 1991 for Russia may not be the collapse of Communism, but the loss of something Russians of all political stripes think of as part of their own body politic, and near to the heart at that: Ukraine." Considered within this broader context of the gradual deterioration of Russia's relationship with Western Europe and the US, the recent invasion appears as an all-too predictable next step rather than a bolt from the blue.
By identifying critical junctures in Russia's relationship with the West and spotlighting the effects of NATO's expansion Sarotte provides valuable insights for how to respond to recent events. To this end, Sarotte's final chapter identifies three guiding principles to pursue a "better future." First, renewed confrontation with Moscow is the "order of the day" and must be squarely addressed. Second, Putin's aggression provides a crisis that can help reinvigorate atrophying structures of transatlantic cooperation – that were forged through tremendous effort in the wake of World War II. Finally, leveraging a sober understanding of history can help prepare for the future. Those wondering how to respond to the multifaceted crisis unfolding in Ukraine would do well to glean insights from Sarotte's astute analysis.
—Jon Buchleiter
---
The views and opinions expressed in this article or video are those of the individual author(s) or presenter(s) and do not necessarily reflect the policy or views of the editors at Not Even Past, the UT Department of History, the University of Texas at Austin, or the UT System Board of Regents. Not Even Past is an online public history magazine rather than a peer-reviewed academic journal. While we make efforts to ensure that factual information in articles was obtained from reliable sources, Not Even Past is not responsible for any errors or omissions.