By Madeline Schlesinger
The UT history department has announced that Madeline Schlesinger is the winner of this year's Claudio Segre Prize, which recognizes each year's best History Honors Thesis. For her award-winning project, Madeline researched the infamous Hadamar Institution, a German hospital in which Nazi officials undertook a mass sterilization and euthanasia program against "undesirable" elements of society. Madeline's project specifically focuses on the legal proceedings that took place after Allied Forces discovered the facility and placed its personnel on trial for crimes against humanity. You can read her project's abstract below or download the entire paper in the link above.
Abstract:
Throughout the Second World War, the Third Reich used facilities at the Hadamar institution to carry out the Nazi euthanasia program—an operation that targeted German citizens suffering from mental illness and physical disabilities. Just months after Allied victory and the American liberation of Hadamar, a United States Military Commission led by the young Leon Jaworski tried personnel from Hadamar for violation of international law in the murder of 476 Soviet and Polish forced laborers. The Hadamar War Crimes Case, formally known as United States of America v. Alfons Klein et al., commenced in early October of 1945 and figured as the first postwar mass atrocity trial prosecuted in the American-occupied zone of Germany.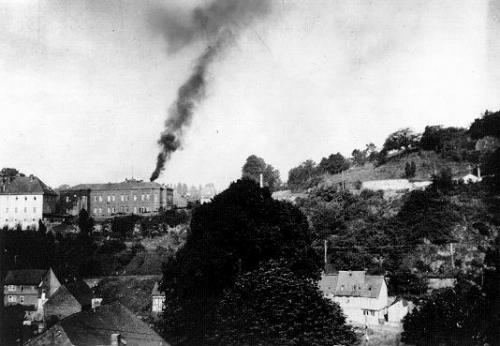 Smoke rising from the crematoria at Hadamar, probably 1941 (Image courtesy of the United States Holocaust Memorial Museum)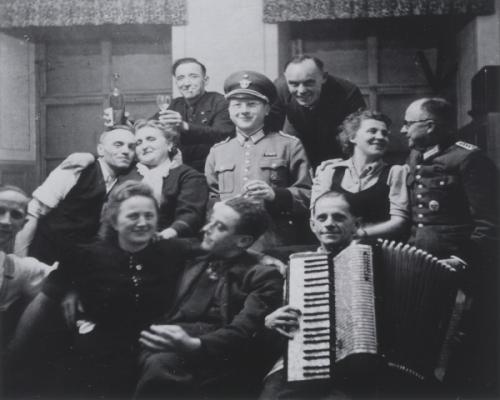 Hadamar Institute personnel socializing, sometime between 1940 and 1942 (Image courtesy of the United States Holocaust Memorial Museum)
Although often overlooked in the shadow of the subsequent events at Nuremberg, the Hadamar Trial set precedent for war crimes trials and the rewriting of international law to include the charge of crimes against humanity. In its historical context, the Hadamar trial tells a story much larger than the conviction of seven German citizens. It tells the story of the Third Reich's murderous euthanasia program, one of the United States' first confrontations with the crimes of the Holocaust, the inadequacies of international law in the immediate postwar period, the impossibility of true retribution in the aftermath of Nazi atrocities, and the slow erosion of justice in the years following the war.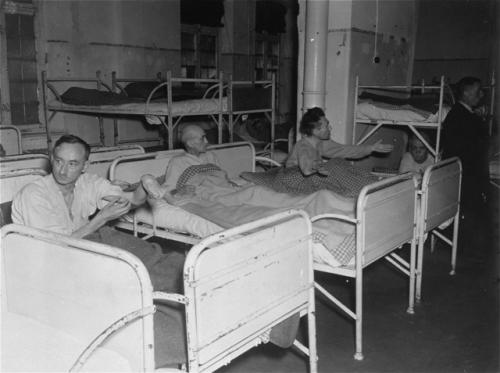 Three inmates of the Hadamar Institute soon after the U.S. military discovered the facility, April 5, 1945 (Image courtesy of the United States Holocaust Memorial Museum)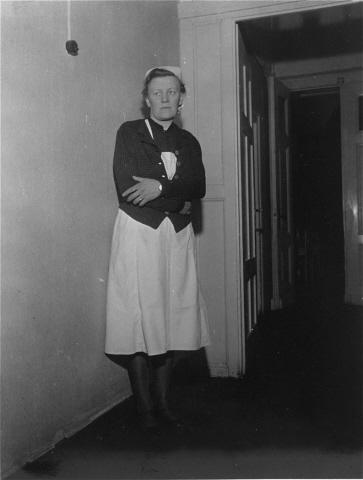 Irmgard Huber, chief nurse at Hadamar Institute, after American soldiers liberated the facility (Image courtesy of the United States Holocaust Memorial Museum)
My thesis aims to accurately depict the crimes committed at Hadamar, present the collision of German and international law during the proceedings, and prove the inadequacy of contemporary legal infrastructure to prosecute the crimes against humanity committed during World War II.