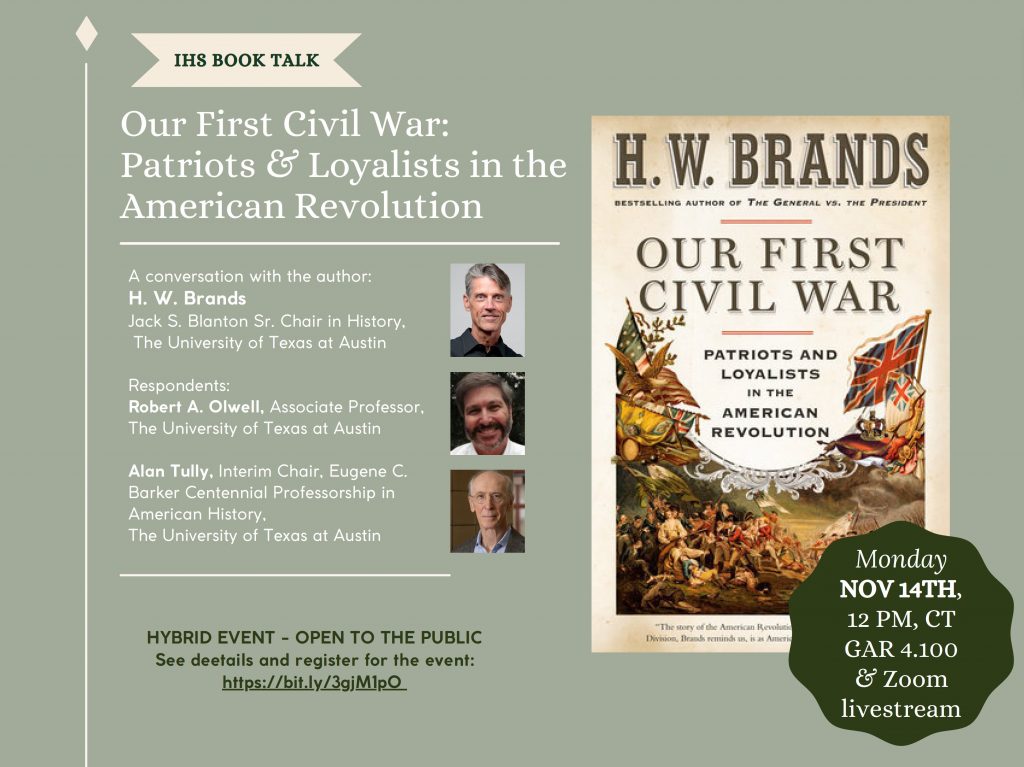 Our First Civil War: Patriots and Loyalists in the American Revolution
(Doubleday, 2021)

From best-selling historian and Pulitzer Prize finalist H. W. Brands comes a gripping, page-turning narrative of the American Revolution that shows it to be more than a fight against the British: it was also a violent battle among neighbors forced to choose sides, Loyalist or Patriot.

What causes people to forsake their country and take arms against it? What prompts their neighbors, hardly distinguishable in station or success, to defend that country against the rebels?  That is the question H. W. Brands answers in his powerful new history of the American Revolution.

George Washington and Benjamin Franklin were the unlikeliest of rebels. Washington in the 1770s stood at the apex of Virginia society. Franklin was more successful still, having risen from humble origins to world fame. John Adams might have seemed a more obvious candidate for rebellion, being of cantankerous temperament. Even so, he revered the law. Yet all three men became rebels against the British Empire that fostered their success.

Others in the same circle of family and friends chose differently. William Franklin might have been expected to join his father, Benjamin, in rebellion but remained loyal to the British. So did Thomas Hutchinson, a royal governor and friend of the Franklins, and Joseph Galloway, an early challenger to the Crown. They soon heard themselves denounced as traitors–for not having betrayed the country where they grew up. Native Americans and the enslaved were also forced to choose sides as civil war broke out around them.

After the Revolution, the Patriots were cast as heroes and founding fathers while the Loyalists were relegated to bit parts best forgotten. Our First Civil War reminds us that before America could win its revolution against Britain, the Patriots had to win a bitter civil war against family, neighbors, and friends.
Dr. H. W. Brands is Professor of History and Jack S. Blanton Sr. Chair in History at The University of Texas at Austin. He has written thirty books, coauthored or edited five others, and published dozens of articles and scores of reviews. His articles have appeared in the New York Times, the Wall Street Journal, the Washington Post, the International Herald Tribune, the Boston Globe, the Atlantic Monthly, the Smithsonian, the National Interest, the American Historical Review, the Journal of American History, the Political Science Quarterly, American History, and many other newspapers, magazines and journals. His writings have received critical and popular acclaim. The First American and Traitor to His Class were finalists for the Pulitzer Prize and the Los Angeles Times Prize. Several of his books have been bestsellers. Dr. Brands is a member of various honorary societies, including the Society of American Historians and the Philosophical Society of Texas. He is a regular guest on national radio and television programs, and is frequently interviewed by the American and foreign press. His writings have been published in several countries and translated into German, French, Russian, Chinese, Japanese, and Korean.
Discussants:
Robert A. Olwell
Associate Professor of History
The University of Texas at Austin
https://liberalarts.utexas.edu/history/faculty/olwellra

Alan Tully
Chair (Interim), and Eugene C. Barker Centennial Professorship in American History
The University of Texas at Austin
https://liberalarts.utexas.edu/history/faculty/tullywa1
---
The views and opinions expressed in this article or video are those of the individual author(s) or presenter(s) and do not necessarily reflect the policy or views of the editors at Not Even Past, the UT Department of History, the University of Texas at Austin, or the UT System Board of Regents. Not Even Past is an online public history magazine rather than a peer-reviewed academic journal. While we make efforts to ensure that factual information in articles was obtained from reliable sources, Not Even Past is not responsible for any errors or omissions.