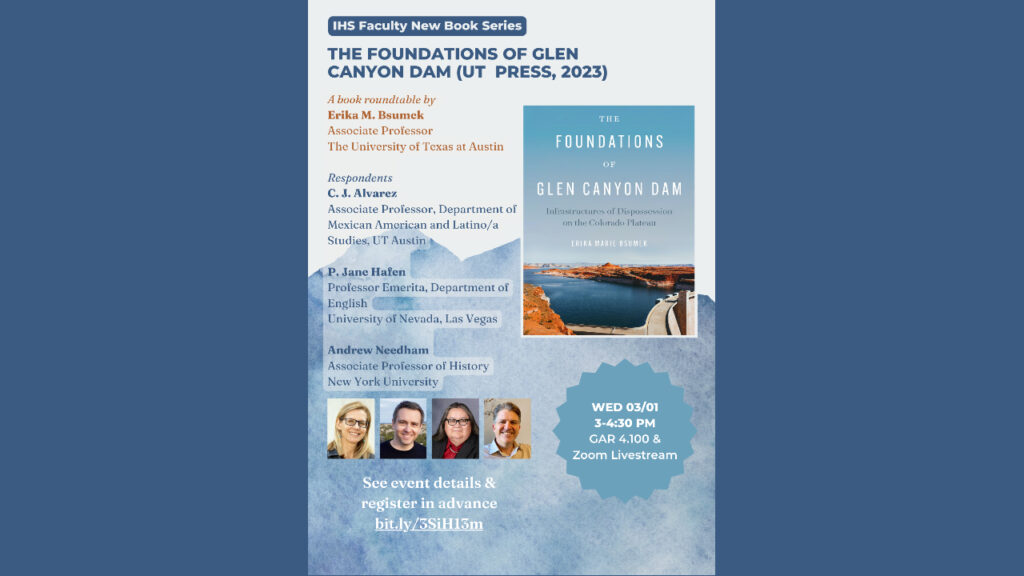 The Foundations of Glen Canyon Dam: Infrastructures of Dispossession on the Colorado Plateau
(University of Texas Press, Feb. 2023)
by Erika Marie Bsumek
The second highest concrete-arch dam in the United States, Glen Canyon Dam was built to control the flow of the Colorado River throughout the Western United States. Completed in 1966, the dam continues to serve as a water storage facility for residents, industries, and agricultural use across the American West. The dam also generates hydroelectric power for residents in Colorado, Wyoming, New Mexico, Utah, Nevada, Arizona, and Nebraska. More than a massive piece of physical infrastructure and an engineering feat, the dam exposes the cultural structures and complex regional power relations that relied on Indigenous knowledge and labor while simultaneously dispossessing the Indigenous communities of their land and resources across the Colorado Plateau.
Erika Marie Bsumek reorients the story of the dam to reveal a pattern of Indigenous erasure by weaving together the stories of religious settlers and Indigenous peoples, engineers and biologists, and politicians and spiritual leaders. Infrastructures of dispossession teach us that we cannot tell the stories of religious colonization, scientific exploration, regional engineering, environmental transformation, or political deal-making as disconnected from Indigenous history. This book is a provocative and essential piece of modern history, particularly as water in the West becomes increasingly scarce and fights over access to it continue to unfold.
Dr. Erika Marie Bsumek is an associate professor of history at The University of Texas at Austin. She is the author of the award-winning Indian-made: Navajo Culture in the Marketplace, 1848–1940 and the coeditor of Nation States and the Global Environment: New Approaches to International Environmental History.
Discussants:

C. J. Alvarez
Associate Professor
Department of Mexican American and Latino/a Studies; and Department of History
The University of Texas at Austin

P. Jane Hafen
Professor Emerita, Department of English
University of Nevada, Las Vegas

Andrew Needham
Associate Professor of History
New York University
---
The views and opinions expressed in this article or video are those of the individual author(s) or presenter(s) and do not necessarily reflect the policy or views of the editors at Not Even Past, the UT Department of History, the University of Texas at Austin, or the UT System Board of Regents. Not Even Past is an online public history magazine rather than a peer-reviewed academic journal. While we make efforts to ensure that factual information in articles was obtained from reliable sources, Not Even Past is not responsible for any errors or omissions.