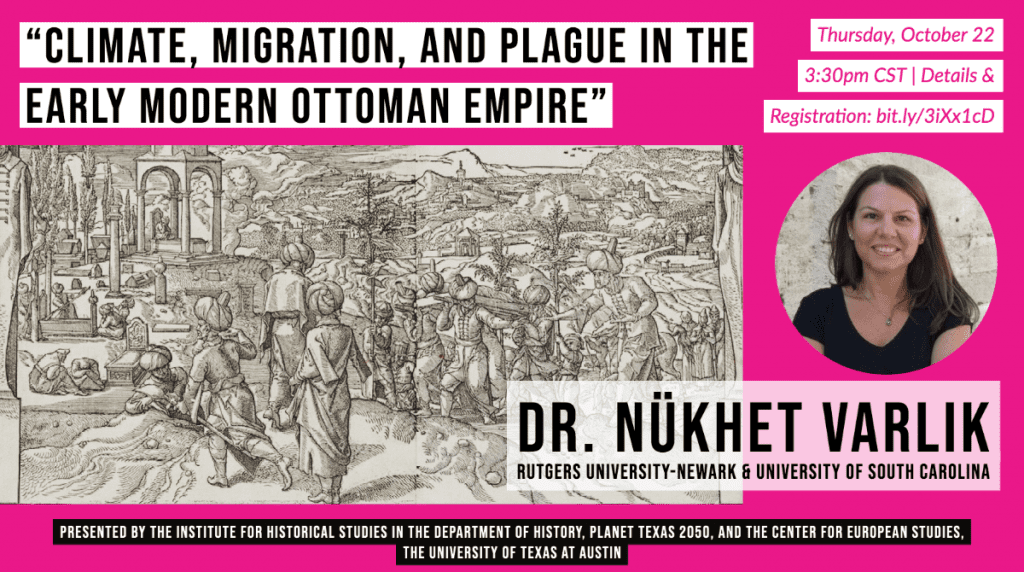 We are currently experiencing one of the most disruptive pandemics in modern history. The COVID-19 pandemic came in the wake of a series of global ecological disturbances, climate fluctuations, uncontrolled urbanization, habitat destruction, decline in biological diversity, the sixth age of extinction, and the biggest human displacement in modern history. While policy makers seek to develop their predictions on the basis of "unprecedented" models, historians step in to remind them that historical precedents can help inform those models.
In this presentation, Professor Nükhet Varlık will address climate fluctuations, human migrations, and plague pandemics of the early modern era, with a view to exploring the connections between them. Geographically, she will mainly focus on Anatolia and the Balkans, but also try to establish connections with a larger area in the Middle East and North Africa (MENA) region. Temporally, she will survey outbreaks of plague from the mid-fourteenth century Black Death and its recurrent waves up to the eighteenth century. Her goal is to use the early modern Ottoman Empire as a case study to provide insights about the complex relationships between climate, migration, and plague—perennial problems of the past and present.

Nükhet Varlık (PhD, University of Chicago) is Associate Professor of History at Rutgers University – Newark and Associate Professor of History at the University of South Carolina. She is a historian of the Ottoman Empire interested in disease, medicine, and public health. Her first book, Plague and Empire in the Early Modern Mediterranean World: The Ottoman Experience, 1347–1600 (Cambridge University Press, 2015; paperback 2017; Turkish translation: Akdeniz Dünyasında ve Osmanlılarda Veba, 1347-1600 (2017)), is the first systematic scholarly study of the Ottoman experience of plague during the Black Death pandemic and the centuries that followed. It received the Middle East Studies Association's 2016 Albert Hourani Book Award, the Ottoman and Turkish Studies Association's 2016 M. Fuat Köprülü Book Prize, the Society for the Medieval Mediterranean's 2017 Dionysius A. Agius Prize, and the American Association for the History of Medicine's 2018 George Rosen Prize. Her recently published edited volume, Plague and Contagion in the Islamic Mediterranean (Arc Humanities Press, 2017), is a collection of articles on the social, cultural, and political responses to epidemics in the post-Black Death Islamic Mediterranean. She has authored several articles and book chapters addressing different aspects of plague epidemics in Ottoman society and is currently working on a new book project titled, "Empire, Ecology, and Plague: Rethinking the Second Pandemic (ca.1340s-ca.1840s)," which examines the five-hundred-year Ottoman plague experience in a global ecological context. In conjunction with this research, she is translating and editing a number of sources pertaining to the history of Ottoman medicine, and is involved in multidisciplinary research projects that incorporate perspectives from molecular genetics (ancient DNA research in particular), bioarchaeology, disease ecology, and climate science into historical inquiry. She has previously taught at James Madison University and Rutgers University–Newark. Her research has been supported by the NEH, Koç University's Research Center for Anatolian Civilizations, Turkish Cultural Foundation, and the Institute for Advanced Study in Princeton. She is the Editor of the Journal of the Ottoman and Turkish Studies Association (JOTSA).

Read more about Dr. Varlık's work on her faculty profile page and on her Academia page.

This talk is part of the Institute's theme in 2020-2021 on "Climate in Context: Historical Precedents and the Unprecedented."
Related Reading:
IHS Climate in Context – Lessons from the Plague: Looking to the Historical Record by Brittany Erwin
IHS Climate in Context: How Do Pandemics End? History Suggests Diseases Fade But Are Almost Never Truly Gone
---
The views and opinions expressed in this article or video are those of the individual author(s) or presenter(s) and do not necessarily reflect the policy or views of the editors at Not Even Past, the UT Department of History, the University of Texas at Austin, or the UT System Board of Regents. Not Even Past is an online public history magazine rather than a peer-reviewed academic journal. While we make efforts to ensure that factual information in articles was obtained from reliable sources, Not Even Past is not responsible for any errors or omissions.