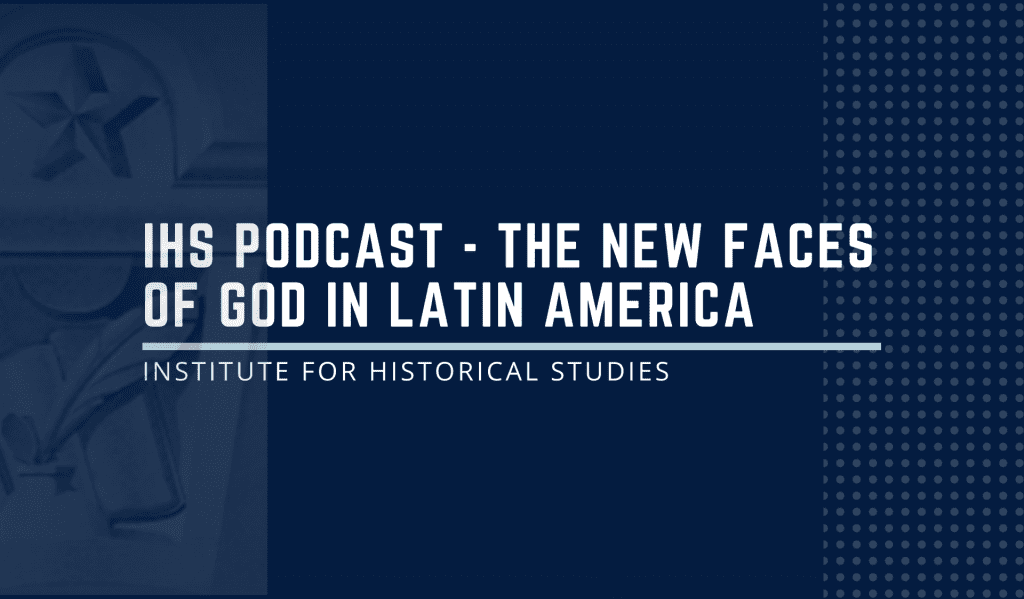 IHS podcasts are a new podcast series initiated by the Institute for Historical Studies' Director, Dr. Jorge Cañizares-Esguerra. This episode highlights Dr. Virginia Garrard's most recent book: Faces of God in Latin America: Emerging Forms of Vernacular Christianity (Oxford, 2020). Each episode features Dr. Cañizares-Esguerra and Ashley Garcia, a PhD Candidate in History at UT Austin.
Introduction
What are the "New Faces of God" in Latin America? In what way are these new manifestations of "vernacular" Christianity any different from previous ones? In this podcast historian Virginia Garrard traces the rise of new religious movements in Latin America that differ from previous forms of Christianity in a region with 500 years of deep engagement with Christianity.
Dr. Garrard identifies various decentralized, bottom-up religious movements that, unlike previous movements, were controlled by local ministries whose ethnicity and backgrounds reflected that of the majority of the population, namely Indigenous and Black people as well as women. These movements reflected the actual racial and ethnic composition of local societies better than traditional forms of colonial Christian religion, which were usually in the hands of European, Creole elites or American missionaries. In one sense these movements were deeply anticolonial. Yet they were also aggressively politically conservative.
Studies of these new forms of religion in Africa and Asia cast these movements as peculiarly rooted in the "Global South." Yet one could argue that these movements represented the global triumph of right-wing, libertarian American religious traditions: Bottom up, millenarian, Pentecostal, libertarian, and culturally conservative.
Like previous manifestations of grass-roots, democratic theological experimentation and decentralization in America, these spiritual movements relied on individual interpretations of the Old Testament and the Pentecostal, demonological interpretation of the Act of the Apostles. They sought self-help and material success. They also aimed to cut ties between individuals and traditional forms of communal, theological, or bureaucratic authority. These vernacular movements are fast growing today. They now represent a quarter of the population of Latin America.
In this podcast we explore the connections between these new movements and globalization and neoliberalism. We probe how their rise and global spread represent a challenge to prevailing theories of colonialism, modernity, and secularization.
~ Jorge Cañizares-Esguerra
Guest
Dr. Virginia Garrard is Professor of History at the University of Texas at Austin and past Director of LLILAS Benson Latin American Studies and Collections. Her most recent monograph is Faces of God in Latin America: Emerging Forms of Vernacular Christianity (Oxford, 2020). She is the author of Terror in the Land of the Holy Spirit: Guatemala Under General Efraín Ríos Montt, 1982-1983 (Oxford University Press, 2010); Terror en la tierra del Espiritu Santo (Guatemala: AVANCSO, 2012); Viviendo en La Nueva Jerusalem (Guatemala: Editorial Piedra Santa, 2009), and Protestantism in Guatemala: Living in the New Jerusalem (University of Texas Press, 1998). She is co-author with Peter Henderson and Bryan McCann of Latin America and the Modern World (Oxford University Press, 2018). She co-edited with David Orique and Susan Fitzpatrick Behrens of The Oxford Handbook of Latin American Christianity (Oxford, 2020), served as co-editor with Stephen Dove and Paul Freston on The Cambridge History of Religions in Latin America (Cambridge University Press, 2016). Along with Mark Atwood Lawrence and Julio Moreno, she edited Beyond the Eagle's Shadow: New Histories of Latin America's Cold War (University of New Mexico Press, 2013). She served as single editor for On Earth as it is in Heaven: Religion and Society in Latin America (Scholarly Resources, 2000) and co-edited with David Stoll, Rethinking Protestantism in Latin America (Temple University Press, 1993). She is currently researching a new book on revolutionary Catholic priests in Central America during the 1970s and 1980s and is co-editing a book of essays on Central America at its Bicentennial, to be published in 2023.
Hosts
Jorge Cañizares-Esguerra is Alice Drysdale Sheffield Professor of History at the University of Texas at Austin and the Director of the Institute for Historical Studies.
Ashley Garcia is a PhD candidate at the University of Texas at Austin. Her research includes 19th century political history, American communitarianism, and American political thought. Her dissertation, "An American Socialism: The Associationist Movement and Nineteenth Century Political Culture," explores America's most popular utopian socialist program: the Associationist movement of the 19th-century. Ashley has also completed a Portfolio in Museum Studies as her secondary PhD field.
---
The views and opinions expressed in this article or video are those of the individual author(s) or presenter(s) and do not necessarily reflect the policy or views of the editors at Not Even Past, the UT Department of History, the University of Texas at Austin, or the UT System Board of Regents. Not Even Past is an online public history magazine rather than a peer-reviewed academic journal. While we make efforts to ensure that factual information in articles was obtained from reliable sources, Not Even Past is not responsible for any errors or omissions.