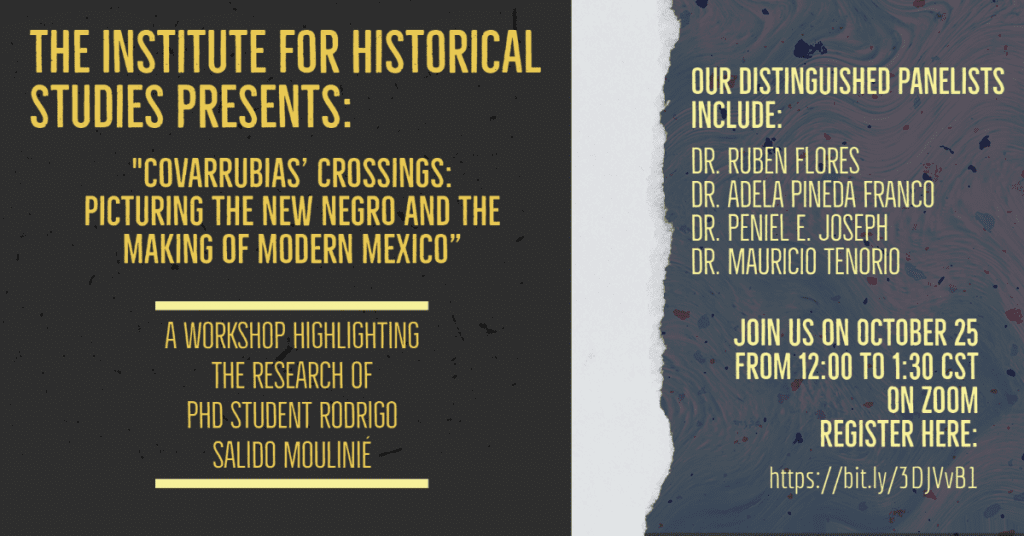 Institute for Historical Studies – Wednesday, October 20, 2021
The Harlem Renaissance shaped the ideas and understandings of race in the United States—but also in Mexico. The debates sparked by the New Negro Movement in the 1920s transformed the way artists, writers, and scientists deployed the concepts of race, blackness, nation, and culture—how ideas of race looked, what they sounded like, what they said. Yet these aesthetic and political debates in Harlem were also informed by Mexican ideas and ideas of Mexico, and, in turn, they shaped what would become the postrevolutionary Mexican state. Through the work of Miguel Covarrubias, this paper explores the patchwork of ideas that informed these debates—from painting, science, and writing to jazz and blues, cultural anthropology, and the visual making of the state. It draws a connection between these two distant borderlands: part of modern Mexico was born in Harlem.

Rodrigo Salido Moulinié is a writer, photographer, and doctoral student in the Department of History at the University of Texas at Austin, where he is a Fulbright-García Robles Scholar and a Contex Doctoral Fellow. His work explores the interconnections between the histories of photography, science, and anthropology. He traces the tensions between the making of ethnography and the development of new visual methods of representing otherness—photography, painting, sketching, and writing. In 2018, nexos awarded his essay "Testigo (in)voluntario: la muerte de Kevin Carter" with the Carlos Pereyra Essay Prize. Learn more about his work at www.rsmoulinie.com and follow him on Twitter at @rsmoulinie.
Respondents:

Dr. Ruben Flores
Associate Professor of History
University of Rochester

Dr. Adela Pineda Franco
Director, Teresa Lozano Long Institute of Latin American Studies (LLILAS), and Professor, Department of Spanish and Portuguese
The University of Texas at Austin

Dr. Peniel E. Joseph
Professor of History; Barbara Jordan Chair in Ethics and Political Values; and Founding Director, Center for the Study of Race and Democracy
The University of Texas at Austin

Dr. Mauricio Tenorio
Samuel N. Harper Professor of History, Romance Languages and Literatures, and the College
The University of Chicago

Read about the IHS Graduate Research Fellows this Year:
https://notevenpast.org/institute-for-historical-studies-race-and-caste-research-theme-2021-22/
---
The views and opinions expressed in this article or video are those of the individual author(s) or presenter(s) and do not necessarily reflect the policy or views of the editors at Not Even Past, the UT Department of History, the University of Texas at Austin, or the UT System Board of Regents. Not Even Past is an online public history magazine rather than a peer-reviewed academic journal. While we make efforts to ensure that factual information in articles was obtained from reliable sources, Not Even Past is not responsible for any errors or omissions.