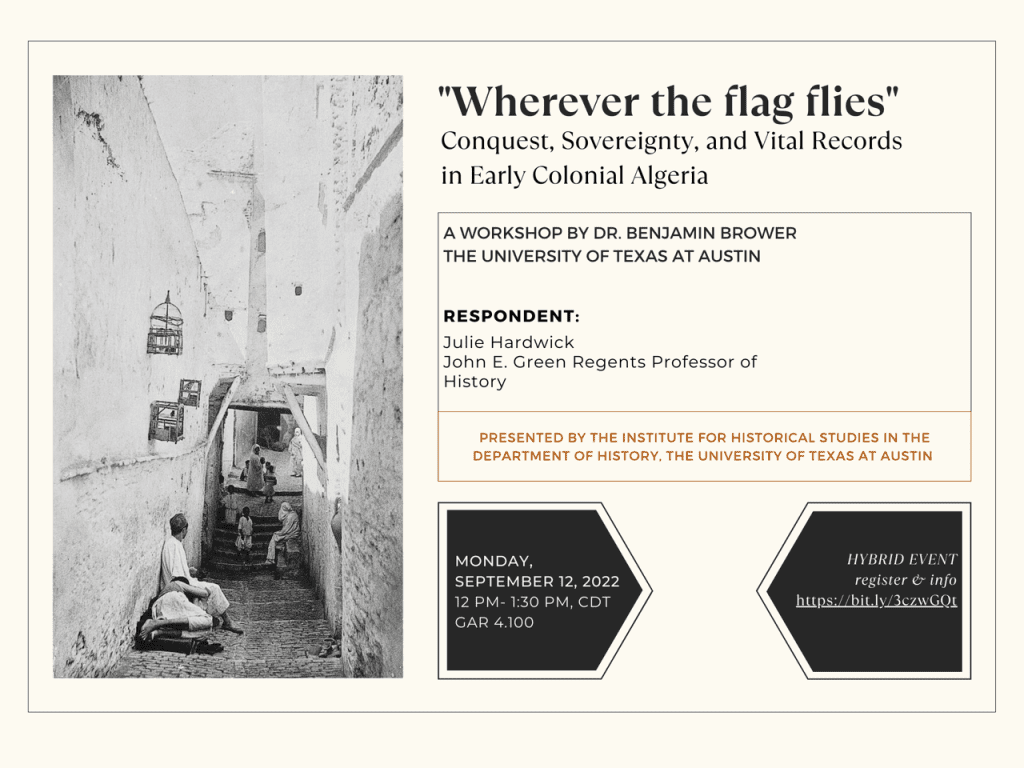 This is a chapter from "In the Beginning I Had a Name: Symbolic Violence, the Name, and Algeria's Colonization," a book about the colonization of Algerian names in the nineteenth century. Overall, Algerians saw their names transformed as France remade Algeria in its own image, exerting a monopoly of symbolic violence in pair with their monopoly of physical violence. Names stood at the heart of this project, the preeminent sign among signs through which rulers have long announced their powers and claimed territory and people as their own. This chapter examines how personal names, written into French registers of births and deaths known as the état civil, expanded powers in the first decade after the landing of troops, a time when jurisdictions remained volatile and undecided. In this context, "wherever the flag flies," a comment Napoleon Bonaparte made about the état civil in 1801, harnessed the registers to the conquest, extending French claims upon certain classes of people and excluding others. (Muslim Algerians made their way into the early registers only in their deaths.) The chapter covers precolonial vital registration practices in France and Ottoman-era Algeria, and it examines how their relationship to sovereignty changed during wars of the French Revolution.
Dr. Benjamin Claude Brower specializes in the history of colonial-era North Africa and modern France. His research centers on the problem of violence in history, secularism and Islam, and language and colonialism. He is currently completing a history of names in colonial-era Algeria which in colonial-era Algeria which examines the conversion of Algerian personal names to French standards as part of an investigation into symbolic power and the legacies of colonial violence. He is a Fellow at the Institute for Historical Studies in 2022-2023.
Respondent:
Dr. Julie Hardwick
John E. Green Regents Professor of History;
UT Austin Distinguished Teaching Professor;
UT Systems Regents Distinguished Teaching Professor; and
Founding Director of the Institute of Historical Studies, 2007-13
The University of Texas at Austin
---
The views and opinions expressed in this article or video are those of the individual author(s) or presenter(s) and do not necessarily reflect the policy or views of the editors at Not Even Past, the UT Department of History, the University of Texas at Austin, or the UT System Board of Regents. Not Even Past is an online public history magazine rather than a peer-reviewed academic journal. While we make efforts to ensure that factual information in articles was obtained from reliable sources, Not Even Past is not responsible for any errors or omissions.