JapanLab seeks to join a highly successful and expanding Japanese language and studies program with a dedicated space for designing innovative Japan-focused video games and related digital content. It will serve as a site where students can combine the traditional skills of a Humanities education with digital dexterities and experiential learning. JapanLab aims to meet the current moment in which educators across the country and the world have been compelled to reimagine their classrooms in the wake of COVID-19. The result is an unprecedented demand for high quality digital content. JapanLab will produce a steady stream of Japan-focused Digital Humanities content that can be used to reinvigorate the Japanese Studies Classroom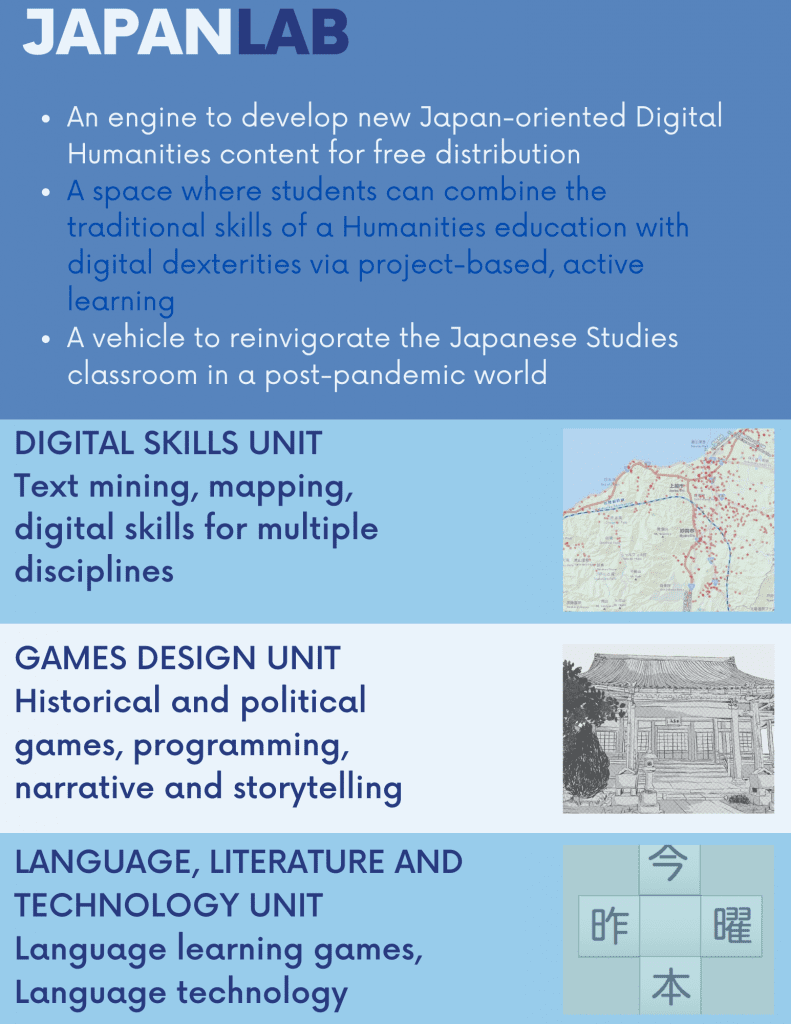 People and Institutional capacities
JapanLab will bring together the Department of Asian Studies, the Department of History and the Center for East Asian Studies.
JapanLab builds off a unique combination of programs, faculty and capacities. First, the University of Texas at Austin incorporates a highly successful Japanese Studies program that has made successful use of games in language learning. Second, the university has a unique and proven track record in developing educational games. In 2020, the Department of History launched Epoch: History Games Initiative, which aims to generate a pipeline of historically based video games for use in the classroom. Its first game, Ako: A Tale of Loyalty, is currently being used in classrooms across the country and will be distributed on commercial platforms later this year. The process of designing this game can be seen here and in the appendix below.
Promotional video for Ako: A Tale of Loyalty
Finally, through faculty development combined with a string of strategic hires the university has a developed a core strength in Digital Humanities. This includes faculty with a range of Digital Humanities capacities and the housing of new DH projects including the Virtual Angkor project, a comprehensive, interactive, visual representation of life in the premodern Cambodian city of Angkor, at the University of Texas. Such capacities will flow into JapanLab, giving students access to a wide range of skills and technologies.
Background
In the 1980s, students who enrolled in Japanese studies courses were drawn invariably by Japan's reputation as an economic powerhouse. They were fascinated by Japanese corporations and hoped to leverage a booming East Asian economy into clear opportunities. They often saw Japan in starkly economic terms as the home of large corporations like Mitsubishi or Toyota that had expanded rapidly into US markets. In 2020, the students that arrive in Japanese studies courses often have very different interests. They are drawn to Japanese history, culture and literature because they see Japan as a cultural powerhouse that occupies an increasingly intimate part of their lives. They also play video games in overwhelming numbers.
The nexus between Japan and video games should not be surprising. Japan did not invent video games, but it played a crucial role in their development and Japanese companies remain key global players in the industry. In the past decade, scholars like Mia Consalvo have shown how video games increasingly function as a gateway to a wider interest in Japan and Japanese culture. For many of our students today, video games are their primary conduit to our classes and to Japan more generally. While some video games content is derivative or superficial, this pathway is a genuine one. Games associated with Japan delve deep into Japanese history, culture and literature, exposing players to historical, sociological events and concepts, linguistic and literary cultures.
The association between Japan and video games is an increasingly automatic one that students make it even if their instructors do not always do so. And yet, there are no programs dedicated to exploring the nexus between Video Games and Japanese studies. While there has been some push to analyze existing games content in the Humanities, few instructors have sought to make Games Design an integral part of their classes. This is even as the barrier to game design has come down significantly. Free, publicly available platforms like Ren'Py (https://www.renpy.org) incorporate a simplified coding language that allows the rapid development of stand-alone games. It is now possible for students with no specialized Games Design background to design fully functional video games across a single semester.
Game Design as a Learning Tool
Playing video games can provide a learning pathway but designing and then creating one of these games from scratch requires students to combine disciplines and skills while taking ownership of their learning. JapanLab will have three inter-connected units designed to teach students a wide range of digital skills which in turn will feed into the development of new games
First, a Digital Skills Unit. JapanLab will teach students and visitors a range of digital skills through classes and regular workshops. Instruction will focus on the core components of digital literacy: webpage construction and design, text mining, spatial analysis, and basic descriptive statistics. Those courses will advance both the consumption and construction of digital tools in research, teaching, and post-graduate careers. Students and faculty regularly use digital tools, but often uncritically. We treat the results from search engines such as Google or Bing as transparent measures of "what's on the web," rather than the outcome of complex, proprietary, text-mining algorithms. We use web-based dashboards to search for Covid19 data in our state, county, or city, often without thinking about what sort of searches are foregrounded or precluded by the interface design. Japan-related data also poses unique challenges ignored in standard DH curricular. Japanese words, for example, are not clearly delimited by spaces, nor can words be readily ranked in "alphabetical order." Multiple orthographies and orthographic practices (旧漢字・旧仮名使い・変体仮名・踊り字) complicate questions of text matching. JapanLab instruction will combine instruction in digital technologies and artificial languages (HTML, R, Python) with a "critical digital humanities" perspective and a focus on such Japanese-language specific challenges.
Second, a Games Design Unit in which students will work primarily on historical games that are designed to create immersive worlds. Historical games can delve deep into a particular moment, illuminating contemporary tensions while linking to the latest scholarship. Ako: A Tale of Loyalty places the player in Japan in 1701 in the role of a young samurai born into a low-ranking family that is struggling to survive. The game exposes players to the realities of samurai life, the economic structures of early modern Japan, the role of women and family, the commercialization of religion, and the nature of samurai ideologies in an age of peace. In addition to historical games, the Games Design unit will develop games that draw from and speak to other disciplines. Games can be used, for example, to explore political and social issues in innovative ways.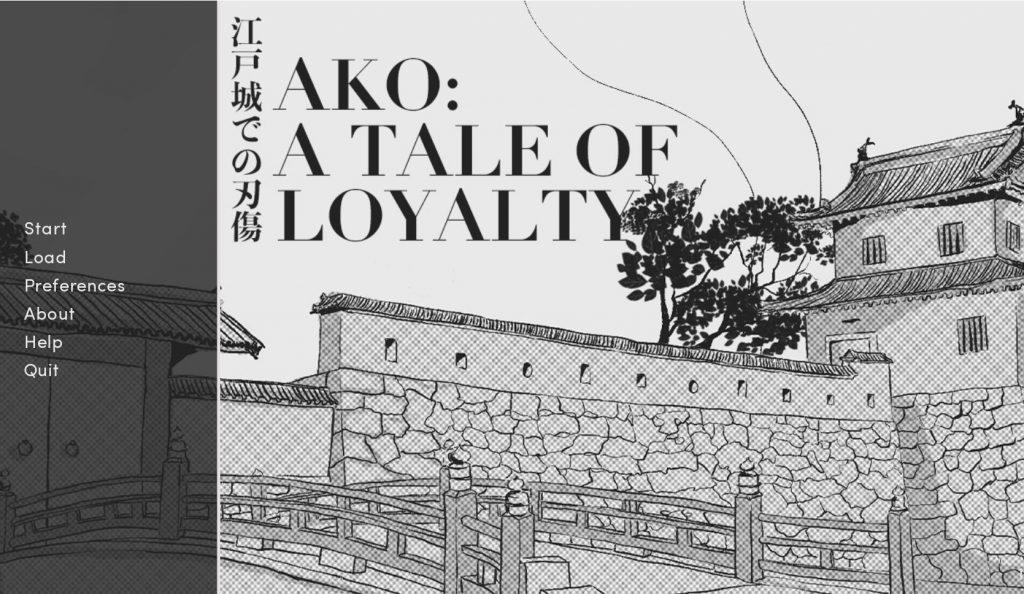 Third, a Language, Literature and Technology Unit. Research has shown that games can be used to drive language acquisition but few programs have sought to explore this nexus in a systematic way. In 2004, Naoko Suito, Senior lecturer of Japanese at the University of Texas at Austin, established an online Japanese learning website that features a number of interactive activities including games (see Japanese Online Self-Help Utility (JOSHU) at http://laits.utexas.edu/japanese/joshu/index.php). With the support of multiple university grants and eager student volunteers, the site has grown over the years to include 500 activities (grammar, kana, kanji, vocabulary, reading, listening), simple games, practice handouts, flashcards, grammar reference pages, grammar and culture videos (produced by students), and resource pages. JapanLab will build off and expand this work by developing a suite of new language games. Developing such games will allow students to grapple with language structures while also designing new educational tools that can be used in a range of classrooms.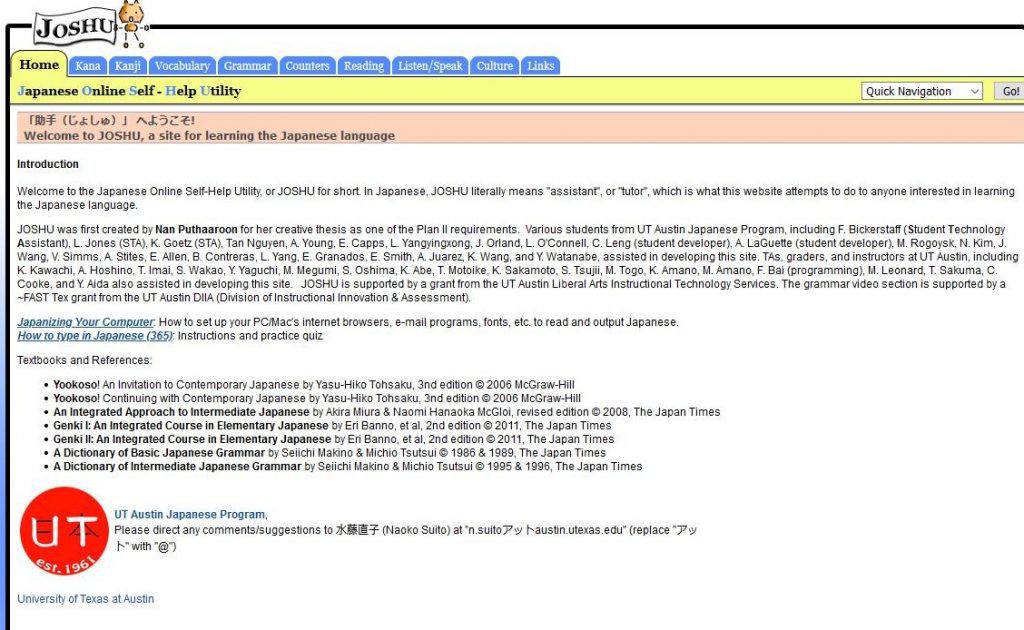 The Language, Literature and Technology Unit will, in addition, develop games and technologies that enable students to explore literary texts in greater depth. Many games are based on classic works of literature (see, for example, the viral success of Walden, A Game) and they provide a natural way to work through texts both as a narrative art and as a sociocultural artifact. Japanese literary works offer diverse opportunities for digital exploration from the 10th century Tale of Genji to IQ84, Murakami Haruki's 21st century take on the Orwellian classic. Here too, texts in the original language can be incorporated to serve the purpose of both literary and language study.
Experiential, project-based active learning
Games Designs exercises present an ideal site for project-based, active learning. Active learning seeks to place learning in the hands of students. As Bonwell and Eison first laid out, it "involves students in doing things and thinking about the things they are doing." (Bonwell & Eison, 1991, p2.). Within this expansive framework, Project-Based Learning (PBL) has emerged as a highly effective tool. Some standard features of PBL include designing an "ill-structured problem to guide the learning agenda, having the teacher act as a metacognitive coach, and students working in collaborative groups" (Chin and Chia, 2006). Jonassen defines ill-structured problems as those that "possess multiple solutions, solution paths, fewer parameters which are less manipulable, and contain uncertainty about which concepts, rules, and principles are necessary for the solution or how they are organized and which solution is best" (1997). In such exercises, the role of the teacher is less as a "Sage on the Stage" and more as a "Guide on the Side" (King, 1993). Instead using open-ended group-based inquiry, students are able to "drive their own learning through inquiry, as well as work collaboratively to research and create projects that reflect their knowledge" (Bell, 2010, p. 39). This allows students to "manage their own acquisition of learning" (Warren, 2016, p. 34). It also drives motivation as "students develop a deeper awareness and ownership of important concepts in the course by working on activities" (Seltzer et al., 1996, p. 86).
Comments from Ashley Gelato, a member of the Ako games design team
Games design exercises are ideally suited to Project-Based Learning. Games provide a site for collaborative work on an ill-structured problem that requires students to merge disciplines, extensive research, analytical skills, and technical proficiencies. They require students not only to visualize connections, but to make those connections visible for others. Specialized Games Design programs aim to produce students who can work in the commercial video game industry. We seek to do something different: to marry traditional Humanities skills with basic Games Design skills: to create fully rounded graduates who are able to work in many different fields. The jobs of the 21st century will require flexibility and graduates who are able to move easily between disciplines and technologies. Students will engage with JapanLab in different ways. They they will take classes in JapanLab designed to introduce them to a range of Digital Humanities skills. In additional classes will pair with JapanLab for short 2-3 DH intensives. These will be supplemented by hands-on workshops for digital skills. Finally, students will apply to work in JapanLab to develop games connected to their research interests.
Appendix 1: The Epoch 2020 experience
In early 2020 a group of four undergraduate History majors with no specialized Games Design background were asked to develop a functional video game built around a specific historical topic and using only freely available platforms. The game had to draw from the latest scholarship and to incorporate a series of teaching points, allowing it to be deployed in high-school or college level classrooms.
There was no single starting point or unitary solution for this exercise. Instead, designing a game required combining multiple disciplines including History, Anthropology and Literary Studies, academic research and more technical skills including coding. The Games Design experiment required students to work collaboratively rather than under the direction of a teacher and to take charge of their own learning. Across the course of a semester, the Games Team mastered a wide range of skills. These included:
Programming
The Games Team decided to make use of a free, publicly available platform called Ren'Py (https://www.renpy.org). Ren'Py is a visual novel engine that is designed to streamline the process of games creation. It works off a variant of Python and can be distributed across multiple platforms including Windows and Mac.
Narrative
Games work by constructing compelling narratives. They present the player with clear choices that then drive the subsequent experience of the game. For the Akō Game, the Games Team ended up writing over 30,000 words of dialog, a significant challenge that required extensive research in topics as diverse as agriculture, diet, currency, dress style, architecture, funeral ceremonies and so on.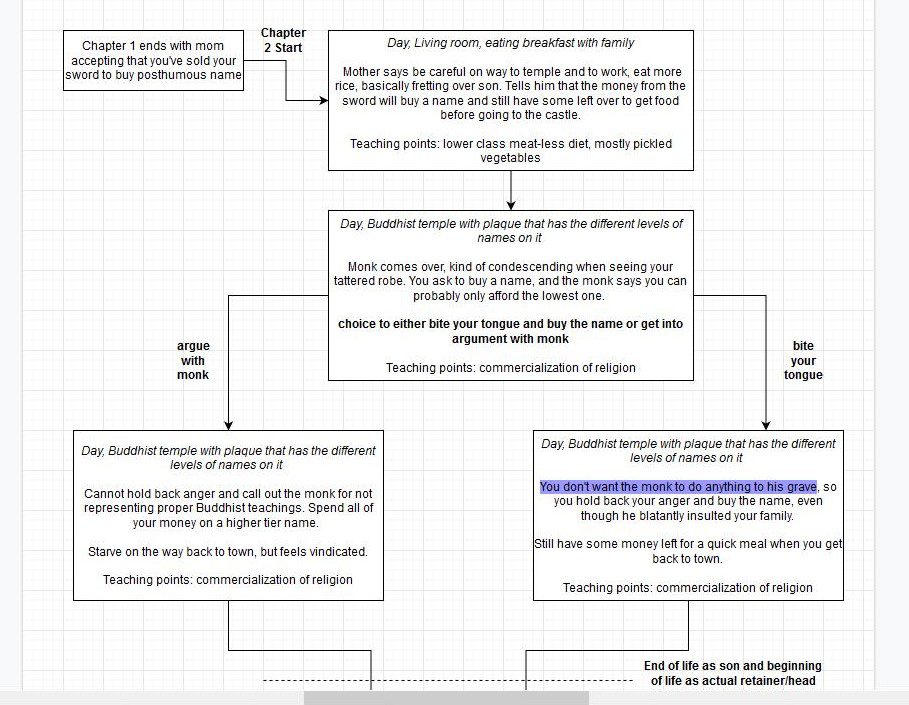 Artwork
The Games Team made the decision to develop original artwork rather than using public domain images. In its final form, the game has 4 chapters with 30 background images and 13 characters. Each of these 13 characters has multiple expressions, creating a total of around 50 individual "sprites" that display varying emotions and postures. In order to ensure that the artwork was historically grounded, hundreds woodblock prints and other images were collected to serve as reference material. Even the smallest of artistic decisions required extensive research. In Tokugawa Japan, for example, hair styles, which were a key marker of status and age, varied enormously, requiring minute research to find the right one for different characters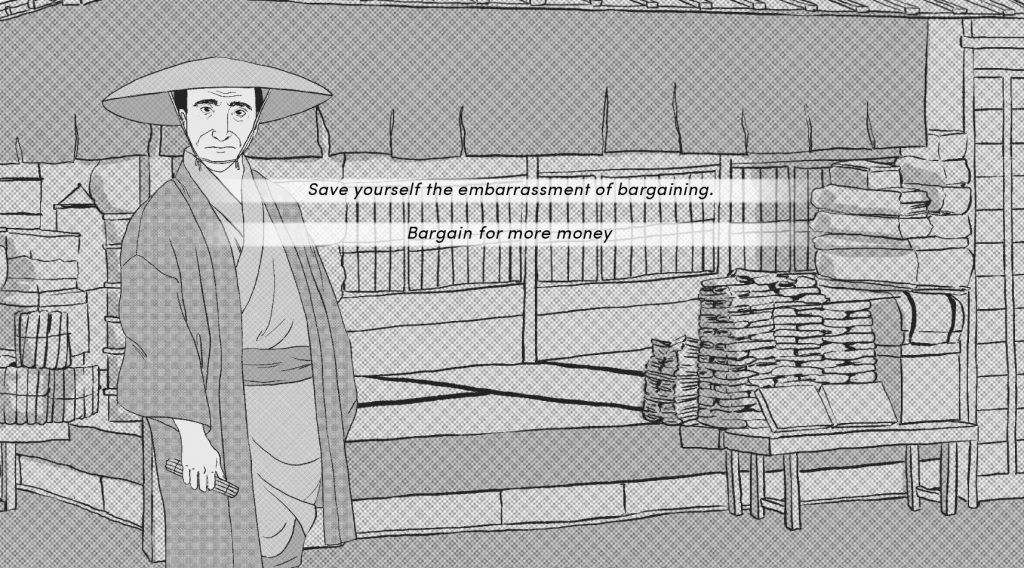 Developed in Spring 2020, Ako: A Tale of Loyalty will be used at Pacific University in September 2020. The syllabus can be seen below.

References
Bell, Stephanie. "Project-Based Learning for the 21st century: Skills for the future", The Clearing House, 83 (2010), 39.
Bonwell, C. and J. Eison, Active Learning: Creating Excitement in the Classroom (ASHE–ERIC Higher Education Rep. No. 1, 1991)
Chin, Christine and Li-Gek Chia, "Problem-Based Learning: Using Ill-Structured Problems in Biology Project Work. Science Education 90.1 (2006): 44-67
Entertainment Software Association, 2019 Essential Facts About the Computer and Video Game Industry, https://www.theesa.com/esa-research/2019-essential-facts-about-the-computer-and-video-game-industry/
Gallagher, S.A. W.J. Stepien, B.T Sher & D. Workman, "Implementing problem-based learning in science classroom", School Science and Mathematics, 95(3) (1995): 136-146
Jonassen, D. H. "Instructional design models for well-structured and ill-structured problem-solving learning outcomes." Educational Technology Research and Development 45(1) (1997): 65-94
King, Alison. "From Sage on the Stage to Guide on the Side", College Teaching, Vol. 41, No. 1 (Winter, 1993), 30-35
National Endowment for the Humanities, "Learning the Humanities through Video Games", https://www.neh.gov/news/learning-the-humanities-through-video-games
Rochester Institute of Technology, Game Design and Development, Bachelor of science degree, https://www.rit.edu/study/game-design-and-development-bs
Seltzer, S. Hilbert, J. Maceli, E. Robinson & D. Schwartz, "An active approach to calculus." In L. Wilkerson & W. H. Gijselaers, eds., Bringing problem-based learning to higher education: Theory and practice (San Francisco: Jossey-Bass, 1996)
Warren, Acacia. Project-based learning across the disciplines: Plan, manage, and assess through +1 pedagogy. (Thousand Oaks, CA: Corwin Publishing, 2016)