A selection of websites and books that we have found helpful as resources for various aspects of learning to teaching history.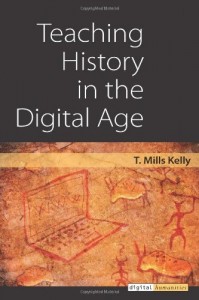 T. Mills Kelly, Teaching History in the Digital Age (2013).
Written by the author of the popular digital history blog, Edwired, this book surveys pedagogy principles and practical suggestions for teaching history with various kind sof digital technologies.
Learning to Lecture: Thoughts and Memories
Some useful essays from the excellent website Historians on Teaching.
[from the website:]
What is Hybrid Pedagogy?
combines the strands of critical pedagogy and digital pedagogy to arrive at the best social and civil uses for technology and new media in education.
avoids valorizing educational technology, but seeks to interrogate and investigate technological tools to determine their most progressive applications.
invites you to an ongoing discussion that is networked and participant-driven, to an open peer reviewed journal that is both academic and collective.
Designing History's Future
Blog posts and bibliography from the Karl Hagstrom Miller, Penne Restad and UT History grad students on their experiments with student-centered and student-activated learning.
Teachinghistory.org
A website for elementary and secondary teachers, this website has many useful resources for university history teachers, such as short videos on "Thinking Historically" and "The Digital Classroom." It also has links to material related to important topics. For example, it currently links to a Whitney Museum online exhibition on Jacob Lawrence, with suggestions for how to use it to teach about The Great Migration.
The Dreaded Discussion: Ten Ways to Start
Leading productive and interesting discussions is hard even for seasoned teachers. This is a terrific guide to some good strategies for getting students to talk to and learn from each other.
Twitter is a surprisingly (to me) useful source for links on teaching tools, cool documents, and discussions about teaching. Follow twitter streams like teachinghistory.org @teachinghistory, or follow individual historians who blog. You can search hashtags like #twitterstorians, #teachinghistory #publichistory and #digitalhistory. Follow "Historians on Teaching"  @historiansteach, for links to university teachers talking about teaching history.