By Mark Battjes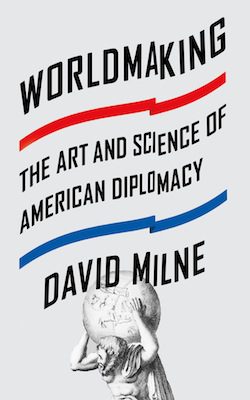 With the 2016 presidential campaign in full swing, voters might wonder where the varied, and conflicting, foreign policy ideas advanced by the candidates originate. David Milne's excellent new book offers a great place to begin. Milne surveys the history of U.S. foreign policy from the turn of the twentieth century to Barack Obama's presidency and considers how ideas conceived at distinct historical moments influenced, and continue to influence, America's interaction with the world.
Historians who attempt such weighty and wide-ranging surveys often produce ponderously argued works composed with tedious prose. Fortunately for interested readers, Milne avoids this trap. He presents his subject through nine linked biographical sketches of thinkers, journalists, policymakers, and presidents. He introduces readers to lesser-known figures, like historian and political scientist Charles Beard, and reacquaints them with familiar faces, such as Woodrow Wilson, George Kennan, and Henry Kissinger.
Each of Milne's portraits provides enough detail about the life, work, and contribution of each person to pique and sustain the interest of the reader without succumbing to the desire to deliver a cradle-to-grave biography. Although Milne crafts each sketch as a self-contained chapter that can be read on its own, he does not so confine the people he profiles. They pop-up in other chapters to support or confront the other personalities and the ideas they advance. By linking the biographies in this way, Milne creates the illusion of a continuous narrative and reinforces his assertion that the ideas he presents retained relevance beyond their emergence.
Milne also offers readers a new way to think about U.S. foreign policy. Traditional analyses by historians or political scientists generally seek to locate U.S. policymakers along a realist-idealist spectrum. In such analyses, Kissinger becomes the realist par excellence while Wilson anchors the idealist end of the spectrum. Milne challenges the usefulness of such characterizations and offers instead an evaluation of each figure's place along an artist-scientist axis. Although the book would benefit from a more explicit description of exactly what the author believes constitutes an artist or scientist, Milne does suggest a central difference between the two. The artists tend to view the world as chaotic and resistant to large-scale efforts to order it; the scientists believe that theories applied to a patterned world enable the United States to "make" the world for its benefit, as the book's title hints.
Other than George Kennan and his successor as director of the State Department's Policy Planning Staff, Paul Nitze, Milne deliberately avoids describing the figures as artist or scientist in the chapter devoted to them. Moreover, he does not belabor the artist-scientist dichotomy in the body of the book. Instead, he practices a deliberate ambiguity that provides readers the space and time to draw their own conclusions. Only by looking back to the introduction or forward to the epilogue will readers know precisely where Milne locates each person on the spectrum. Milne's light argumentation contributes to the book's readability.
Milne treats each of his subjects with considerable deference and offers nuanced judgments of their contributions. This may put off some readers who would like a full-throated excoriation of Paul Wolfowitz or an impassioned defense of President Obama, the subjects of Milne's final two chapters. Yet readers should embrace Milne's approach because it proceeds from the premise that understanding how politicians and policymakers understand the way the world works can help voters understand how they will practice diplomacy and employ U.S. military power. Is Hillary Clinton a scientist or an artist? What about Donald Trump, Marco Rubio, or Ted Cruz? David Milne does not answer these questions, but he gives his readers a means to do so for themselves.
David Milne, Worldmaking: The Art and Science of American Diplomacy (Macmillan, 2015)

You may also like our collection of articles on Presidents Past.