by Chris Babits
The culture wars have roared back to life in recent years, with the practice of "conversion therapy" taking center stage. Fourteen states have banned gender identity therapies and sexual orientation change efforts on minors. At this critical moment comes Desiree Akhavan's "The Miseducation of Cameron Post," a film based on the young adult novel by Emily M. Danforth.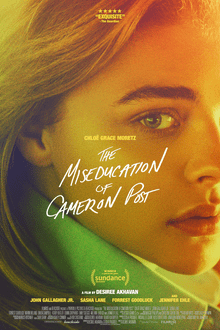 Set in 1993, the film follows Cameron Post (Chloë Grace Moretz), an orphaned teenager who has just finished tenth grade. Cameron is in a closeted relationship with another girl, Coley (Quinn Shephard). When the two attend the school's homecoming dance with boys, Cameron and Coley get bored of dancing and sneak off to a car to smoke pot. The two begin having sex, only to get caught red-handed by Cameron's date. After learning of this incident, Cameron's aunt, who is also her guardian, (Kerry Butler) forces Cameron to attend God's Promise, a conversion therapy camp in Montana.
At God's Promise, Cameron is immersed in the socially conservative world of the ex-gay movement. From the beginning, she learns that she'll have to earn a range of "privileges" that most teenagers take for granted. When she's introduced to her bunkmate, Erin (Emily Skeggs), for example, Cameron is informed that she won't be able to decorate her side of the room until she has made progress in therapy. (Erin, who has earned decorating privileges, decided to plaster the walls with odes to her favorite football team, the Minnesota Vikings.) God's Promise believes that access to the outside world needs to be controlled if their young "disciples" are to experience meaningful change. Cameron sees this in action right away when Reverend Rick (John Gallagher, Jr.), one of the counselors, finds a cassette tape in her luggage. Reverend Rick jokes that the Lord probably doesn't approve of The Breeders, an alternative rock band, and hands the cassette to Cameron's embarrassed aunt.
Reverend Rick and his sister, Dr. Lydia Marsh (Jennifer Ehle), run God's Promise. They are, in some ways, the "good cop" and "bad cop" of therapy. Almost immediately, Rick comes off as kind and caring. It probably helps that Rick can relate to what the disciples are going through. When he was younger, he experienced unwanted same-sex attractions (or SSA, for short). His sister, we are told, helped Rick overcome his attractions to other men. Rick is also upfront about how he was saved by God — he was at a gay bar one night when, out of nowhere, two members of his church appeared before him. The men told Rick that they had seen his car out front and they wanted to prevent him from committing sin. Sure, they were there to save Rick, some of the campers joke later.
The young cast carries "The Miseducation of Cameron Post." Moretz plays a subdued Cameron, someone who, as Rolling Stones' Peter Travers put it, can "feel more like a visitor to her own story" than an integral part of it. This effect, however, underscores what Cameron is: an observer to the queer world of ex-gay ministries. There are moments when Cameron is herself. But, she's punished for these. Overall, Moretz captures the quiet torture of a teen who's told she can't be who she wants to be.
Two other actors play their characters exceptionally well. Sasha Lane is lively as the stubborn and wayward Jane Fonda. Forrest Goodluck, on the other hand, is particularly stellar as Adam Red Eagle. Adam is reticent at first, unsure if he can trust Cameron. Once he starts talking, though, he comes alive as a sarcastic and witty teenager. As two-spirit, he explains how he is a third gender, someone who claims to be neither male nor female, a position revered in American Indian history and custom. Adam also has long hair, which gets him in trouble with Dr. Marsh. It's hard not to see God's Promise as a modern "civilizing" boarding school for Adam, especially in one scene near the movie's end.
In addition to these strong performances, Akhavan and her co-writer, Cecilia Frugiuele, offer a penetrating look at the complex world of Christian-based conversion therapy. The two writers highlight how conversion therapists have seen same-sex attractions as a manifestation of a much deeper problem — that of a deficient gender identity.
In their counseling sessions, Reverend Rick and Dr. Marsh often ask disciples to explore what it means to be male or female. Cameron's roommate, Erin, has internalized the counselors' message about conforming to gender norms. She admits that her SSA emerged from being too interested in sports. In a revealing flashback, we are shown Erin and her father watching a Vikings game. They celebrate when, presumably, Rich Gannon throws a big touchdown pass. Erin and her father are decked out in Vikings gear; both have their faces painted. Erin's interest in the Minnesota Vikings takes on a whole new meaning at this point in the film — it is one of the main reasons, we are told, that she's sexually attracted to other women.
About halfway through the film, there's another scene where Akhavan and Frugiuele carefully depict the intellectual — and religious — world of conversion therapy. Here, Cameron is lying on the grass with a group of campers and Dr. Marsh. After Cameron fails to answer a question, Helen (Melanie Ehrlich), a choirgirl disciple at God's Promise, exclaims, "Is this a joke to you?" Helen wants Cameron to be honest about her experiences with gender identity and SSA. Erin chimes in, saying, "Tell us about that girl you knew from home." Dr. Marsh gives an encouraging look to Cameron, at which point she describes how perfect Coley was. After Cameron finishes, Dr. Marsh explains, "It's said that cannibals only eat the enemies they admire as a way to take inside their best qualities." Processing what had just been said, Cameron asks, "I wanted to be like her, and I confused that with being with her?" "Correct," Marsh replies, nodding her head.
The cannibal analogy was a popular one with ex-gay conversion counselors. Leanne Payne, for example, used it in Crisis in Masculinity (1985):
When a man tells me he is experiencing strong desires for another man, I immediately ask him: "What specifically do you admire in this person? Right off the top of your head, what would those things be?" Invariably, in such cases . . . what they admire in the other man will be their own unaffirmed characteristics, those from which they are separated, can in no way see, and therefore cannot accept as part of their own being. These attributes they have projected onto another person . . . Cannibals eat only those they admire, and they eat them to get their traits.
"The Miseducation of Cameron Post" strikes a difficult balance. It is a damning critique of conversion therapy and, at the same time, an arresting, detailed portrayal of ex-gay ministries. The film is affecting, but not overly sentimental. Most importantly, "The Miseducation of Cameron Post" accurately represents some conversion therapy techniques and should get people talking about this key part of the culture wars.
Conversion therapy isn't a relic of the past. In a recent study, UCLA's Williams Institute estimated that 20,000 U.S. LGBT youth currently between the ages of 13 to 17 will receive conversion therapy from a licensed health care professional before they turn 18. In addition, "approximately 57,000 [more] will undergo the treatment from a religious or spiritual advisor."
Go see "The Miseducation of Cameron Post" if you want to better understand what these nearly 80,000 teenagers might see, hear, and experience.

More from Chris Babits:
"The Blemished Archive: How Documents Get Saved."
"Finding Hitler in all the Wrong Places"