One has to only look at a few headlines to see that many view black women organizers as important figures in combating today's most pressing problems. Articles urging mainstream America to "support black women" or "trust black women" such as the founders of the Black Lives Matter Movement are popular. Publications, such as Time, laud black women's political leadership—particularly when they mount a challenge to the status quo such as Stacey Abrams' victory in the Georgia Democratic Governor primary. At the core of these sentiments is the recognition that black women have developed and sustained a liberal democratic politics that is conscious of and responsive to the interconnected effects of racism, capitalism, and sexism and that their approach can offer insight into current socio-political issues. The media often frames these and other women's efforts as a manifestation of the current political moment divorced from the longer tradition of black women agitators and organizers to which they belong. Many of the black women making headlines today for their work in advancing civil rights and social justice ideals draw from these earlier traditions, including from the Black Power Movement of the 1960s and 70s.
Although often thought of as civil rights' "evil twin," in the words of historian Peniel Joseph, Black Power was a diverse and diffuse collection of organizations, activists, and ideas. This movement spanned the political spectrum, states and continents, and stretched into both the grassroots and national arenas. Despite these variations, activists across the globe were united in support of the central pillars of Black Power—black community control, black self-determination, and black self-defense—broadly defined. In the latter half of the twentieth century, a bevy of organizations ranging from the Black Panther Party to the All-African People's Party supported and advanced these principles.
Black women were at the epicenter of this movement. Some joined national organizations and served in both rank-and-file and leadership roles. Others found a way to enact ideals like community control and self-determination through local neighborhood or welfare rights organizations. Whatever avenue they chose, female Black Power activists were not only vital to the infrastructure of the movement, they also advanced gender-specific interpretations of its governing axioms. Complicating common assumptions about their marginalization in the movement, black women activists fought for more inclusive understandings of Black Power, ultimately causing many organizations to adopt a more radical critique of racism, sexism, and capitalism.
Women in the Black Panther Party exemplified this gender-conscious ethos. Huey Newton and Bobby Seale founded the party in October 1966 in Oakland, California in response to rampant police brutality. However, the Black Panther Party quickly became a collective with a more expansive vision that included defending the black community, developing community programs to increase self-sufficiency, and fostering political education—albeit with a masculinist framing. Women joined the group a year after its founding, participating in all aspects of its programming and endorsing its principles. The first female member, Tarika Lewis, participated in political education classes, attended rallies, and was an artist for the party newspaper, The Black Panther. As the party developed, other women including Ericka Huggins and Elaine Brown joined the group. By the 1970s, Huggins edited the newspaper and Brown ran the party. Indeed, women became Panthers in droves, eventually comprising about two-thirds of the rank-and-file across forty chapters. As they organized, they challenged their male counterparts to rethink their commitment to patriarchal ideas of leadership, activism, and revolution, openly debating sexism within the movement and developing artwork and articles that framed black women as the consummate political actors. Their efforts worked. The Black Panther Party, often thought to be an exemplar of Black Power sexism, adopted more egalitarian polices toward women in both name and practice.
Other women, such as members of the Third World Women's Alliance (TWWA), chose to engender and re-gender Black Power through what historian Stephen Ward calls, "Black Power feminist" groups. This organization originated as a women's caucus within the Student Non-Violent Coordinating Committee (SNCC), which, by the late 1960s, advocated for globally-minded, anti-imperialist politics expressed through Black Power principles and positions. As it developed it became a collective of "black and other third world women" fighting "all forms of racist, sexist, and economic exploitation." Through their newspaper, Triple Jeopardy, members developed an ideological platform and activist agenda that interpreted Black Power principles through this global, gender-specific, and intersectional lens. Articles about anatomy and reproductive rights fostered gender-specific understandings of self-determination; images of black and brown women arming themselves supported a capacious understanding of self-defense. These publications, as well as their collaborations with other Black Power era groups, helped produce more nuanced understandings of Black Power. Their multi-faceted approach to liberation also laid the groundwork for what we now call intersectionality.
Female Black Power organizers' diverse organizing efforts are visible in activism today. The grassroots networks that progressive candidates like Abrams used to win the primary, as well as her endorsement of universal pre-K and affordable housing, build on the efforts of women such as Huggins and Brown, who dedicated much of their lives to developing capacious forms of community control. More radical organizers, such as the three women founders of the Black Lives Matter movement, carry on TWWA-like traditions of global anti-imperialist solidarity, intersectionality, and black self-determination through self-definition.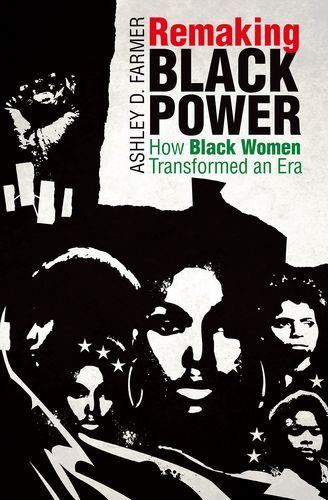 My new book, Remaking Black Power: How Black Women Transformed an Era, examines these and other women activists in order to better understand black activism past and present. It centers on black women's ideas and organizing in order to foreground how they might help us rethink the historical and historic uses of Black Power in addressing all facets of oppression. Understanding the historical activism of black women organizers can reveal new sites of theoretical and organizational possibilities and shine light on the ways that we might move toward different and more equitable worlds today.


Ashley D. Farmer,  Remaking Black Power: How Black Women Transformed an Era
"Online roundtable on Ashley Farmer's Remaking Black Power," in Black Perspectives, the blog of the African American Intellectual History Society, April 13, 2018.


For more on black women and Black Power, Prof. Farmer recommends these.
Robyn C. Spencer, The Revolution Has Come: Black Power, Gender, and the Black Panther Party in Oakland (2016).
A great book for anyone looking to learn more about the gender politics of the Black Panther Party. 
Dayo F. Gore, Jeanne Theoharis, Komozi Woodard, Want to Start a Revolution? Radical  Women in the Black Freedom Struggle (2009).
A strong collection of essays that explore black power and black radicalism from its origins to its apex.
Assata Shakur, Assata: An Autobiography (1988, 2001)
The life story of Assata Shakur, her journey into activism, membership in the Black Panther party, and her arrest and her current exile in Cuba. 
Elaine Brown, A Taste of Power: A Black Women's Story (1993).
A great autobiography that describes Brown's journey to becoming a leading Black Power activist and leader of the Black Panther Party 
Nico Slate ed. Black Power Beyond Borders: the Global Dimensions of the Black Power Movement (2012)
A collection of essays that speak to the global scope and reach of U.S-centered ideas of Black Power. 


Featured image photo credit:  Black Panthers at a rally in Oakland, Calif., in 1969, from the documentary "The Black Panthers: Vanguard of the Revolution." (Photo: Pirkle Jones and Ruth Marion-Baruch).