Films about historical events have enormous power to affect us, both to enlighten and to mislead. Historical films are perennially popular, often because they tell history through individual lives, because they invent characters and add personal, emotional drama to events that we want to learn about. Those same fictionalizing qualities make them great tools for teaching history. It has never been more urgent to train students to recognize how all stories — from those told by the most inventive narrator to the most professional historian — are told from particular points of view, shaped by the context of the story-tellers' lives.
During academic year 2019-2020 Not Even Past sponsored a history film series to accompany the U.S. History survey course. As part of this, we wanted to make titles available to teachers of U.S. history at any level or institution, to use in their classrooms, to supplement lectures and other activities with films.
The list of films that follows is just the beginning. We are starting now so that we can collect as extensive a list as possible, from which to choose the films that we will screen and that anyone can choose to watch or teach.
PLEASE HELP US EXPAND OUR LIST OF FILMS. You can use the "Contact" form at the bottom of this page to send us the titles of your favorite films about U.S. History, of films you love to teach, or that you think would be good to use in the classroom.
What's included: This list includes general theatrical release feature films and feature-film length television films.
What's not included: Documentaries, TV series and individual TV episodes.
Medieval North America, Colonial America, American Republic
Civil War and Reconstruction
Slavery
Expansion and Westward Movement
Industrial Age (1871-1914)
WWI-Depression
WWII
Cold War
Civil Rights, Segregation, and Jim Crow
1960s-1970s
1980s-Present
Medieval North America, Colonial America, American Republic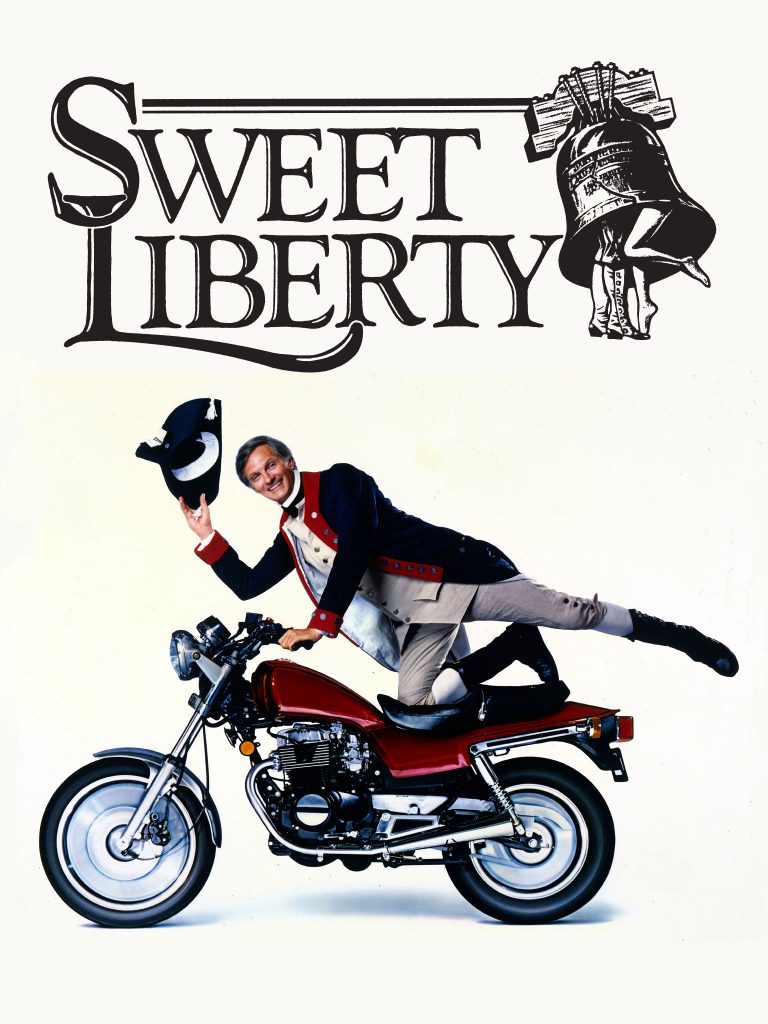 1776 (1972, Peter. H Hunt)
Based on a broadway musical of the same name, 1776 follows the political struggle of the Continental Congress in the days leading to the Declaration of Independence on July 4, 1776.
April Morning (1988, Delbert Mann, TV Movie)
An adaptation of the classic novel by Howard Feast, this film's name refers to that April morning – April 19, 1775 – when 'the shot heard around the world' signaled the start of the American Revolution. A coming-of-age story in which a young teenager must grow up quickly to survive violence and death during the Battle of Lexington and Concord.
The New World (2008, Terrence Malick)
A dramatization of Pocahontas' relationships with John Smith and John Rolfe.
The Crucible (1996, Nicholas Hytner)
Arthur Miller's classic play about the Salem Witchcraft Trials.
The Crossing (2000, Robert Harmon, TV film)
Follows George Washington's crossing of the Delaware River and the Battle of Trenton. Based on a novel of the same name by Howard Fast,
The Devil's Disciple (1959, Guy Hamilton, Alexander Mackendrick)
When Dick Dudgeon (Kirk Douglas) learns his father was executed by the British for treason at the onset of the Revolutionary War, he steals the body for a proper burial after minister Anthony Anderson's (Burt Lancaster) pleas for it are in vain. While visiting with the minister and his wife, the British mistakenly arrest Dick, who says nothing, choosing to stand in the minister's place. Can Anderson and the rebels convince Gen. Burgoyne (Laurence Olivier) to free Dick before he's hanged? (via Google)
Johnny Tremain (1957, Robert Stevenson)
An apprentice silversmith (Hal Stalmaster) is there at the Boston Tea Party and other highpoints of the Revolution. (via Google)
Last of the Mohicans (1992, Michael Mann)
The last members of a dying Native American tribe, the Mohicans — Uncas (Eric Schweig), his father Chingachgook (Russell Means), and his adopted half-white brother Hawkeye (Daniel Day-Lewis) — live in peace alongside British colonists. But when the daughters (Madeleine Stowe, Jodhi May) of a British colonel are kidnapped by a traitorous scout, Hawkeye and Uncas must rescue them in the crossfire of a gruesome military conflict of which they wanted no part: the French and Indian War. (via Google)
The Patriot (2000, Roland Emmerich)
A widowed farmer decides not to join the fight when the British arrive in 1776, but he must when his son enlists and is captured by the enemy, forming a regiment of Carolina patriots.
The Rebels (1979, Russ Mayberry)
After the Battle of Lexington kicks off the Revolutionary War, the Americans are rallying to fight the British. American soldier Philip Kent (Andrew Stevens) is set to fight in the Battle of Bunker Hill while his wife, Anne (Kim Cattrall), is at home looking after their child. While Kent is engaged in combat alongside Gen. George Washington, his friend Judson Fletcher (Don Johnson) becomes a member of the newly formed Second Continental Congress. (via Google)
Revolution (1985, Hugh Hudson)
A trapper (Al Pacino) joins the fight against the British in 1776 after his teenage son is tortured by a redcoat (Donald Sutherland). (via Google)
Sons of Liberty (1939, Michael Curtiz)
The life of Haym Salomon, an American patriot and financier of the American Revolution. (via Google)
The Spirit of '76 (1917, Frank Montgomery)
The Spirit of '76 was a controversial silent film that depicted both factual and fictional events during the American Revolutionary War. The film was directed by Frank Montgomery and produced and written by Robert Goldstein (via Wikipedia).
Sweet Liberty (1986, Alan Alda)
Michael has written a scholarly book on the revolutionary war. He has sold the film rights. The arrival of the film crew seriously disrupts him as actors want to change their characters, directors want to re-stage battles, and he becomes very infatuated with Faith who will play the female lead in the movie. At the same time, he is fighting with his crazy mother who thinks the Devil lives in her kitchen. (via Google)
Civil War and Reconstruction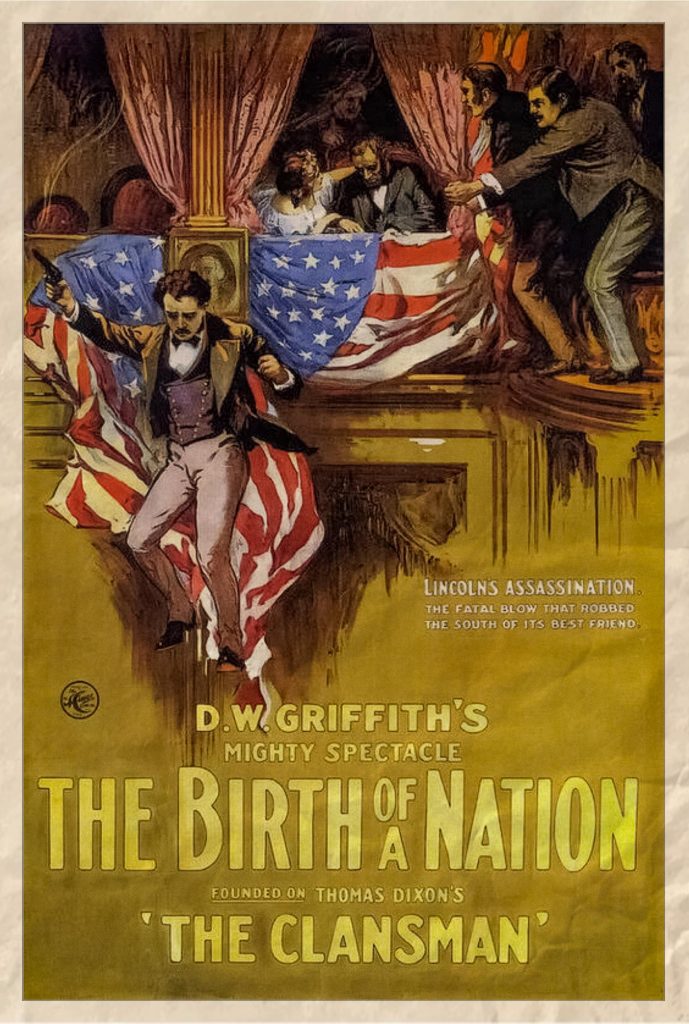 Andersonville (1996, John Frankenheimer)
Hunger, exposure and disease plague Union soldiers interned at an overcrowded Confederate prison camp in 1864 Georgia. (via Google)
Birth of a Nation (1915, D.W. Griffith, USA)
Controversial film following relationships between two families during the Civil War and Reconstruction era that portrays negative racial stereotypes of black men and depicts the KKK as a historic force.
Birth of a Nation (2016, Nate Parker)
Nat Turner is an enslaved Baptist preacher who lives on a Virginia plantation owned by Samuel Turner. With rumors of insurrection in the air, a cleric convinces Samuel that Nate should sermonize to other slaves, thereby quelling any notions of an uprising. As Nate witnesses the horrific treatment of his fellow man, he realizes that he can no longer just stand by and preach. On Aug. 21, 1831, Turner's quest for justice and freedom leads to a violent and historic rebellion in Southampton County. (via Google)
Burying My Heart at Wounded Knee (2007, Yves Simoneau)
In the 1880s, after the U. S. Army's defeat at the Battle of the Little Bighorn, the government continues to push Sioux Indians off their land. In Washington, D.C., Senator Henry Dawes (Aidan Quinn) introduces legislation to protect Native Americans rights. In South Dakota, schoolteacher Elaine Goodale (Anna Paquin) joins Sioux native and Western-educated Dr. Charles Eastman in working with tribe members. Meanwhile, Lakota Chief Sitting Bull refuses to give into mounting government pressures.
Cold Mountain (2003, Anthony Minghella)
In this classic story of love and devotion set against the backdrop of the American Civil War, a wounded Confederate soldier named W.P. Inman (Jude Law) deserts his unit and travels across the South, aiming to return to his young wife, Ada (Nicole Kidman), who he left behind to tend their farm. As Inman makes his perilous journey home, Ada struggles to keep their home intact with the assistance of Ruby (Renée Zellweger), a mysterious drifter sent to help her by a kindly neighbor. In this classic story of love and devotion set against the backdrop of the American Civil War, a wounded Confederate soldier named W.P. Inman (Jude Law) deserts his unit and travels across the South, aiming to return to his young wife, Ada (Nicole Kidman), who he left behind to tend their farm. As Inman makes his perilous journey home, Ada struggles to keep their home intact with the assistance of Ruby (Renée Zellweger), a mysterious drifter sent to help her by a kindly neighbor. (via Google)
The Conspirator (2010, Robert Redford)
Following the assassination of President Lincoln, seven men and one woman are arrested and charged with conspiring to kill Lincoln, the vice president and the secretary of state. Lawyer Frederick Aiken (James McAvoy) reluctantly agrees to defend the lone woman, Mary Surratt (Robin Wright), who owns a boarding house where John Wilkes Booth and others met to plan their crimes. Aiken realizes that Mary may be innocent and being used as bait to capture her son, a suspect who is still at large. (via Google)
Fort Apache (1948, John Ford).
When arrogant and stubborn Civil War hero Lieutenant Colonel Owen Thursday (Henry Fonda) arrives in Arizona with his daughter, Philadelphia (Shirley Temple), to assume command of the Fort Apache outpost, he clashes with level-headed Captain Kirby York (John Wayne). Viewing the local Native Americans through an ignorantly negative lens, Thursday is determined to engage them in battle for his own glory, despite the warnings of York — an act of folly that will have dire consequences (via Google)
Free State of Jones (2016, Gary Ross)
In 1863, Mississippi farmer Newt Knight serves as a medic for the Confederate Army. Opposed to slavery, Knight would rather help the wounded than fight the Union. After his nephew dies in battle, Newt returns home to Jones County to safeguard his family but is soon branded an outlaw deserter. Forced to flee, he finds refuge with a group of runaway slaves hiding out in the swamps. Forging an alliance with the slaves and other farmers, Knight leads a rebellion that would forever change history. (via Google)
Friendly Persuasion (1956, William Wyler)
The patriarch of a peace-loving Quaker family, Jess Birdwell (Gary Cooper), begins to question his pacifist values when the Civil War moves toward his close-knit Indiana community. Meanwhile, Jess's daughter, Mattie, is in love with a soldier, and her brother, Josh (Anthony Perkins), contemplates picking up arms to defend his home lest he be considered a coward. As Confederate forces draw nearer, the Birdwells must make some difficult, life-altering decisions. (via Google)
Gettysburg (1993, Ronald F. Maxwell)
This war drama depicts one of the biggest events of the American Civil War, the Battle of Gettysburg. The massive three-day conflict begins as Confederate General Robert E. Lee (Martin Sheen) presses his troops north into Pennsylvania, leading to confrontations with Union forces, including the regiment of Colonel Joshua Chamberlain (Jeff Daniels). As the battle rages on and casualties mount, the film follows both the front lines and the strategic maneuvering behind the scenes (via IMBD).
Gods and Generals (2003, Robert F. Maxwell)
Epic prequel to `Gettysburg' examining the early days of the American Civil War through the experiences of three historical figures. Colonel Joshua Lawrence Chamberlain must leave behind his quiet academic life, General Thomas Stonewall Jackson must contend with his great religious faith, and General Robert Lee is forced to choose between his loyalty to the USA and his love of the Southern states. (via Google)
Gone With the Wind (1940, Victor Fleming)
Epic Civil War drama focuses on the life of petulant southern belle Scarlett O'Hara (Vivien Leigh). Starting with her idyllic on a sprawling plantation, the film traces her survival through the tragic history of the South during the Civil War and Reconstruction, and her tangled love affairs with Ashley Wilkes (Leslie Howard) and Rhett Butler (Clark Gable) (via IMBD)
Glory (1989, Edward Zwick)
Following the Battle of Antietam, Col. Robert Gould Shaw (Matthew Broderick) is offered command of the United States' first all-African-American regiment, the 54th Massachusetts Volunteer Infantry. With junior officer Cabot Forbes (Cary Elwes), Shaw puts together a strong and proud unit, including the escaped slave Trip (Denzel Washington) and the wise gravedigger John Rawlins (Morgan Freeman). At first limited to menial manual tasks, the regiment fights to be placed in the heat of battle.
The Good, the Bad, and the Ugly (1966, Sergio Leone)
In the Southwest during the Civil War, a mysterious stranger, Joe (Clint Eastwood), and a Mexican outlaw, Tuco (Eli Wallach), form an uneasy partnership — Joe turns in the bandit for the reward money, then rescues him just as he is being hanged. When Joe's shot at the noose goes awry during one escapade, a furious Tuco tries to have him murdered. The men re-team abruptly, however, to beat out a sadistic criminal and the Union army and find $20,000 that a soldier has buried in the desert. (via Google)
Lincoln (2013, Steven Spielberg).
With the nation embroiled in still another year with the high death count of Civil War, President Abraham Lincoln (Daniel Day-Lewis) brings the full measure of his passion, humanity and political skill to what would become his defining legacy: to end the war and permanently abolish slavery through the 13th Amendment. Having great courage, acumen and moral fortitude, Lincoln pushes forward to compel the nation, and those in government who oppose him, to aim toward a greater good for all mankind (via IMBD)
The Keeping Room (2014, Daniel Barber)
During the waning days of the Civil War, two Southern sisters (Brit Marling, Hailee Steinfeld) and a slave (Muna Otaru) must defend themselves against two Union Army soldiers. (via Google)
The Outlaw Josey Wales (1976, Clint Eastwood)
Josey Wales (Clint Eastwood) watches helplessly as his wife and child are murdered, by Union men led by Capt. Terrill (Bill McKinney). Seeking revenge, Wales joins the Confederate Army. He refuses to surrender when the war ends, but his fellow soldiers go to hand over their weapons — and are massacred by Terrill. Wales guns down some of Terrill's men and flees to Texas, where he tries to make a new life for himself, but the bounty on his head endangers him and his new surrogate family. (via Google)
The Red Badge of Courage (1951, John Huston)
Henry Fleming (Audie Murphy) is a young Union soldier in the American Civil War. During his unit's first engagement, Henry flees the battlefield in fear. When he learns that the Union actually won the battle, shame over his cowardice leads him to lie to his friend Tom (Bill Mauldin) and the other soldiers, saying that he had been injured in battle. However, when he learns that his unit will be leading a charge on the enemy, Henry takes the opportunity to face his fears and redeem himself. (via Google)
Ride with the Devil (1999, Ang Lee)
On the fringes of the Civil War, Missouri Bushwackers engage in guerrilla warfare with Union Jayhawkers. Bushwackers Jake Roedel (Tobey Maguire) and Jack Chiles (Skeet Ulrich), out to avenge the murder of Jack's father, are joined by George Clyde (Simon Baker) and his former slave, Daniel (Jeffrey Wright). Hiding out for the winter, Jack has a short romance with a war widow (Jewel) before dying. Jake steps in to take care of her and her newborn before joining Quantrill's famous Kansas raid. (via Google)
Rio Lobo (1970, Howard Hanks)
Union leader Cord McNally (John Wayne) is protecting a routine gold shipment when his troops are attacked by Confederate forces. Not only does he lose the gold, but one of his strongest officers is killed in the raid. At the end of the Civil War, McNally learns that the raiders had help from the inside, and he vows to uncover the two traitors. After a chance encounter with one of the turncoats, McNally travels to the town of Rio Lobo and makes an unexpected discovery. (via Google)
Shenandoah (1965, Andrew V. McLaglen)
American Civil War film about a wealthy widower who has remained steadfast in his opposition to the war on moral grounds. However, he is forced to become involved in the conflict when his son-in-law is called upon to serve in the Confederate forces, his youngest son is captured by the Union army, and another son and his pregnant daughter-in-law are killed by looters. (via Google)
Slavery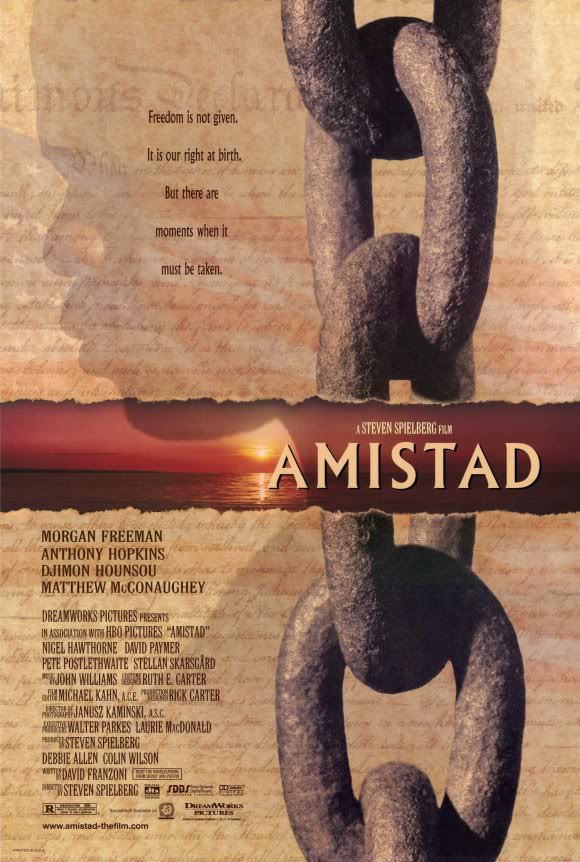 12 Years a Slave (2013, Steve McQueen)
This is the story of Solomon Northup, a free black man in New York who was kidnapped and enslaved for twelve years before he was able to get word to his family in the North and be rescued. (via Google)
Amistad (1997, Steven Spielberg, USA)
Based on true story of 1839 slave ship mutiny on board the La Amistad off the coast of Cuba. (via Google)
Beloved (1998, Johnathan Demme)
In 1873 Ohio, Sethe (Oprah Winfrey) is a mother of three haunted by her horrific slavery past and her desperate actions for freedom. As a result, Sethe's home is haunted by a furious poltergeist, which drives away her two sons. Sethe and her daughter (Kimberly Elise) endure living with the spirit for 10 more years, until an old friend, Paul D. Garner (Danny Glover), arrives to run it out. After Garner moves in, a strange woman named Beloved (Thandie Newton) enters their lives, causing turmoil. (via Google)
Django Unchained (2012, Quentin Tarantino)
Two years before the Civil War, Django (Jamie Foxx), a slave, finds himself accompanying an unorthodox German bounty hunter named Dr. King Schultz (Christoph Waltz) on a mission to capture the vicious Brittle brothers. Their mission successful, Schultz frees Django, and together they hunt the South's most-wanted criminals. Their travels take them to the infamous plantation of shady Calvin Candie (Leonardo DiCaprio), where Django's long-lost wife (Kerry Washington) is still a slave. (via Google)
Unchained Memories: Readings from the Slave Narratives (1993, Ed Bell, Thomas Lennon)
Documentary film about the stories of former slaves interviewed during the 30s as part of the Federal Writers' Project. (via IMBD)
Roots (1977, Martin J. Chomsky, John Erman, David Greene, Gilbert Moses)
Based on Alex Haley's family history. Kunta Kinte is sold into the slave trade after being abducted from his African village, and is taken to the United States. Kinte and his family observe notable events in American history, such as the Revolutionary and Civil Wars, slave uprisings and emancipation. (via Google)
Expansion and Westward Movement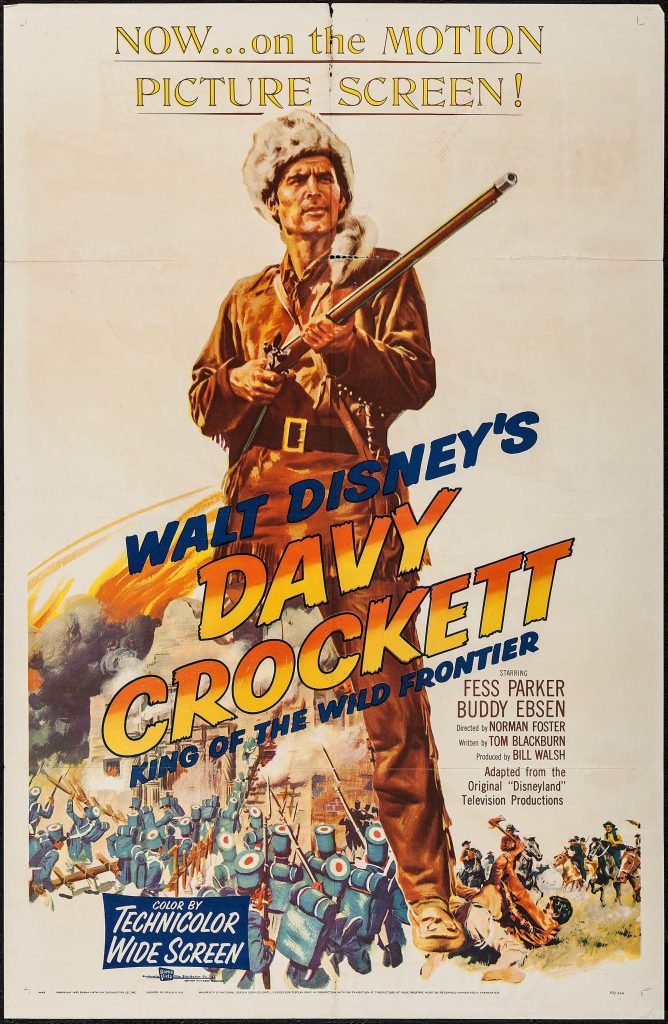 Dances with Wolves (1990, Kevin Costner).
Story of a Civil War solider whose post is in the 1870 Dakotas and becomes friends with the Lakota Sioux.
Davy Crockett, King of the Wild Frontier (1955, Norman Foster)
This big-screen movie featuring the coonskin-capped Davy Crockett (Fess Parker) consists of the first three episodes that aired on the Disneyland TV show in 1954. Crockett and his pal George Russel (Buddy Ebsen) battle Native Americans, and Russel gets captured. Crockett does what it takes to save his friend. After the wars, Crockett runs a successful political campaign to become a congressman. But the Texas Revolution calls him back to fight, and he makes his last stand at the Alamo. (via Google)
High Noon (1952, Fred Zinnemann)
Former marshal Will Kane (Gary Cooper) is preparing to leave the small town of Hadleyville, New Mexico, with his new bride, Amy (Grace Kelly), when he learns that local criminal Frank Miller has been set free and is coming to seek revenge on the marshal who turned him in. When he starts recruiting deputies to fight Miller, Kane is discouraged to find that the people of Hadleyville turn cowardly when the time comes for a showdown, and he must face Miller and his cronies alone. (via Google)
Red River (1948, Howard Hawks)
Headstrong Thomas Dunson (John Wayne) starts a thriving Texas cattle ranch with the help of his faithful trail hand, Groot (Walter Brennan), and his protégé, Matt Garth (Montgomery Clift), an orphan Dunson took under his wing when Matt was a boy. In need of money following the Civil War, Dunson and Matt lead a cattle drive to Missouri, where they will get a better price than locally, but the crotchety older man and his willful young partner begin to butt heads on the exhausting journey. (via Google)
The Searchers (1956, John Ford)
In this revered Western, Ethan Edwards (John Wayne) returns home to Texas after the Civil War. When members of his brother's family are killed or abducted by Comanches, he vows to track down his surviving relatives and bring them home. Eventually, Edwards gets word that his niece Debbie (Natalie Wood) is alive, and, along with her adopted brother, Martin Pawley (Jeffrey Hunter), he embarks on a dangerous mission to find her, journeying deep into Comanche territory (via IMBD)
Powwow Highway (1989, Jonathan Wacks)
Two Cheyenne Indian friends set off on a road trip and journey of self discovery.
Santa Fe Trail (1940, Michael Curtiz)
Follows abolitionist John Brown.
Stagecoach (1939, John Ford)
John Ford's landmark Western revolves around an assorted group of colorful passengers aboard the Overland stagecoach bound for Lordsburg, New Mexico, in the 1880s. An alcoholic philosophizer (Thomas Mitchell), a lady of ill repute (Claire Trevor) and a timid liquor salesman (Donald Meek) are among the motley crew of travelers who must contend with an escaped outlaw, the Ringo Kid (John Wayne), and the ever-present threat of an Apache attack as they make their way across the Wild West. (via Google)
Shane (1953, George Stevens)
Enigmatic gunslinger Shane (Alan Ladd) rides into a small Wyoming town with hopes of quietly settling down as a farmhand. Taking a job on homesteader Joe Starrett's (Van Heflin) farm, Shane is drawn into a battle between the townsfolk and ruthless cattle baron Rufus Ryker (Emile Meyer). Shane's growing attraction to Starrett's wife, Marian (Jean Arthur), and his fondness for their son Joey (Brandon de Wilde), who idolizes Shane, force Shane to realize that he must thwart Ryker's plan. (via Google)
Little Big Man (1990, Arthur Penn)
When a curious oral historian (William Hickey) turns up to hear the life story of 121-year-old Jack Crabb (Dustin Hoffman), he can scarcely believe his ears. Crabb tells of having been rescued and raised by the Cheyenne, of working as a snake-oil salesman, as a gunslinger, and as a mule skinner under Gen. Custer (Richard Mulligan). As if those weren't astonishing enough, he also claims to be the only white survivor of the infamous Battle of the Little Bighorn. (via Google)
Unforgiven (1992, Clint Eastwood)
When prostitute Delilah Fitzgerald (Anna Thomson) is disfigured by a pair of cowboys in Big Whiskey, Wyoming, her fellow brothel workers post a reward for their murder, much to the displeasure of sheriff Little Bill Daggett (Gene Hackman), who doesn't allow vigilantism in his town. Two groups of gunfighters, one led by aging former bandit William Munny (Clint Eastwood), the other by the florid English Bob (Richard Harris), come to collect the reward, clashing with each other and the sheriff. (via Google)
They Died with their Boots On (1941, Raoul Walsh)
George Armstrong Custer (Errol Flynn) is a rebellious but ambitious soldier, eager to join the Civil War. During the war, Custer has numerous successes to his credit, even though he disobeys orders. After the war concludes, he marries Libby Bacon (Olivia de Havilland) and is assigned to the Dakota Territory. Custer negotiates honestly with the Sioux on land, but due to corruption from others, a battle with Sitting Bull's forces occurs at Little Big Horn. (via Google)
The Alamo (2004, John Lee Hancock)
In 1836 Gen. Sam Houston (Dennis Quaid) organizes a rebel army to liberate Texas from the brutal rule of Mexican dictator General Santa Anna (Emilio Echevarría). Though vastly outnumbered, Gen. Houston's volunteer army includes such folkloric figures as Jim Bowie (Jason Patric) and Davy Crockett (Billy Bob Thornton). As Santa Anna's forces advance on San Antonio, the legendary general and his men prepare for a final heroic standoff at a battle-worn mission called the Alamo. (via Google)
Industrial Age (1871-1914)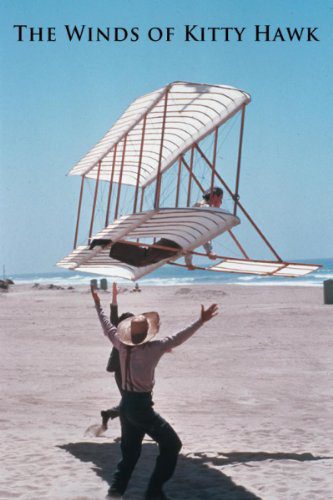 The Winds of Kitty Hawk (1978, E.W. Swackhamer)
After many years of trying, Orville and Wilbur Wright succeed in making their heavier-than-air aircraft fly, south of Kitty Hawk, on December 17, 1903. They later try to sell their invention to the US government (via IMBD)
Far and Away (1992, Ron Howard)
Nicole Kidman and Tom Cruise play Irish immigrants who take part in the Land Run of 1893.
Gangs of New York (2002, Martin Scorsese)
In 1863, Irish immigrant Amsterdam Vallon returns to the Five Points area of New York City seeking revenge against Bill the Butcher, his father's killer (via IMBD)
WWI-Depression (1914-1940)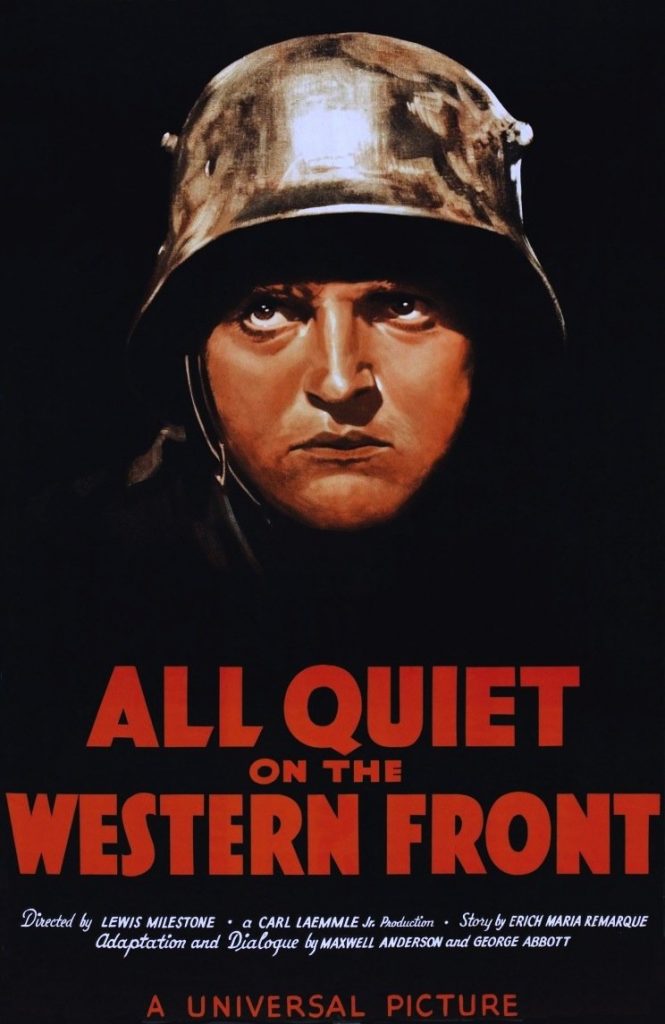 All Quiet on the Western Front (1930, Lewis Milestone)
The film follows a group of German schoolboys, talked into enlisting at the beginning of World War I by their jingoistic teacher. The story is told entirely through the experiences of the young German recruits and highlights the tragedy of war through the eyes of individuals. (via Google)
Cinderella Man (2005, Ron Howard)
During the Great Depression, ex-boxer James J. Braddock (Russell Crowe) works as a day laborer until his former manager Joe Gould (Paul Giamatti) offers him a one-time slot against a rising young contender. After he wins a shocking upset, Braddock goes back into the ring full time, against the wishes of his frightened wife, Mae (Renée Zellweger). Dubbed "The Cinderella Man" for his rags-to-riches story, Braddock sets his sights on the defending champion, the fearsome Max Baer (Craig Bierko). (via Google)
The Grapes of Wrath (1940, John Ford)
The film tells the story of the Joads, an Oklahoma family, who, after losing their farm during the Great Depression in the 1930s, become migrant workers and end up in California (via Wikipedia)
The Long Grey Line (1955, John Ford)
High-spirited Irish immigrant Marty Maher (Tyrone Power) is an awkward misfit at West Point until he's taken in as an assistant by kindly athletic director Capt. Herman J. Koehler (Ward Bond). A budding romance that turns into a happy marriage to a fellow Irish immigrant, housemaid Mary O'Donnell (Maureen O'Hara), also helps Maher mellow into a beloved and long-standing fixture at the military academy, where his career as an officer and mentor spans 50 years. This film is based on a true story (via IMBD).
Greatest Game Ever Played (2005, Bill Paxton)
Blue-collar Francis Ouimet (Shia LaBeouf) fights class prejudice while mastering golf, a game guarded by the upper crust. Employed as a caddy at the exclusive Brookline Country Club, Francis fine-tunes his skills during off hours. His father, Arthur (Elias Koteas), disapproves, but a few admirers help Francis enter the 1913 U.S. Open. The underdog competes against British star Harry Vardon (Stephen Dillane) and finds common ground with his boyhood idol. The film is based on a true story. (via Google)
Iron Jawed Angels (2004, Katja von Garnier)
Fiery American suffragette Alice Paul lights a fire under the older women's leaders in Washington DC. President Wilson refuses to give all women the vote, but Paul is prepared to go to prison for her cause (IMBD)
Life (1999, Ted Demme)
During Prohibition, loudmouth Harlem grifter Ray (Eddie Murphy) and the no-nonsense Claude (Martin Lawrence) team up on a bootlegging mission to Mississippi that could bring them big bucks. But they run into trouble when a crooked lawman hits them with a phony murder charge. Ray and Claude are given life sentences and shipped off to jail, where they must think of a way to prove their innocence and avoid the brutal guards while battling their biggest enemies — their opposing personalities. (via Google)
Matewan (1987, John Sayles)
Dramatization of the Battle of Matewan, a coal miners' strike of 1920 in a small West Virginian town.
Modern Times (1936, Charlie Chaplin)
The main character struggles to survive in the modern, industrialized world in the aftermath of the Great Depression.
Paths of Glory (1957, Stanley Kubrick)
During World War I, commanding officer General Broulard (Adolphe Menjou) orders his subordinate, General Mireau (George Macready), to attack a German trench position, offering a promotion as an incentive. Though the mission is foolhardy to the point of suicide, Mireau commands his own subordinate, Colonel Dax (Kirk Douglas), to plan the attack. When it ends in disaster, General Mireau demands the court-martial of three random soldiers in order to save face. (via Google)
Red-Headed Woman (1932, Jack Conway)
Starring Jean Harlow, this film follows a woman who uses sex to advance her social position.
Seabiscuit (2003, Gary Ross)
In the midst of the Great Depression, a businessman (Jeff Bridges) coping with the tragic death of his son, a jockey with a history of brutal injuries (Tobey Maguire) and a down-and-out horse trainer (Chris Cooper) team up to help Seabiscuit, a temperamental, undersized racehorse. At first the horse struggles to win, but eventually Seabiscuit becomes one of the most successful thoroughbreds of all time, and inspires a nation at a time when it needs it most. (via Google)
Sgt. York (1941, Howard Hanks)
Prize-winning Tennessee marksman Alvin York (Gary Cooper), a recent convert to Christianity, finds himself torn between his non-violent beliefs and his desire to serve his country when recruited to fight in World War I. Kindly Major Buxton (Stanley Ridges) convinces York to engage in battle, where the pacifist's prowess with a rifle earns him honors as he continues to struggle with his decision to kill. Howard Hawks directs this adaptation of the real York's memoirs.
Within Our Gates (1920, Oscar Micheaux)
In this early silent film from pioneering director Oscar Micheaux, kindly Sylvia Landry (Flo Clements) takes a fundraising trip to Boston in hopes of collecting $5,000 to keep a Southern school for impoverished black children open to the public. She then meets the warmhearted Dr. Vivian (William Smith), who falls in love with Sylvia and travels with her back to the South. There, Dr. Vivian learns about Sylvia's shocking, tragic past and realizes that racism has changed her life forever. (via Google)
WWII (1941-1945)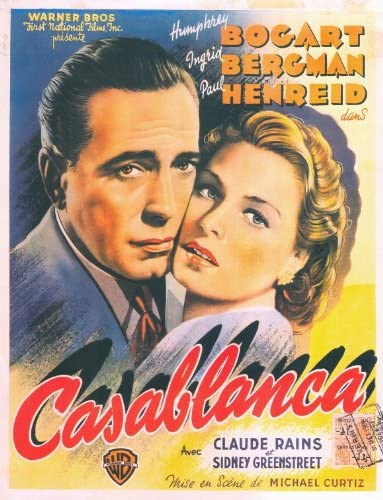 Bless Me, Ultima (2013, Carl Franklin)
Set in New Mexico, A young man and an elderly medicine woman try to end the battle between good and evil that is waging out of control through their village during World War II. (via Google)
Casablanca (1942, Michael Curtiz)
Rick Blaine (Humphrey Bogart), who owns a nightclub in Casablanca, discovers his old flame Ilsa (Ingrid Bergman) is in town with her husband, Victor Laszlo (Paul Henreid). Laszlo is a famed rebel, and with Germans on his tail, Ilsa knows Rick can help them get out of the country. (via Google)
Flags of our Fathers (2006, Clint Eastwood)
In February and March of 1945, U.S. troops fight and win one of the most crucial and costly battles of the war on the island of Iwo Jima. A photo of U.S. servicemen raising the flag on Mount Suribachi becomes an iconic symbol of victory to a war-weary nation. The individuals themselves become heroes, though not all survive the war and realize it (via IMBD).
From Here to Eternity (1953, Fred Zinnermann)
At an Army barracks in Hawaii in the days preceding the attack on Pearl Harbor, lone-wolf soldier and boxing champion "Prew" Prewitt (Montgomery Clift) refuses to box, preferring to play the bugle instead. Hard-hearted Capt. Holmes (Philip Ober) subjects Prew to a grueling series of punishments while, unknown to Holmes, the gruff but fair Sgt. Warden (Burt Lancaster) engages in a clandestine affair with the captain's mistreated wife (Deborah Kerr). (via Google)
The Great Escape (1963, John Sturges)
Imprisoned during World War II in a German POW camp, a group of Allied soldiers are intent on breaking out, not only to escape, but also to draw Nazi forces away from battle to search for fugitives. (via Google)
Hacksaw Ridge (2016, Mel Gibson)
The true story of Pfc. Desmond T. Doss (Andrew Garfield), who won the Congressional Medal of Honor despite refusing to bear arms during WWII on religious grounds. Doss was drafted and ostracized by fellow soldiers for his pacifist stance but went on to earn respect and adoration for his bravery, selflessness and compassion after he risked his life — without firing a shot — to save 75 men in the Battle of Okinawa. (via Google)
Hiroshima (1995, Roger Spottiswoode, Koreyoshi Kurahara)
After the death of Franklin Delano Roosevelt, Vice President Harry Truman (Kenneth Welsh) is suddenly forced to deal with the difficult task of taking control of the United States during the closing stages of World War II. Though the Germans have been beaten down and are on the verge of surrender, Japanese forces refuse to back down. Meanwhile, President Truman is getting conflicting advice regarding the necessity of dropping a nuclear bomb on Hiroshima. (via Google)
Letters from Iwo Jima (2006, Clint Eastwood)
Long-buried missives from the island reveal the stories of the Japanese troops who fought and died there during World War II. Among them are Saigo (Kazunari Ninomiya), a baker; Baron Nishi (Tsuyoshi Ihara), an Olympic champion; and Shimizu (Ryô Kase), an idealistic soldier. Though Lt. Gen. Tadamichi Kuribayashi (Ken Watanabe) knows he and his men have virtually no chance of survival, he uses his extraordinary military skills to hold off American troops as long as possible. (via Google)
Patton (1970, Franklin J. Schaffner)
Biopic of General George S. Patton.
Pearl Harbor (2001, Michael Bay)
This sweeping drama, based on real historical events, follows American boyhood friends Rafe McCawley (Ben Affleck) and Danny Walker (Josh Hartnett) as they enter World War II as pilots. Rafe is so eager to take part in the war that he departs to fight in Europe alongside England's Royal Air Force. On the home front, his girlfriend, Evelyn (Kate Beckinsale), finds comfort in the arms of Danny. The three of them reunite in Hawaii just before the Japanese attack on Pearl Harbor. (via Google)
Red Tails (2012, George Lucas, Anthony Hemingway)
During World War II, the Civil Aeronautics Authority selects 13 black cadets to become part of an experimental program at the Tuskegee Institute in Alabama. The program aims at training "colored personnel" to become fighter pilots for the Army. However, discrimination, lack of institutional support and the racist belief that these men lacked the intelligence and aptitude for the job dog their every step. Despite this, the Tuskegee Airmen, as they become known, more than prove their worth. (via Google)
Saving Private Ryan (1998, Steven Spielberg)
Captain John Miller (Tom Hanks) takes his men behind enemy lines to find Private James Ryan, whose three brothers have been killed in combat. Surrounded by the brutal realties of war, while searching for Ryan, each man embarks upon a personal journey and discovers their own strength to triumph over an uncertain future with honor, decency and courage. (via Google)
Tora! Tora! Tora! (1970, Richard Fleischer, Kinji Fukasaku, Toshio Masuda)
This dramatic retelling of the Pearl Harbor attack details everything in the days that led up to that tragic moment in American history. As United States and Japanese relations strain over the U.S. embargo of raw materials, Air Staff Officer Minoru Genda (Tatsuya Mihashi) plans the preemptive strike against the United States. Although American intelligence agencies intercept Japanese communications hinting at the attack, they are unwilling to believe such a strike could ever occur on U.S. soil. (via Google)
Watch on the Rhine (1943, Herman Shumlin)
Anti-Fascist German engineer Kurt Muller (Paul Lukas), with his American-born wife, Sara (Bette Davis), and their three children, returns to the United States in 1940 after spending 17 years in Europe, where Kurt has engaged in underground resistance to the rising Nazi threat. Unscrupulous Romanian count Teck de Brancovis (George Coulouris), a houseguest of Sara's family in Washington, D.C., discovers Kurt's secret and threatens to expose his activities to his contacts at the German embassy. (via Google)
Postwar to Cold War (1945-1960s)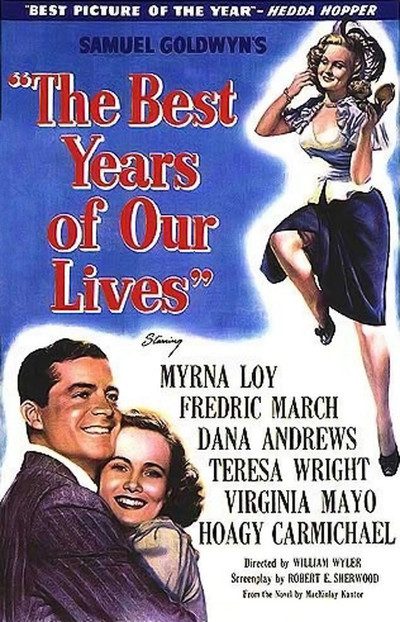 Best Years of Our Lives (1946, William Wyler)
Fred, Al and Homer are three World War II veterans facing difficulties as they re-enter civilian life. Fred (Dana Andrews) is a war hero who, unable to compete with more highly skilled workers, has to return to his low-wage soda jerk job. Bank executive Al (Fredric March) gets into trouble for offering favorable loans to veterans. After losing both hands in the war, Homer (Harold Russell) returns to his loving fiancée, but must struggle to adjust. (via Google)
Desert Bloom (1986, Eugene Corr)
In post-World War II Las Vegas, the Chismore family teeters on the brink of collapse, headed by alcoholic stepfather Jack (Jon Voight) and his wife, Lily (JoBeth Williams). Teen daughter Rose (Annabeth Gish), powerless to change the horrific cycle of abuse in the household, takes comfort in a budding romance with local boy Robin (Jay Underwood). Rose's family life undergoes a significant transformation, however, when her somewhat quirky Aunt Starr (Ellen Barkin) arrives. (via Google)
Dr. Strangelove (1964, Stanley Kubrick)
A film about what could happen if the wrong person pushed the wrong button — and it played the situation for laughs. U.S. Air Force General Jack Ripper goes completely insane, and sends his bomber wing to destroy the U.S.S.R. He thinks that the communists are conspiring to pollute the "precious bodily fluids" of the American people (IMBD)
Easy Rider (1969, Dennis Hopper)
Wyatt (Peter Fonda) and Billy (Dennis Hopper), two Harley-riding hippies, complete a drug deal in Southern California and decide to travel cross-country in search of spiritual truth. On their journey, they experience bigotry and hatred from the inhabitants of small-town America and also meet with other travelers seeking alternative lifestyles. After a terrifying drug experience in New Orleans, the two travelers wonder if they will ever find a way to live peacefully in America. (via Google)
Edgar (2001, Clint Eastwood)
As head of the FBI for nearly 50 years, J. Edgar Hoover (Leonardo DiCaprio) becomes one of America's most-powerful men. Serving through eight presidents and three wars, Hoover utilizes methods both ruthless and heroic to keep his country safe. Projecting a guarded persona in public and in private, he lets few into his inner circle. Among those closest to him are his protege and constant companion, Clyde Tolson (Armie Hammer), and Helen Gandy (Naomi Watts), his loyal secretary. (via Google)
Fences (2016, Denzel Washington)
Troy Maxson (Denzel Washington) makes his living as a sanitation worker in 1950s Pittsburgh. Maxson once dreamed of becoming a professional baseball player, but was deemed too old when the major leagues began admitting black athletes. Bitter over his missed opportunity, Troy creates further tension in his family when he squashes his son's (Jovan Adepo) chance to meet a college football recruiter. (via Google)
Goodnight, and Goodluck (2005, George Clooney)
Drama film following conflict between veteran radio and television host Edward R. Murrow and Senator Joseph McCarthy.
The Graduate (1967, Mike Nichols)
Benjamin Braddock (Dustin Hoffman) has just finished college and, back at his parents' house, he's trying to avoid the one question everyone keeps asking: What does he want to do with his life? An unexpected diversion crops up when he is seduced by Mrs. Robinson (Anne Bancroft), a bored housewife and friend of his parents. But what begins as a fun tryst turns complicated when Benjamin falls for the one woman Mrs. Robinson demanded he stay away from, her daughter, Elaine (Katharine Ross). (via Google)
Inherit the Wind (1960, Stanley Kramer)
In the 1920s, Tennessee schoolteacher Bertram Cates (Dick York) is put on trial for violating the Butler Act, a state law that prohibits public school teachers from teaching evolution instead of creationism. Drawing intense national attention in the media with writer E. K. Hornbeck (Gene Kelly) reporting, two of the nation's leading lawyers go head to head: Matthew Harrison Brady (Fredric March) for the prosecution, and Henry Drummond (Spencer Tracy) for the defense. (via Google)
JFK (1991, Oliver Stone)
This acclaimed Oliver Stone drama presents the investigation into the assassination of President John F. Kennedy led by New Orleans district attorney Jim Garrison (Kevin Costner). When Garrison begins to doubt conventional thinking on the murder, he faces government resistance, and, after the killing of suspected assassin Lee Harvey Oswald (Gary Oldman), he closes the case. Later, however, Garrison reopens the investigation, finding evidence of an extensive conspiracy behind Kennedy's death. (via Google)
Mr. Blandings Builds His Dream House (1948, H.C. Potter)
When advertising executive Jim Blandings (Cary Grant) discovers his wife's (Myrna Loy) plan to redecorate their New York apartment, he counters with a proposal that they move to Connecticut. She agrees, and the two are soon conned into buying a house that turns out to be a complete nightmare. Construction and repair bills accumulate quickly, and Jim worries that their future hangs in the balance unless he can come up with a catchy new jingle that will sell ham. (via Google)
The Man in the Grey Flannel Suit (1956, Nunnally Johnson)
Tom Rath (Gregory Peck) is a suburban father and husband haunted by his memories of World War II, including a wartime romance with Italian village girl Maria (Marisa Pavan), which resulted in an illegitimate son he's never seen. Pressed by his unhappy wife (Jennifer Jones) to get a higher-paying job, Rath goes to work as a public relations man for television network president Ralph Hopkins (Fredric March). Drawn into poisonous office politics, Tom finds he must choose his career or his family. (via Google)
Mission to Moscow (1943, Michael Curtiz)
Joseph E. Davies (Walter Huston) is the American ambassador to the Soviet Union between World War I and World War II. Moving to the communist state, Davies records his impressions of Soviet life, politics and foreign policy. (via Google)
My Family (1995, Gregory Nava)
A second-generation Mexican immigrant narrates his family history, beginning with the journey of his father, Jose (Jacob Vargas), across Mexico to Los Angeles where he meets Maria (Jennifer Lopez) and starts a family. Each subsequent generation contends with political and social hardships, ranging from illegal deportations in the 1940s to racial tensions and gang fights in the '60s and '70s. Yet through it all, or perhaps because of it, the family remains strong. (via Google)
On the Waterfront (1954, Elia Kazan)
Crime drama starring Marlon Brando focusing on union violence and corruption on the waterfronts of Hoboken, New Jersey. (via Google)
Salt of the Earth (1954, Herbert J. Biberman)
At New Mexico's Empire Zinc mine, Mexican-American workers protest the unsafe work conditions and unequal wages compared to their Anglo counterparts. Ramon Quintero (Juan Chacon) helps organize the strike, but he is shown to be a hypocrite by treating his pregnant wife, Esperanza (Rosaura Revueltas), with a similar unfairness. When an injunction stops the men from protesting, however, the gender roles are reversed, and women find themselves on the picket lines while the men stay at home (via Wikipedia)
12 Angry Men (1957, Sidney Lumet)
Courtroom drama film in which 12 jurors decide the fate of a man on trial for the murder of his father. Each of the jurors expose their own prejudices and character flaws – produced in pandemonium of McCarthyism, threat from within, citizen responsibility. (via Google)
To Kill a Mockingbird (1962, Robert Mulligan)
Scout Finch (Mary Badham), 6, and her older brother, Jem (Phillip Alford), live in sleepy Maycomb, Ala., spending much of their time with their friend Dill (John Megna) and spying on their reclusive and mysterious neighbor, Boo Radley (Robert Duvall). When Atticus (Gregory Peck), their widowed father and a respected lawyer, defends a black man named Tom Robinson (Brock Peters) against fabricated rape charges, the trial and tangent events expose the children to evils of racism and stereotyping. (via Google)
West Side Story (1961, Jerome Robbins, Robert Wise)
A musical in which a modern day Romeo and Juliet are involved in New York street gangs. On the harsh streets of the upper west side, two gangs battle for control of the turf. The situation becomes complicated when a gang members falls in love with a rival's sister. (via Google)
Civil Rights, Segregation, Jim Crow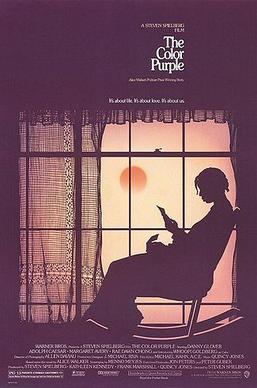 The Butler (2013, Lee Daniels)
After leaving the South as a young man and finding employment at an elite hotel in Washington, D.C., Cecil Gaines (Forest Whitaker) gets the opportunity of a lifetime when he is hired as a butler at the White House. Over the course of three decades, Cecil has a front-row seat to history and the inner workings of the Oval Office. However, his commitment to his "First Family" leads to tension at home, alienating his wife (Oprah Winfrey) and causing conflict with his anti-establishment son. (via Google)
The Color Purple (1985, Steven Spielberg)
An epic tale spanning forty years in the life of Celie (Whoopi Goldberg), an African-American woman living in the South who survives incredible abuse and bigotry. After Celie's abusive father marries her off to the equally debasing "Mister" Albert Johnson (Danny Glover), things go from bad to worse, leaving Celie to find companionship anywhere she can. She perseveres, holding on to her dream of one day being reunited with her sister in Africa. Based on the novel by Alice Walker (IMBD).
Detroit (2017, Kathryn Bigelow)
In the summer of 1967, rioting and civil unrest starts to tear apart the city of Detroit. Two days later, a report of gunshots prompts the Detroit Police Department, the Michigan State Police and the Michigan Army National Guard to search and seize an annex of the nearby Algiers Motel. Several policemen start to flout procedure by forcefully and viciously interrogating guests to get a confession. By the end of the night, three unarmed men are gunned down while several others are brutally beaten. (via Google)
Criticism in HuffPost: https://www.huffingtonpost.com/entry/detroit-is-the-most-irresponsible-and-dangerous-movie-this-year_us_5988570be4b0f2c7d93f5744
Freedom Riders (2010, Stanley Nelson Jr)
Renowned director Stanley Nelson chronicles the inspirational story of American civil rights activists' peaceful fight against racial segregation on buses and trains in the 1960s. (via Google)
Freedom Song (2000, Phil Alden Robinson)
Owen (Vicellous Reon Shannon) is a young man living in Mississippi at the dawn of the civil rights movement. Surrounded by racism, Owen looks for inspiration in dealing with oppression, while his father, Will (Danny Glover), prefers to keep his head down after his bad luck with protests in the past. Will expects his son to follow suit, but their relationship is put to the test when Owen starts joining in peaceful protests organized by the Student Non-Violent Coordinating Committee. (via Google)
Ghosts of Mississippi (1996, Rob Reiner)
Tells the story of the murder of Medgar Evans in 1963.
Guess Who's Coming to Dinner (1964, Stanley Kramer)
When Joanna Drayton (Katharine Houghton), a free-thinking white woman, and black doctor John Prentice (Sidney Poitier) become engaged, they travel to San Francisco to meet her parents. Matt Drayton (Spencer Tracy) and his wife Christina (Katharine Hepburn) are wealthy liberals who must confront the latent racism the coming marriage arouses. Also attending the Draytons' dinner are Prentice's parents (Roy E. Glenn Sr., Beah Richards), who vehemently disapprove of the relationship. (via Google)
The Help (2011, Tate Taylor)
In 1960s Mississippi, Southern society girl Skeeter (Emma Stone) returns from college with dreams of being a writer. She turns her small town on its ear by choosing to interview the black women who have spent their lives taking care of prominent white families. Only Aibileen (Viola Davis), the housekeeper of Skeeter's best friend, will talk at first. But as the pair continue the collaboration, more women decide to come forward, and as it turns out, they have quite a lot to say. (via Google)
Hidden Figures (2016, Theodore Melfi)
Three brilliant African-American women at NASA — Katherine Johnson (Taraji P. Henson), Dorothy Vaughan (Octavia Spencer) and Mary Jackson (Janelle Monáe) — serve as the brains behind one of the greatest operations in history: the launch of astronaut John Glenn (Glen Powell) into orbit, a stunning achievement that restored the nation's confidence, turned around the Space Race and galvanized the world. (via Google)
I am Not Your Negro (2016, Raoul Peck)
In 1979, James Baldwin began writing "Remember This House," a radical account of the lives and assassinations of three men he was quite close to: Medgar Evers, Malcolm X and Martin Luther King Jr. However, Baldwin had only written 30 pages of the manuscript before passing away in 1987. This documentary, narrated by Samuel L. Jackson, imagines what could have come of this never-finished book. (HuffPost)
The Jackie Robinson Story (1950, Alfred E. Green)
After a successful baseball career in college and as a coach in the military, Jackie Robinson (playing himself) attracts the attention of Major League Baseball's Branch Rickey (Minor Watson). Rickey wants Robinson to play in the minor leagues, believing he can become the first player to break the color barrier and play in the majors. The only catch: He is forbidden from defending himself against racial bigotry. Supported by his wife (Ruby Dee), Robinson is steadfast in his determination to win. (via Google)
The Loving Story (2012, HBO Documentary)
On June 2, 1958, a white man named Richard Loving and his part-black, part-Cherokee fiancée Mildred Jeter travelled from Caroline County, VA to Washington, D.C. to be married. At the time, interracial marriage was illegal in 21 states, including Virginia. Back home two weeks later, the newlyweds were arrested, tried and convicted of the felony crime of "miscegenation." To avoid a one-year jail sentence, the Lovings agreed to leave the state; they could return to Virginia, but only separately (via HBO)
Malcolm X (1992, Spike Lee)
A tribute to the controversial black activist and leader of the struggle for black liberation. He hit bottom during his imprisonment in the '50s, he became a Black Muslim and then a leader in the Nation of Islam. His assassination in 1965 left a legacy of self-determination and racial pride. (via Google)
Mississippi Burning (1988, Alan Parker)
When a group of civil rights workers goes missing in a small Mississippi town, FBI agents Alan Ward (Willem Dafoe) and Rupert Anderson (Gene Hackman) are sent in to investigate. Local authorities refuse to cooperate with them, and the African American community is afraid to, precipitating a clash between the two agents over strategy. As the situation becomes more volatile, the direct approach is abandoned in favor of more aggressive, hard-line tactics. (via Google)
Mudbound (2017, Dee Rees, Netflix)
"In the post-World War II Jim Crow South, two families, one black and one white, struggle to keep their farms and lives intact in rural Mississippi. Featuring Mary J. Blige, directed and written by black creatives and nominated for four Oscars (including Best Picture).." (HuffPost)
Remember the Titans (2000, Boaz Yakin)
In Virginia, high school football is a way of life, an institution revered, each game celebrated more lavishly than Christmas, each playoff distinguished more grandly than any national holiday. And with such recognition, comes powerful emotions. In 1971 high school football was everything to the people of Alexandria. But when the local school board was forced to integrate an all black school with an all white school, the very foundation of football's great tradition was put to the test (IMBD).
Rosewood (1997, John Singleton)
Rosewood, Florida, is a small, peaceful town with an almost entirely African-American population of middle-class homeowners, until New Year's Day 1923, when a lynch mob from a neighboring white community storms the town. Among the carnage, music teacher Sylvester (Don Cheadle) and mysterious stranger Mann (Ving Rhames) stand tall against the invaders, while white grocer John (Jon Voight) attempts to save the town's women and children. The film is based on a true story.
Selma (2014, Ava DuVernay)
Although the Civil Rights Act of 1964 legally desegregated the South, discrimination was still rampant in certain areas, making it very difficult for blacks to register to vote. In 1965, an Alabama city became the battleground in the fight for suffrage. Despite violent opposition, Dr. Martin Luther King Jr. (David Oyelowo) and his followers pressed forward on an epic march from Selma to Montgomery, and their efforts culminated in President Lyndon Johnson signing the Voting Rights Act of 1965. (via Google)
Something the Lord Made (2004, Joseph Sargent)
Although Vivien Thomas (Mos Def), a black man in the 1930s, is originally hired as a janitor, he proves himself adept at assisting the "Blue Baby doctor," Alfred Blalock (Alan Rickman), with his medical research. When Blalock insists that Thomas follow him to Johns Hopkins University, they must find a way to skirt a racist system to continue their study of infant heart disease. Thomas is indispensable to Blalock's progress, but Blalock is the only one who is allowed to receive the acclaim. (via Google)
Walkout (2006 Edward James Olmos)
A teacher (Michael Peña) becomes a mentor to Chicano high-school students protesting injustices in public schools in 1968. (via Google)
1960s-1970s (Vietnam)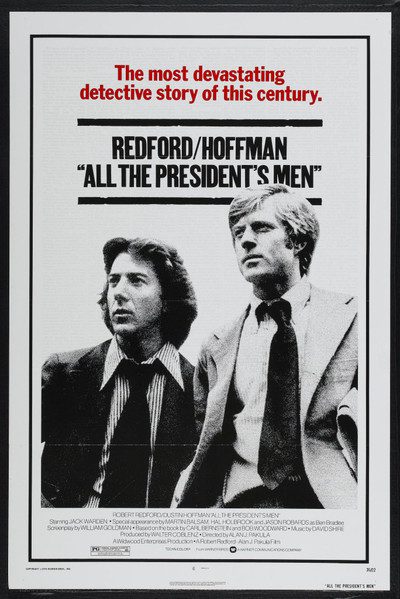 All the President's Men (1976, Alan J. Pakula)
Two green reporters and rivals working for the Washington Post, Bob Woodward (Robert Redford) and Carl Bernstein (Dustin Hoffman), research the botched 1972 burglary of the Democratic Party Headquarters at the Watergate apartment complex. With the help of a mysterious source, code-named Deep Throat (Hal Holbrook), the two reporters make a connection between the burglars and a White House staffer. Despite dire warnings about their safety, the duo follows the money all the way to the top. (via Google)
Apollo 13 (1995, Ron Howard)
This Hollywood drama is based on the events of the Apollo 13 lunar mission, astronauts Jim Lovell (Tom Hanks), Fred Haise (Bill Paxton) and Jack Swigert (Kevin Bacon) find everything going according to plan after leaving Earth's orbit. However, when an oxygen tank explodes, the scheduled moon landing is called off. Subsequent tensions within the crew and numerous technical problems threaten both the astronauts' survival and their safe return to Earth. (via Google)
Apocalypse Now (1979, Francis Ford Coppola)
In Vietnam in 1970, Captain Willard (Martin Sheen) takes a perilous and increasingly hallucinatory journey upriver to find and terminate Colonel Kurtz (Marlon Brando), a once-promising officer who has reportedly gone completely mad. In the company of a Navy patrol boat filled with street-smart kids, a surfing-obsessed Air Cavalry officer (Robert Duvall), and a crazed freelance photographer (Dennis Hopper), Willard travels further and further into the heart of darkness. (via Google)
Argo (2012, Ben Affleck)
On Nov. 4, 1979, militants storm the U.S. embassy in Tehran, Iran, taking 66 American hostages. Amid the chaos, six Americans manage to slip away and find refuge with the Canadian ambassador. Knowing that it's just a matter of time before the refugees are found and likely executed, the U.S. government calls on extractor Tony Mendez (Ben Affleck) to rescue them. Mendez's plan is to pose as a Hollywood producer scouting locations in Iran and train the refugees to act as his "film" crew. (via Google)
Born on the Fourth of July (1989, Oliver Stone)
In the mid 1960s, suburban New York teenager Ron Kovic (Tom Cruise) enlists in the Marines, fulfilling what he sees as his patriotic duty. During his second tour in Vietnam, he accidentally kills a fellow soldier during a retreat and later becomes permanently paralyzed in battle. Returning home to an uncaring Veterans Administration bureaucracy and to people on both sides of the political divide who don't understand what he went through, Kovic becomes an impassioned critic of the war. (via Google)
Casualties of War (1989, Brian De Palma)
Pvt. Max Eriksson (Michael J. Fox) is stationed in Vietnam under Sgt. Tony Meserve (Sean Penn). Though Meserve saves Eriksson's life during battle, the two men clash when the callous senior officer orders the abduction of Than Thi Oanh (Thuy Thu Le), a young Vietnamese woman, to be used as a sex slave. When Eriksson refuses to take part in the abuse of Oanh, tensions between him, Meserve and the rest of the unit heat up and finally explode during a firefight with Viet Cong troops. (via Google)
Cesar Chavez (2014, Diego Luna)
Famed labor organizer and civil-rights activist Cesar Chavez (Michael Peña) is torn between his duty to his family and his commitment to securing a living wage for farm workers. (via Google)
Coming Home (1978, Hal Ashby)
Fonda plays a woman whose husband serves in active combat in Vietnam and volunteers at a local VA hospital. There she meets (and begins an affair with) a paraplegic Vietnam vet who struggles to reconcile his experience in the war—and his re-introduction to a country in which he feels unwelcome (via Esquire).
Crooklyn (1994, Spike Lee)
There are so few coming-of-age movies about young black girls, which makes Spike Lee's "Crooklyn" such a vital part of black movie history. Starring Zelda Harris and Alfre Woodard, the film is set in the 1970s and follows the young tomboy Troy (Harris) during her both idyllic and difficult childhood in Brooklyn. (HuffPost)
The Deer Hunter (1978, Michael Cimino)
In 1968, Michael (Robert De Niro), Nick (Christopher Walken) and Steven (John Savage), lifelong friends from a working-class Pennsylvania steel town, prepare to ship out overseas following Steven's elaborate wedding and one final group hunting trip. In Vietnam, their dreams of military honor are quickly shattered by the inhumanities of war; even those who survive are haunted by the experience, as is Nick's hometown sweetheart, Linda (Meryl Streep). (via Google)
Frost/Nixon (2008, Ron Howard)
In 1977, three years after the Watergate scandal that ended his presidency, Richard Nixon (Frank Langella) selects British TV personality David Frost (Michael Sheen) to conduct a one-on-one, exclusive interview. Though Nixon believes it will be easy to mislead Frost, and the latter's own team doubts that he can stand up to the former president, what actually unfolds is an unexpectedly candid and revealing interview before the court of public opinion.
Full Metal Jacket (1987, Stanley Kubrick)
Stanley Kubrick's take on the Vietnam War follows smart-aleck Private Davis (Matthew Modine), quickly christened "Joker" by his foul-mouthed drill sergeant (R. Lee Ermey), and pudgy Private Lawrence (Vincent D'Onofrio), nicknamed "Gomer Pyle," as they endure the rigors of basic training. Though Pyle takes a frightening detour, Joker graduates to the Marine Corps and is sent to Vietnam as a journalist, covering — and eventually participating in — the bloody Battle of Hué. (via Google)
Good Morning, Vietnam (1988, Barry Levinson)
a DJ who goes to Vietnam to bring an inspired liveliness and entertainment to the Armed Forces Radio. He naturally clashes with the top brass who find his comic delivery too unorthodox for such a serious environment. But he also experiences the realities of war first-hand in his interaction with the Vietnamese, and slowly learns the truths that don't wind up on the broadcast (Esquire)
The Green Berets (1968, John Wayne, Ray Kellogg, Mervyn LeRoy)
A cynical reporter (David Janssen) who is opposed to the Vietnam War is sent to cover the conflict and assigned to tag along with a group of Green Berets. Led by the tough-as-nails Col. Mike Kirby (John Wayne), the team is given a top-secret mission to sneak behind enemy lines and kidnap an important Viet Cong commander. Along the way, the reporter learns to respect why America is involved in the war and helps to save the life of a war orphan whose life has been destroyed by the conflict. (via Google)
Hamburger Hill (1987, John Irvin)
Over the course of 10 days in May 1969, an infantry squad led by Lt. Frantz (Dylan McDermott) and composed of both seasoned troops and new recruits, attempts to take a hill during the Vietnam War. In between attacks, the squad members deal with the other psychological stresses of the war, including the effect on morale of the antiwar movement back home and flashes of racial hostility between white and African-American soldiers, all mediated by the cool-headed medic, Doc (Courtney B. Vance). (via Google)
Hearts and Minds (1974, Peter Davis)
Many times during his presidency, Lyndon B. Johnson said that ultimate victory in the Vietnam War depended upon the U.S. military winning the "hearts and minds" of the Vietnamese people. Filmmaker Peter Davis uses Johnson's phrase in an ironic context in this anti-war documentary, filmed and released while the Vietnam War was still under way, juxtaposing interviews with military figures like U.S. Army Chief of Staff William C. Westmoreland with shocking scenes of violence and brutality. (via Google)
The Ice Storm (1997, Ang Lee)
In the 1970s, an outwardly wholesome family begins cracking at the seams over the course of a tumultuous Thanksgiving break. Frustrated with his job, the father, Ben (Kevin Kline), seeks fulfillment by cheating on his wife, Elena (Joan Allen), with neighborhood seductress Janey (Sigourney Weaver). Their teenage daughter, Wendy (Christina Ricci), dabbles in sexual affairs too — with Janey's son Mikey (Elijah Wood). The family's strained relations continue to tauten until an ice storm strikes.
In the Valley of Elah (2007, Paul Haggis)
A police detective (Charlize Theron) helps a retired Army sergeant (Tommy Lee Jones) search for his son, a soldier who went missing soon after returning from Iraq. Hank Deerfield, a Vietnam War veteran, learns that his son may have met with foul play after a night on the town with members of his platoon. (via Google)
The Killing Fields (1985, Roland Joffe)
New York Times reporter Sydney Schanberg (Sam Waterston) is on assignment covering the Cambodian Civil War, with the help of local interpreter Dith Pran (Haing S. Ngor) and American photojournalist Al Rockoff (John Malkovich). When the U.S. Army pulls out amid escalating violence, Schanberg makes exit arrangements for Pran and his family. Pran, however, tells Schanberg he intends to stay in Cambodia to help cover the unfolding story — a decision he may regret as the Khmer Rouge rebels move in. (via Google)
Norma Rae (1979, Martin Ritt)
Fictionalized account of the textile workers union' campaign to unionize the J.P. Stevens textile mills in the 1970s. Norma Rae, a young Southern woman working at a cotton mill, encounters a union organizer and decides to join the effort to reform working conditions. (via Google)
Platoon (1986, Oliver Stone)
Chris Taylor (Charlie Sheen) leaves his university studies to enlist in combat duty in Vietnam in 1967. Once he's on the ground in the middle of battle, his idealism fades. Infighting in his unit between Staff Sergeant Barnes (Tom Berenger), who believes nearby villagers are harboring Viet Cong soldiers, and Sergeant Elias (Willem Dafoe), who has a more sympathetic view of the locals, ends up pitting the soldiers against each other as well as against the enemy. (via Google)
Rambo (2008, Sylvester Stallone)
Having long-since abandoned his life as a lethal soldier, John Rambo (Sylvester Stallone) lives a solitary life near the Thai border. Two weeks after guiding a missionary (Julie Benz) and her comrades into Burma, he gets an urgent call for help. The missionaries have not returned and although he is reluctant to embrace violence again, Rambo sets out to rescue the captives from the Burmese army. (via Google)
Rescue Dawn (2006, Werner Herzog)
During the Vietnam War, German-born US pilot Dieter Dengler is shot down over Laos and taken prisoner. Tortured and starved, Dieter resolves to escape with fellow prisoners Duane and Gene. When they finally make their daring break into the jungle, the escapees discover that the dense, humid rainforest can be a terrifying prison in itself. (via Google)
The Spook Who Sat by the Door (1973, Ivan Dixon)
A former CIA agent (Lawrence Cook) organizes black teenagers into well-trained guerrilla bands bent on overthrowing the white establishment. (via Google)
Spotlight (2015, Tom McCarthy)
In 2001, editor Marty Baron of The Boston Globe assigns a team of journalists to investigate allegations against John Geoghan, an unfrocked priest accused of molesting more than 80 boys. Led by editor Walter "Robby" Robinson (Michael Keaton), reporters Michael Rezendes (Mark Ruffalo), Matt Carroll and Sacha Pfeiffer interview victims and try to unseal sensitive documents. The reporters make it their mission to provide proof of a cover-up of sexual abuse within the Roman Catholic Church. (via Google)
Taxi Driver (1976, Martin Scorsese)
Suffering from insomnia, disturbed loner Travis Bickle (Robert De Niro) takes a job as a New York City cabbie, haunting the streets nightly, growing increasingly detached from reality as he dreams of cleaning up the filthy city. When Travis meets pretty campaign worker Betsy (Cybill Shepherd), he becomes obsessed with the idea of saving the world, first plotting to assassinate a presidential candidate, then directing his attentions toward rescuing 12-year-old prostitute Iris (Jodie Foster). (via Google)
We Were Soldiers (2002, Randall Wallace)
Based upon the best-selling book "We Were Soldiers Once … and Young" by Lt. Gen. Harold G. Moore (Ret.) and journalist Joseph L. Galloway, this compelling war drama depicts the true story of the first major battle between the United States and North Vietnamese forces. It is a film about uncommon valor and nobility under fire, loyalty among soldiers, and the heroism and sacrifice of men and women both home and abroad. (via Google)
Zoot Suit (1981, Luis Valdez)
Mexican-American gangster Henry Reyna (Daniel Valdez) and others in his group are accused of a murder in which they had no part. They are then rounded up by the police because of their race and their choice of clothing. The gang members are thrown into prison and put through a racist trial. As Henry considers his fate, he has a conversation with El Pachuco (Edward James Olmos), a figure from his own conscience who makes him contemplate a choice between his heritage and his home country. (via Google)
1980s-present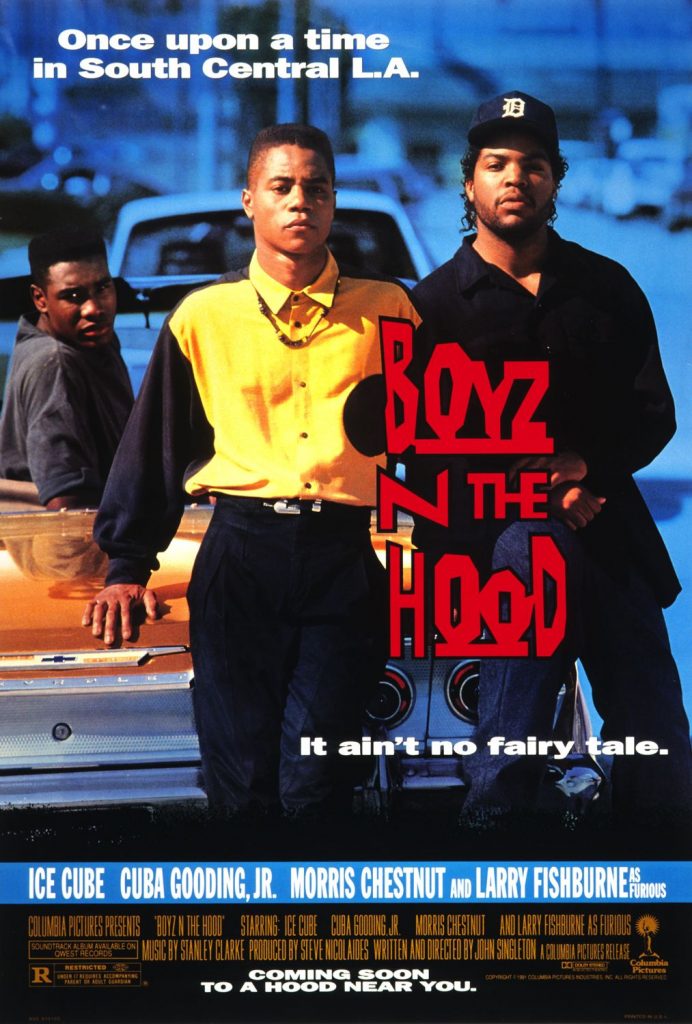 9 to 5 (1980, Colin Higgins)
Office satire about three female secretaries who decide to get revenge on their tyrannical, sexist boss by abducting him and running the business themselves. The trio, one of whom has been passed over for promotion because she is a woman, spend a night together having drug-induced fantasies of killing the slave-driving chauvinist. One of them panics the following day when she suspects she really has poisoned the tyrant. (via Google)
American Beauty (1999, Sam Mendes)
A telesales operative becomes disillusioned with his existence and begins to hunger for fresh excitement in his life. As he experiences a new awakening of the senses, his wife and daughter also undergo changes that seriously affect their family. (via Google)
American History X (1998, Tony Kane)
Living a life marked by violence and racism, neo-Nazi Derek Vinyard (Edward Norton) finally goes to prison after killing two black youths who tried to steal his car. Upon his release, Derek vows to change his ways; he hopes to prevent his younger brother, Danny (Edward Furlong), who idolizes Derek, from following in his footsteps. As he struggles with his own deeply ingrained prejudices and watches their mother grow sicker, Derek wonders if his family can overcome a lifetime of hate. (via Google)
Do the Right Thing (1989, Spike Lee)
Salvatore "Sal" Fragione (Danny Aiello) is the Italian owner of a pizzeria in Brooklyn. A neighborhood local, Buggin' Out (Giancarlo Esposito), becomes upset when he sees that the pizzeria's Wall of Fame exhibits only Italian actors. Buggin' Out believes a pizzeria in a black neighborhood should showcase black actors, but Sal disagrees. The wall becomes a symbol of racism and hate to Buggin' Out and to other people in the neighborhood, and tensions rise. (via Google)
Falling Down (1993, Joel Schumacher)
A middle-aged man dealing with both unemployment and divorce, William Foster (Michael Douglas) is having a bad day. When his car breaks down on a Los Angeles highway, he leaves his vehicle and begins a trek across the city to attend his daughter's birthday party. As he makes his way through the urban landscape, William's frustration and bitterness become more evident, resulting in violent encounters with various people, including a vengeful gang and a dutiful veteran cop (Robert Duvall). (via Google)
The Ballad of Gregorio Cortez (1982, Robert M. Young)
After Gregorio Cortez (Edward James Olmos), who speaks no English, is falsely accused of stealing a horse by Texas Rangers, a scuffle breaks out in which Gregorio kills a sheriff and his own brother is shot. Now forced to go on the run, Gregorio has to leave his family and set out alone. Meanwhile, a reporter starts to piece together the story and realizes the incident stemmed from a tragic misunderstanding. Eventually, Gregorio is caught and put on trial for murder. (via Google)
Barry (2016, Vikram Ghandi)
Barack Obama arrives in New York in the fall of 1981 for his junior year at Columbia University. He struggles to stay connected to his mother, his estranged father and his classmates. (via Google)
Black Hawk Down (2001, Ridley Scott)
The film takes place in 1993 when the U.S. sent special forces into Somalia to destabilize the government and bring food and humanitarian aid to the starving population. Using Black Hawk helicopters to lower the soldiers onto the ground, an unexpected attack by Somalian forces brings two of the helicopters down immediately. From there, the U.S. soldiers must struggle to regain their balance while enduring heavy gunfire. (via Google)
Boyz in the Hood (1991, John Singleton)
Tre (Cuba Gooding Jr.) is sent to live with his father, Furious Styles (Larry Fishburne), in tough South Central Los Angeles. Although his hard-nosed father instills proper values and respect in him, and his devout girlfriend Brandi (Nia Long) teaches him about faith, Tre's friends Doughboy (Ice Cube) and Ricky (Morris Chestnut) don't have the same kind of support and are drawn into the neighborhood's booming drug and gang culture, with increasingly tragic results. (via Google)
Crash (2004, Paul Haggis)
Writer-director Paul Haggis interweaves several connected stories about race, class, family and gender in Los Angeles in the aftermath of 9/11. (via Google)
Flight 93 (2006, Peter Markle)
In this dramatization, unsuspecting passengers of United Airlines Flight 93 board the aircraft on the fateful morning of Sept. 11, 2001. After three other planes strike their intended targets, al-Qaida terrorists on Flight 93 make their move, threatening the passengers into submission by claiming to have an explosive onboard. But calls to loved ones reveal the truth, and the passengers — including Todd Beamer (Brennan Elliott) and Tom Burnett (Jeffrey Nordling) — plan to take back the flight. (via Google)
Paris is Burning (1991, Documentary)
This classic 1991 documentary gives a vivid and dynamic (though cursory) glimpse into the gay ballroom culture of the '80s and '90s that was dominated by young queer black and Latino people who used the scene as not only a form of escape, but also survival. (HuffPost)
Selena (1997, Gregory Nava)
In this biographical drama, Selena Quintanilla (Jennifer Lopez) is born into a musical Mexican-American family in Texas. Her father, Abraham (Edward James Olmos), realizes that his young daughter is talented and begins performing with her at small venues. She finds success and falls for her guitarist, Chris Perez (Jon Seda), who draws the ire of her father. Seeking mainstream stardom, Selena begins recording an English-language album which, tragically, she would never complete. (via Google)
Three Kings (1999, David O. Russell)
Just after the end of the Gulf War, four American soldiers decide to steal a cache of Saddam Hussein's hidden gold. Led by cynical Sergeant Major Archie Gates (George Clooney), three of the men are rescued by rebels, but Sergeant Troy Barlow (Mark Wahlberg) is captured and tortured by Iraqi intelligence. The Iraqi rebels beg for the American trio to help fight against the impending arrival of Hussein's Elite Guard. The men agree to fight in return for help rescuing Troy. (via Google)
The Hurt Locker (2008, Kathryn Bigelow)
Following the death of their well-respected Staff Sergeant in Iraq, Sergeant JT Stanborn and Specialist Owen Eldridge find their Explosive Ordnance Disposal unit saddled with a very different team leader. Staff Sergeant William James is an inveterate risk-taker who seems to thrive on war, but there's no denying his gift for defusing bombs. (via Google)
The Watermelon Woman (1996, Cheryl Dunye)
An aspiring black lesbian filmmaker (Cheryl Dunye) researches an obscure 1940s black actress billed as the Watermelon Woman. (via Google)