EDITOR'S NOTE: This is the first historical film review we posted on Not Even Past. As the author says, Chan is Missing is: "an early classic of Asian American cinema, it holds up well to multiple viewings."
By Madeline Hsu
In this affectionate insider's portrait of San Francisco's Chinatown in the late 1970s, director Wayne Wang riffs on the well-known adventures of Charlie Chan, the stereotyped Chinese-American 1930s film detective, by following the meandering investigation of two cab drivers.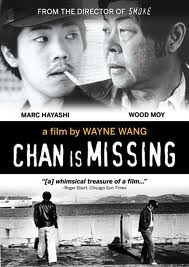 Joe and his nephew Steve are searching for another Chan, their friend Chan Hung, who seems to have disappeared with $4,000 of their cash.  Along the way, they encounter a gallery of Chinatown personalities and settings, revealing aspects of the district that are rarely visible to visiting tourists.  They venture past the bustling restaurants and the pagoda roofs and dragon-embellished streetlights of Grant Avenue into the tight quarters of greasy commercial kitchens; the packed fish markets and grocery stores of Stockton Street; narrow, laundry-festooned residential alleyways; a local senior citizens center; and the Neighborhood Language Center offering English classes for new arrivals.
Along the way, the search for the elusive Chan uncovers a rich pastiche of the possibilities of being Chinese in America. Chan could be a victim of police misunderstandings; a possible murderer and political extremist; an aeronautical engineer who developed the first Chinese word processor; a genius who could find no other job than working in a restaurant kitchen; a sentimental music lover; a disappointing husband who refused to adapt and get US citizenship but was a good father.  Joe and Steve find themselves increasingly befuddled as the movie unfolds.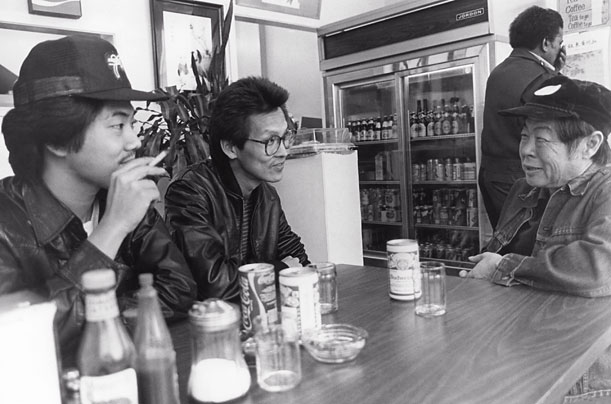 The 1970s witnessed a reinvigorated Chinatown, with the civil rights movement and new waves of American-born advocates and new immigrants adding to the agitation of community rights groups. Through a cacophony of dialects, accents, and background noises, Wang skillfully shows that the earlier film hero Charlie Chan does not represent Chinese America in the 1970s.  Wang obscures his subjects by shooting at angles and through windows even as he offers glimpses into a richly textured community framed by competing divides of generations and genders: American-born and immigrants; leftists and rightists; business successes, community activists, and the striving working-classes. Joe and Steve's banter captures not just their strategizing about how and where to find Chan, but also whether and how Chinese can claim a place in America.  If a man of Chan's abilities and character seems to have fled the United States, what of those with less promise?
"Chan is Missing" was Wayne Wang's first feature film and still his most enduring.  Along with "Dim Sum: A Little Bit of Heart" (1985) it is the most intimate of his movies before he launched into commercially successful hits such as "The Joy Luck Club" (1993) and "Maid in Manhattan" (2002) as well as collaborating on independent films with writers like Paul Auster and Yiyun Li.  An early classic of Asian American cinema, it holds up well to multiple viewings.