The title of Carey's best-seller is misleading.  The True History of the Kelly Gang is not a "true history" at all, but rather an imagined autobiography of Australia's greatest folk-hero, the bushranger Ned Kelly and his band of Irish-Australian outlaws.  The novel is written as though it were an authentic autobiography, written by the bushranger on paper printed with the "National Bank of Australia" letterhead, dated 1878.  It has an intentionally old feel as though it had been discovered by a historian in the archive.  To write this novel Carey climbed into the bushranger's worn-out boots, mounted his stolen horse, and bounded gallantly into the land of historical fiction bravely going where many have gone before.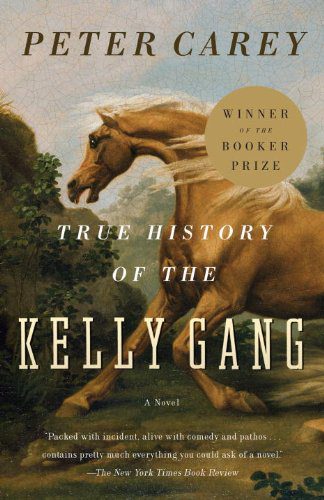 Certainly Carey's not-so-True History is based on historical evidence.  The Kelly Gang's criminal exploits left a sizable paper trail for historians to read and interpret, including criminal records, newspaper reports and wanted posters offering prizes for Gang members dead or alive.  The real Ned Kelly also left the long "Jerilderie letter," a sort of manifesto that he dictated during a bank robbery to justify his life of crime.  Based on such documents, Carey makes Ned's own voice clearly heard.  Historians can also ponder the Kelly Gang's famous suits of iron armour, and Ned's eerie death mask, both of which are on display in public museums in Victoria.
The primary sources can tell us a lot about Ned Kelly and his Gang.  Ned was born in 1854 in the colony of Victoria to impoverished Irish convicts.  He became a petty thief while still a lad, appearing before a judge more than once for stealing livestock before his sixteenth birthday, and serving three years in prison before turning twenty.  Upon his release from gaol, Kelly and his Gang gained notoriety for murdering three policemen and then robbing a series of coaches and banks.  For a long time the elusive Kelly Gang avoided the police in a drawn-out game of catch me if you can. Kelly was finally shot by police after an epic shoot-out in the town of Glenrowan, where his Gang had kept the entire town population hostage in a pub.  Soon afterwards, in 1880, Ned Kelly was hanged until dead in the Melbourne Gaol.
The documentary life history of Ned Kelly is a great one and it is complete in the sense that it has a beginning, a middle and an end.  But there are still plenty of gaps that story-tellers like Carey want to fill and this is the beauty of historical fiction.  It's an art form that allows us to speculate on aspects of history that are otherwise are unknowable.  What kind of man was Kelly?  Who did he love? Who did he hate?  Why did he pursue a life of crime?  As Carey did not have primary sources that could answer these questions, he invented them.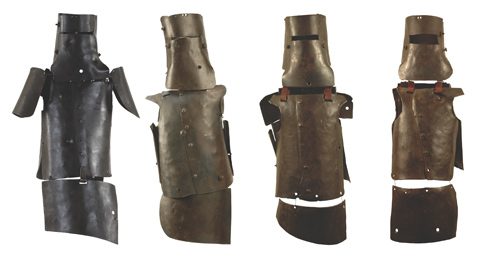 In many ways Carey's historical fiction sticks to the script of the Ned Kelly legend.  Carey's Ned is kind and brave, coerced into violence by the violence of the cruel colonial system he had the misfortune of being born into.  It's this version of Ned that has made it to the big screen many times, including in The Story of the Kelly Gang produced in 1906 and thought to be the world's first feature-length narrative movie. Later films had clear political agendas.  The heartthrob rocker Mick Jagger started as a radical Ned Kelly in Tony Richardson's 1970 film (really!) who called for the establishment of an Irish Republic downunder, and in 2003 the late Heath Ledger played the bushranger in Gregor Jordan's Hollywood production.  This most recent Hollywood interpretation of Ned Kelly controversially suggested that Ned's brother Dad Kelly and Joe Byrne were in love.  Born from Carey's fertile mind is a wife and baby for Ned.  These wholly fictional characters allow us to also get to know the bushranger-hero as a husband and father.
Like any other good reads, historical fiction serves to entertain us.  The True History of the Kelly Gang is a beautifully written story, and it won Carey the Man Booker Prize in 2001.  But Carey's novel also had a political program. The Ned Kelly that Carey imagines seeks to redeem a nation founded as a penal colony.   For a long time Australians with convict heritage were ashamed of the fact.  It was the myth of the honest bushranger that allowed Irish-Australians to embrace their ancestors who were transported to Australia against their will.  Carey's True History breathes new life into this legend.  One can also read Carey's portrayal of police stupidity and brutality sponsored by the Crown in the colonial period as an attempt to renew Australia's Republican movement.  In 1999, shortly before Carey wrote this novel, Australians voted no in a referendum to break political ties with Great Britain.
Today the Queen of England remains Australia's Head of State and retains the authority to dissolve a democratically elected Government.  Only a writer opposed to Australia's membership in the Commonwealth would write the novel that Carey did.
It suggests that historical fiction also provides us with an opportunity to come to know a version of history that is more intriguing or more convenient than the actual past.
*Note from the editors of Not Even Past: we are aware that Australia is its own continent. However, because we do not currently have a section dedicated exclusively to books written on Australia, we decided, however inadequately, to categorize The True History of the Kelly Gang as "transnational."
Photo credits:
The National Museum of Australia, "Armour worn by Ned Kelly, 1879, State Library of Victoria; armour worn by Joseph Byrne 1879, private collection; armour worn by Dan Kelly 1879, Victoria Police Museum; armor worn by Steve Hard 1879, Victoria Police Museum"
http://www.nma.gov.au/exhibitions/irish_in_australia/exhibition_overview/
You may also like:
Information on the exhibit at the National Museum of Australia entitled "Not Just Ned," which covers the history of the Irish presence in Australia.