Discovering Dominga (2003), directed by Patricia Flynn
Denese Joy Becker, a cosmotologist living in Iowa, was adopted as a child from Guatemala. Although she remembers nearly nothing about her past, a cousin from her American family realizes that Denese's age corresponds with the period of la violencia in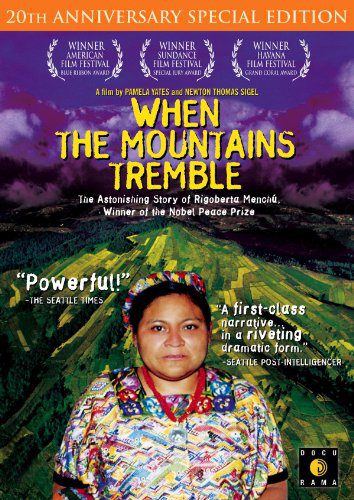 Guatemala. Denese and her adopted family travel to Guatemala, where she discovers she is Dominga Sic Ruiz, a survivor from a 1982 Guatemalan massacre in which both her parents were murdered by the Guatemalan military. The documentary recounts how Denese rediscovers her own identity as Dominga—an Achí Maya woman, and the horrendous political context that led to her being put up for adoption in the United States.
When the Mountains Tremble (1983), directed by Pamela Yates
This is a documentary about the armed conflict between the Guatemalan military and one of that nation's most important armed guerrilla groups, the Ejercito Guerrillero de los Pobres (EGP), who in the context of this film are primarily indigenous people, the Maya. This documentary was made during the nadir of Guatemala's 36-year long civil war, and includes remarkable footage from both sides of the conflict. It also includes narration by a very young Rigoberta Menchú Tum, the Ki'che' Mayan activist who won the Nobel Peace Prize in 1992.
Virginia Garrard-Burnett recommends related books here in READ.