Not Even Past asked the UT Austin History faculty to recommend great books for Women's History Month. The response was overwhelming so we will be posting their suggestions throughout the month. Since today is International Women's Day, a celebration that began in Europe, we will begin with some terrific book recommendations on women and gender in Europe.
In no particular order: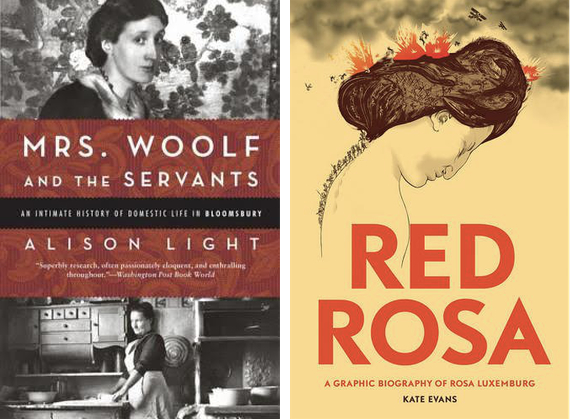 Philippa Levine recommends:
Alison Light, Mrs. Woolf and the Servants: An Intimate History of Domestic Life in Bloomsbury (2008)
In a brilliant reading of the great modernist novelist Virginia Woolf, Alison Light compares the absence of servants in Woolf's published fiction with the constant references to them in her correspondence with friends and family.   Woolf was still employing servants at the moment when what had been a veritable army of available female domestic labour began to shrink as women rejected the constraints of such work and sought better paid and less intimate work elsewhere. In detailing Woolf's fraught relationship with her long-time live-in servant, Nellie Boxall, with whom  she fought constantly, Light reveals the class and gender tensions that continued to shape British culture in the early twentieth century in elegant prose and with really sharp insights. A fantastic read!
Tracie Matysik and Yoav di Capua recommend:
Kate Evans, Red Rosa:  A Graphic Biography of Rosa Luxemburg (2015).
A compelling book, that introduces the reader to the passionate life and convictions of Rosa Luxemburg.  And the illustrations are beautiful, even moving.  Along the way, you'll get a good glimpse of the aims and challenges of revolutionary thought in Europe in the early years of the twentieth century.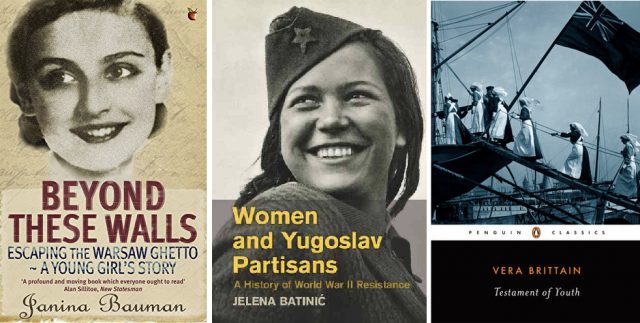 Tatjana Lichtenstein recommends:
Janina Bauman, Beyond these Walls: Escaping the Warsaw Ghetto – Young Girl's Story (2006).
In this book — part diary, part memoir — Janina Bauman tells the fascinating story of how three Jewish women escaped the Warsaw ghetto and, assisted by a small network of courageous and devoted Polish helpers on the "Aryan" side, survived the war in hiding and by passing as non-Jews.
Mary Neuburger recommends:
Jelena Batinić, Women and Yugoslav Partisans: A History of World War II Resistance (2015)
This book traces both the fascinating phenomena of women's role in the largest resistance movement in Europe during World War II, and women's postwar memory of the changes in gender roles caused by the war and the communist period that followed.
Andy Villalon recommends: 
Vera Brittain, Testament of Youth.
The most moving memoir (male or female) to come out of the Great War.  Highly readable and easily obtainable, this is the story of love and unfathomable loss by a woman who saw all of her close male friends, including her fiancé and her brother, slaughtered in the holocaust of 1914-18.  The book also sheds considerable light on the trials women faced in pursuing an education during the decades just before the conflict.  It is the story of the making of a great crusader for pacifism.  I have read Testament of Youth several times and have never been able to avoid crying at various passages.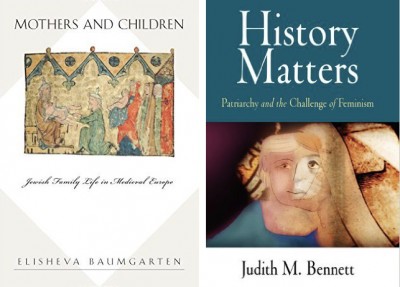 Miriam Bodion recommends:
Elisheva Baumgarten, Mothers and Children: Jewish Family Life in Medieval Europe (2007)
This thoughtful, often surprising work makes use of a broad array of sources, from theoretical works on gender to ancient and medieval rabbinic texts, to explore how medieval Jews thought about birth, infant care, and the raising of children.
Julie Hardwick recommends: 
Judith Bennett, History Matters: Patriarchy and the Challenge of Feminism (2006)
A leading medievalist takes a brilliant, lively, provocative, and very accessible look at the persistence of gender inequality and insists we can only understand that pattern by looking back — well back.  Her topics range from work to sexuality, and she makes a very important and compelling argument.