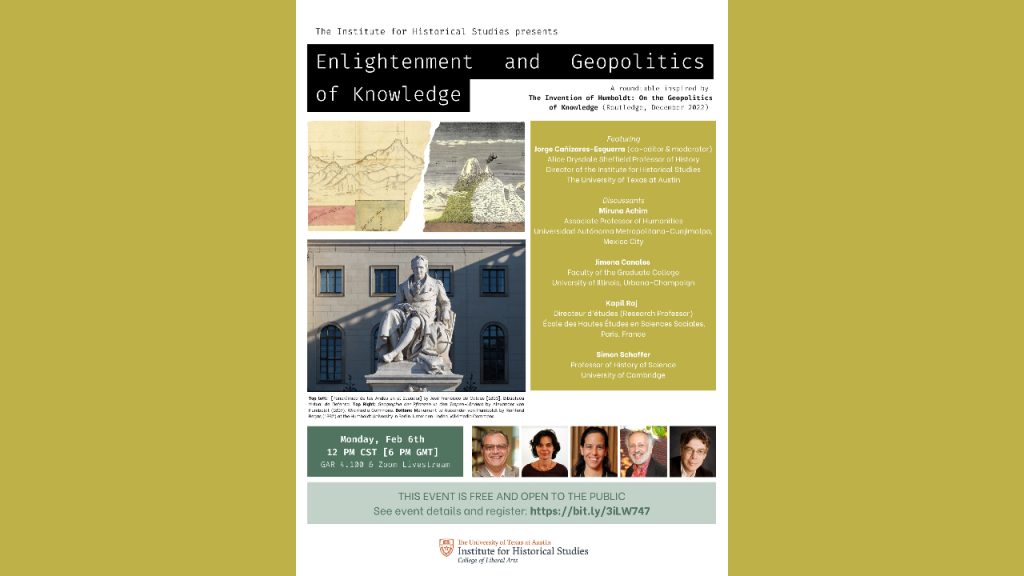 A Roundtable Inspired by
The Invention of Humboldt: On the Geopolitics of Knowledge
(Routledge, December 2022)
Co-Edited by Jorge Cañizares-Esguerra (University of Texas at Austin) & Mark Thurner (University of London)

Simon Schaffer, Kapil Raj, Miruna Achim, and Jimena Canales will engage with the argument of The Invention of Humboldt: On the Geopolitics of Knowledge, an edited collection just published in December 2022. The Invention of Humboldt makes a number of arguments about the history of knowledge and science and modernity. It goes beyond Kapil Raj's, Sebastian Conrad's, and James Poskett's models of a global co-creation of the Enlightenment and modern science in general.
Behind the invention of Humboldt lies a world of knowledge making that challenges our models of the origins of modern science. In the book, some essays offer a critique of Latour's immutable mobiles by showing that mobiles are far from immutable. Objects, manuscripts, images are repurposed, misfiled, mis-attributed, as they move to emphasize both north Atlantic originality and empirical prowess. Some essays offer an archeology of how "local" ideas and collections are incorporated without citation while acknowledging "locals" and praising their support. Some simply explore the painstaking work that goes into the creation of ignorance as much as knowledge. Some essays show how local geopolitics explain why "locals" often promote their own silencing in north Atlantic print culture.
Cañizares-Esguerra's explores Humboldt's four volume history of geography as an artifice on transforming Columbus as a Humboldt avant la lettre. This exercise on self-fashioning and the history of global physics, however, drew extensively on massive archival and interpretative work by "others" whose work Humboldt renders totally invisible.
Dr. Jorge Cañizares-Esguerra is the Alice Drysdale Sheffield Professor of History in the Department of History, University of Texas at Austin, and Director of the Institute for Historical Studies. He is the author of Nature, Empire, and Nation: Explorations of the History of Science in the Iberian World (Stanford University Press, 2006) amongst numerous other publications. He is editor of Entangled Empires: The Anglo-Iberian Atlantic, 1500-1830 (University of Pennsylvania Press, 2018).

Discussants:
Miruna Achim
Associate Professor of Humanities
Universidad Autónoma Metropolitana-Cuajimalpa (Mexico City)
https://cua-uam.academia.edu/mirunaachim

Jimena Canales
Faculty of the Graduate College
University of Illinois, Urbana-Champaign
https://www.jimenacanales.org/

Kapil Raj
Directeur d'études (Research Professor)
École des Hautes Études en Sciences Sociales, Paris, France
https://www.ehess.fr/fr/personne/kapil-raj
Simon Schaffer
Professor of History of Science
University of Cambridge
https://www.hps.cam.ac.uk/directory/schaffer