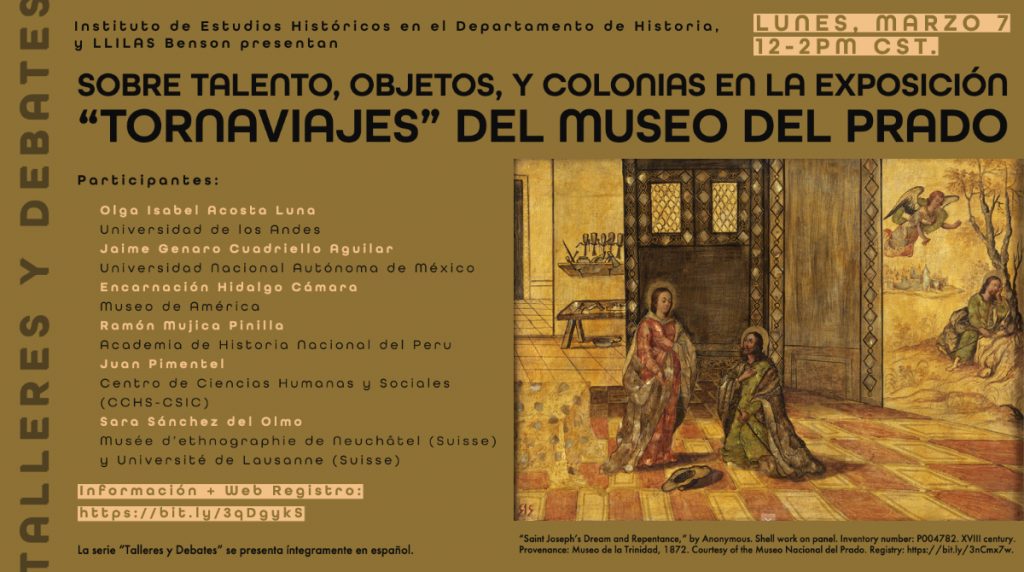 El Instituto de Estudios Históricos – Lunes, marzo 7, 2022
La reciente exposición "Tornaviajes" acoge por primera vez en el Prado objetos indianos de manera temporal. El Prado representa las joyas estéticas de las colecciones reales Habsburgo y Borbones, en el pasado y lo más valorado por hoy. Hubo sin duda un tráfico grandes de objetos indianos a los reinos de la monarquía, de Castilla a Nápoles a las varias principalidades del Sacro Imperio Romano, ya sea como pinturas de castas o imágenes religiosas u objetos suntuarios. Los autores de estos objetos, con pocas excepciones, fueron anónimos. "Tornaviaje" pone de manifiesto la naturaleza del tráfico de objetos de arte indianos a instituciones religiosas, colecciones privadas, y colecciones reales. ¿Llegaron estos objetos como curiosidades o como obras de arte, desde los cuadros y mitras de plumas a las obras concha nácar? ¿Qué nos dicen esos objetos y esas colecciones sobre la percepción en la corte y en los reinos de España sobre las Indias? ¿Fueron las indias reinos proveedores de talento e ideas en una monarquía compuesta y policéntrica, o fueron colonias? ¿Qué es lo que exposición "Tornaviajes" del Prado nos revela sobre la naturaleza de las jerarquías epistemológicas, estéticas, políticas en diferentes épocas del pasado y hoy?

Visita virtual y el catálogo del Tornaviaje: Arte iberoamericano en España. La serie "Talleres y Debates" se presenta íntegramente en español.
Participantes:
​Olga Isabel Acosta Luna
Profesora Asociada, Departamento de Historia del Arte, Facultad de Artes y Humanidades
Universidad de los Andes
Academia page: https://uniandes.academia.edu/OlgaAcosta

Jaime Genaro Cuadriello Aguilar
Doctor en Historia y Historia del Arte
Universidad Nacional Autónoma de México
Encarnación Hidalgo Cámara

Directora

Museo de América

Ramón Mujica Pinilla
Academico de la Academia de Historia Nacional del Peru

Juan Pimentel
Investigador del Departamento de Historia de la Ciencia
Centro de Ciencias Humanas y Sociales (CCHS – CSIC)
Sara Sánchez del Olmo
Conservatrice adjointe, Musée d'ethnographie de Neuchâtel (Suisse)
Chercheuse affiliée à l'IHAR, Université de Lausanne (Suisse)
Sponsored by: Institute for Historical Studies in the Department of History; and Teresa Lozano Long Institute of Latin American Studies (LLILAS Benson)
---
The views and opinions expressed in this article or video are those of the individual author(s) or presenter(s) and do not necessarily reflect the policy or views of the editors at Not Even Past, the UT Department of History, the University of Texas at Austin, or the UT System Board of Regents. Not Even Past is an online public history magazine rather than a peer-reviewed academic journal. While we make efforts to ensure that factual information in articles was obtained from reliable sources, Not Even Past is not responsible for any errors or omissions.