by By Allison E. Schottenstein
This year's Perry Prize for Best Master's Thesis went to Allison E. Schottenstein, a third year doctoral student in Jewish History. Her thesis, titled "'Perl's of Wisdom': 'Rabbi' Sam Perl, New Models of Acculturation, and the 'In- Between' Jew," tells the story of Rabbi Sam Perl's efforts to unite the Mexican and Anglo communities within the Texas town of Brownsville, as well as integrate the border town with its sister city of Matamoros. Read the abstract of Schottenstein's thesis, as well as her biography, below.
Abstract
"'Perl's of Wisdom': 'Rabbi' Sam Perl, New Models of Acculturation, and the 'In- Between' Jew" examines archival materials from the Dolph Briscoe Center for American History, The Brownsville Herald and El Heraldo de Brownsville to demonstrate how Sam Perl — an Eastern European Jewish immigrant who changed the face of Brownsville, Texas — redefines historical approaches to Jewish acculturation. In this bordertown, Perl not only revitalized the Jewish community when he became the temple's lay-rabbi, but he also actively united Mexican and Anglo communities both in Brownsville and across the border in its sister city of Matamoros. In Perl's efforts to simultaneously revitalize his own religious community and the greater social landscape of the border area, Perl proved that he did not need to conform to the expectations of Anglo-Christian identity to succeed. Challenging theories of whiteness studies scholars, Perl never sacrificed his Jewish identity, had a boulevard named after him, and came to be known as "Mr. Brownsville." Indeed, Perl's profound impact on the Brownsville-Matamoros community was the result of his ability to occupy an "in-between," interstitial position that did not require him to blend in with majority cultures; that is, Perl remained distinctly Jewish while simultaneously involving himself in both Anglo and Mexican arenas. Immersing himself in every aspect of bordertown life, Perl occupied multiple roles of community authority, serving as a businessman, rabbi, a Charro Days founder, cultural diplomat, court chaplain and radio host. A close examination of Perl's life and considerable legacy demonstrates how new acculturation models are needed to better understand the manner in which Jews like Perl have adapted and contributed to dominant cultures.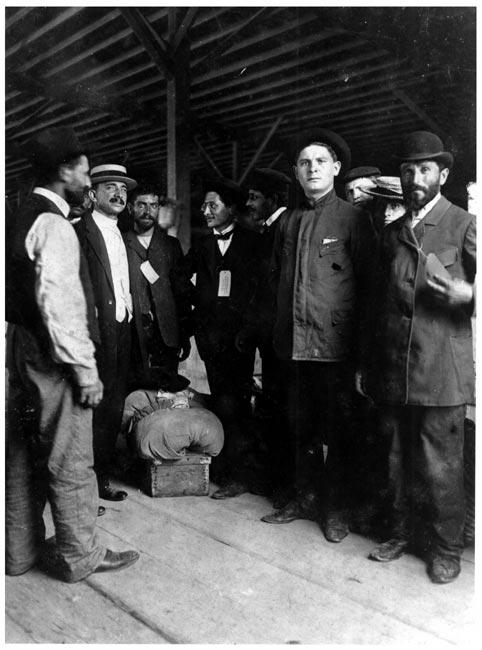 Jewish immigrants arrive in Galveston, Texas in 1907.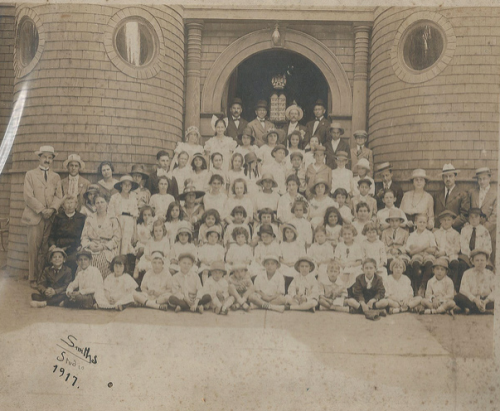 A 1917 photograph of students sitting in front of a San Antonio Texas Jewish Synagogue.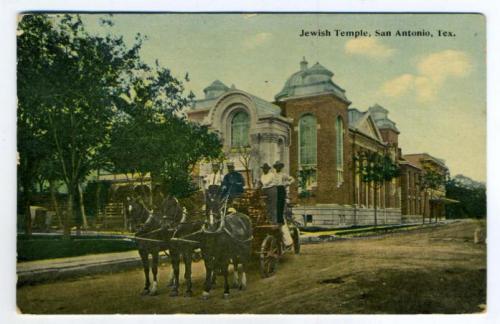 An H. Budow postcard from 1918 features the Jewish Temple in San Antonio, Texas.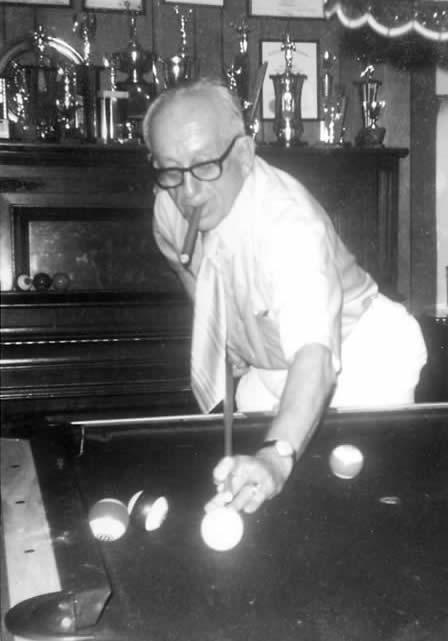 Sam Perl smoking a cigar while playing pool.
About Allison Schottenstein:
Allison E. Schottenstein was born in Columbus, Ohio on March 18, 1986 to Gary and Gail Schottenstein. In 2004, Allison attended Brandeis University in Waltham, Massachusetts. She received a combined degree in Near Eastern and Judaic Studies as well as Women and Gender Studies. Allison graduated Summa Cum Laude and Phi Beta Kappa in 2008. From 2008-2009, Allison served as an intern at the American Jewish Archives at Hebrew Union College in Cincinnati, Ohio. She entered the University of Texas at Austin's doctoral program in History in 2009.
Visit Allison Schottenstein's homepage.
Photo credits:
Photographer unknown, "Jewish immigrants arriving in Galveston, Texas," 1907.
Courtesy of the UT Institute of Texan Cultures at San Antonio
Phootgrapher unknown, "U.S. San Antonio Texas Jewish Synagogue," 1917.
Courtesy of stephaniecomfort/Flickr Creative Commons
Artist unknown, Untitled, 1918. Courtesy of Addoway.com Frances Perl Goodman, "Sam Perl," Undated.
Courtesy of Frances Perl Goodman via the Goldring/Woldenberg Institute of Southern Jewish Life

You may also like:
Professor Robert Abzug's DISCOVER piece, in which he shares photographs and memories of trips throughout historically Jewish communities in South Texas.
Professor Miriam Bodian's DISCOVER piece – titled "A Dangerous Idea" – about a young Jew who went on trial before the Portuguese Inquisition in Lisbon in 1495 after being captured in Brazil.