Is family solidarity more important than academic fame?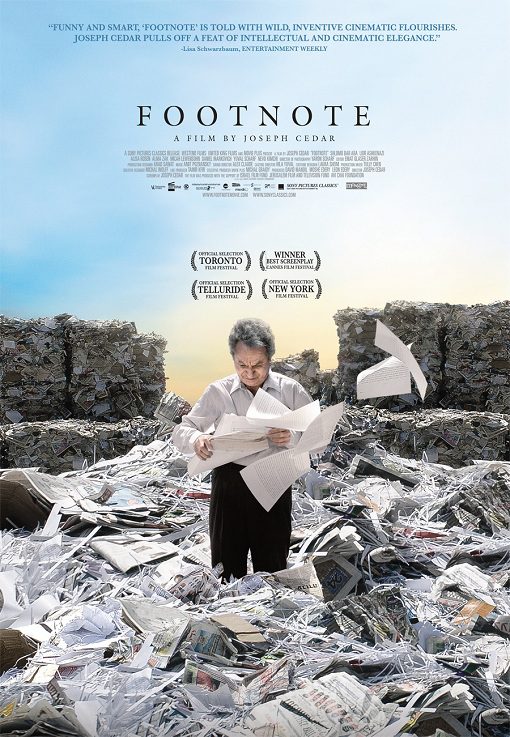 Is empiricism a better guide to historical truth than theory? Is intellectual self-esteem generated internally, or externally, by communal acknowledgment? Taking as its subject the arcane field of Talmudic Studies and the Jerusalem School that persistently practices it, Yosef Sider's latest film, Footnote, manages to transcend the cultural specificity of his subject matter to embrace a much broader theme. Far from being a film about narrow Jewish, Israeli, or obscure academic subjects, its universal concern is that of fame and recognition, the eternal quest for historical truth, the pursuit of power, and the dynamics of intellectual rivalry.
Eliezer and Uriel are competing professors of Talmudic Studies. Eliezer is a stubborn purist, a philologist who dedicated his life to the painstaking reconstruction of barely-legible manuscripts. Hard-working as he is in the eyes of some colleagues, after decades of work, all he has to show for himself is a footnote in the grand opus of his mentor, the founder of the Jerusalem School of Talmudic studies. Never recognized for his work, Eliezer hopes to win the prestigious Israel Prize for academic achievement. His rival, Uriel, is an up-and-coming star in the same field. He produces a string of enticing, cutting-edge and theoretically inspired books, which energize the next generation of Talmudic scholars. Deserting the purist tradition of textual reconstruction for the benefit of theoretical insight, Uriel differs markedly from the elderly Eliezer. Uriel is loved, respected and celebrated. Eliezer is marginalized and quite unliked. The duo symbolizes two different ways of thinking and represents two different generations. Yet, metaphysically, they share the same fate: for the philologist, Professor Eliezer Shkolnik, is in fact the father of the trendy son, Professor Uriel Shkolnik. The father, reduced to a mere footnote, looks with disdain on his son's intellectual pursuits and constant need for the limelight, which he reads as sheer populism. And thus, academic rivalry intersects with the age-old theme of fathers and sons.
At the heart of this drama, which at times takes comic turns, is a peevish community of bickering scholars. A community infested with age-old rivalries, small jealousies and an endless cycle of bad blood. When the members of this community need to decide who is going to win the prestigious Israel Prize for Talmudic Studies their choice is between father and son. With both bearing the same family name, a fatal mistake occurs in the notification process, and the thus far restrained rivalry gets out of control.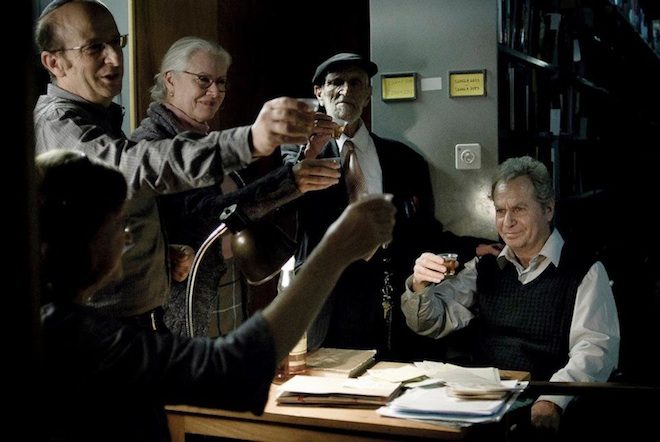 Footnote, Israel's official entry for the Oscar in the category of best foreign film, is a smart, sensible and nuanced film whose original cinematography and beautiful score realistically capture a subject greater than the sum of its individual parts.
You may also like:
Yoav di-Capua's FEATURE piece on his recent book, "Gatekeepers of the Arab Past."
Yoav di-Capua's blog post about political and social conditions in Egypt eight months after Mubarak's ouster in February 2011.