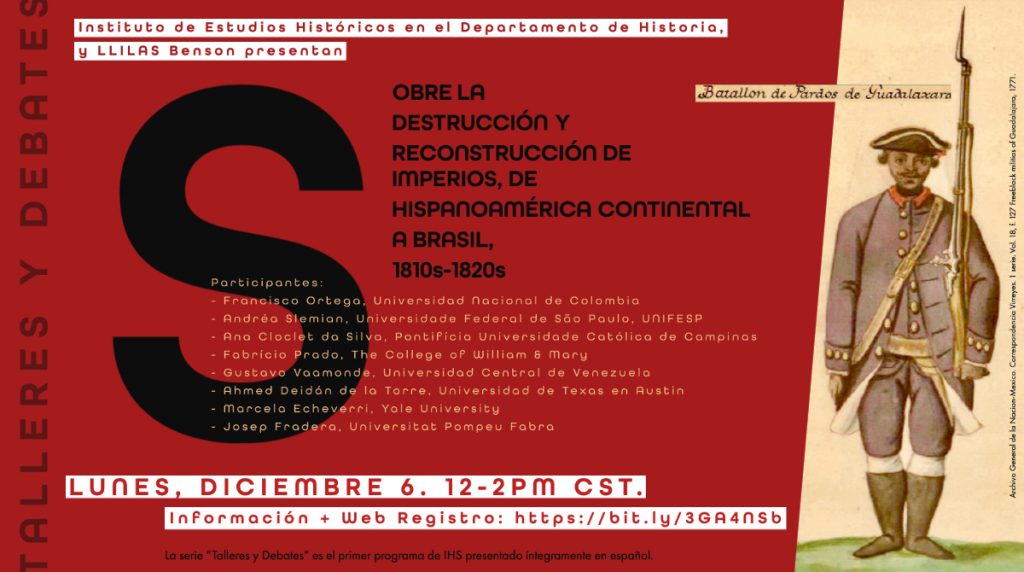 El Instituto de Estudios Históricos – Lunes, diciembre 6, 2021
Este es parte de un esfuerzo por cambiar culturalmente instituciones de la academia norteamericana caracterizadas por el colonialismo epistemológico y la falta de atención a tradiciones académicas en los países que estudian. El Instituto de Estudios Históricos busca en esta oportunidad traer historiadores hispano y luso hablantes de instituciones norteamericanas, latinoamericanas y europeas en una reflexión sobre los caminos divergentes de dos imperios de cara a la independencia.

Sobre la destrucción y reconstrucción de imperios, de Hispanoamérica continental a Brasil (1810s-1820s)

Este será un evento informal, una conversación alrededor de estos cuatro tópicos:
Los factores que llevaron a respuestas tan diferentes a la invasión napoleónica de la península: una, de migración del imperio y corona a Rio, y la otra, de revolución de ayuntamientos. ¿Las diferencias se debieron a desarrollos coloniales muy diferentes? Y de ser así, ¿cuáles?
La trayectoria monárquica de uno (Brasil) y republicana (Hispanoamérica continental) del otro. ¿Por qué?
La trayectoria diferente de la esclavitud en ambas independencias: En la de Brasil con su continuidad y profundización y, en la caso de la hispanoamericana continental, su disolución. ¿Por qué?
Por último, nos interesa una reflexión sobre como las historiografías de cada región lidiaron a lo largo del diecinueve con el período colonial previo, ya sea recordándolo como patrimonio imperial (Brasil) o activamente buscando olvidarlo (Hispanoamérica continental).
Participantes:
Francisco Ortega, Universidad Nacional de Colombia
Andréa Slemian, Universidade Federal de São Paulo, UNIFESP
Ana Rosa Cloclet da Silva, Pontifícia Universidade Católica de Campinas
Fabrício Prado, The College of William & Mary
Gustavo Vaamonde, Universidad Central de Venezuela
Ahmed Deidán de la Torre, Universidad de Texas en Austin
Marcela Echeverri, Yale University
Josep Fradera, Universitat Pompeu Fabra
La serie "Talleres y Debates" es el primer programa de IHS presentado íntegramente en español.
Sponsored by: Institute for Historical Studies in the Department of History; and Teresa Lozano Long Institute of Latin American Studies (LLILAS Benson)
---
The views and opinions expressed in this article or video are those of the individual author(s) or presenter(s) and do not necessarily reflect the policy or views of the editors at Not Even Past, the UT Department of History, the University of Texas at Austin, or the UT System Board of Regents. Not Even Past is an online public history magazine rather than a peer-reviewed academic journal. While we make efforts to ensure that factual information in articles was obtained from reliable sources, Not Even Past is not responsible for any errors or omissions.