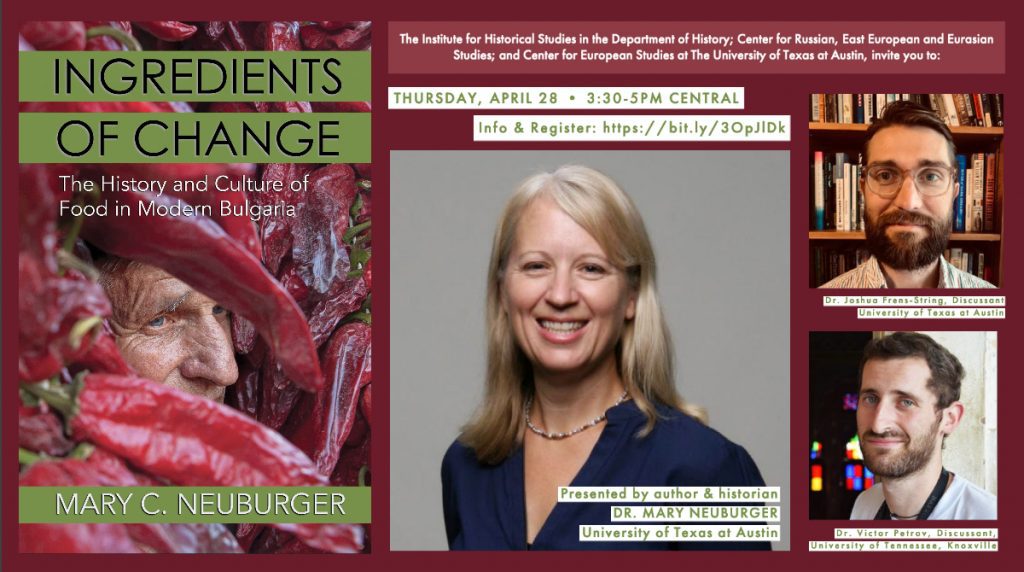 Ingredients of Change explores modern Bulgaria's foodways from the Ottoman era to the present, outlining how Bulgarians domesticated and adapted diverse local, regional, and global foods and techniques, and how the nation's culinary topography has been continually reshaped by the imperial legacies of the Ottomans, Habsburgs, Russians, and Soviets, as well as by the ingenuity of its own people. Changes in Bulgarian cooking and cuisine, Mary C. Neuburger shows, were driven less by nationalism than by the circulation of powerful food narratives—scientific, religious, and ethical—along with peoples, goods, technologies, and politics. Ingredients of Change tells this complex story through thematic chapters focused on bread, meat, milk and yogurt, wine, and the foundational vegetables of Bulgarian cuisine—tomatoes and peppers. Neuburger traces the ways in which these ingredients were introduced and transformed in the Bulgarian diet over time, often in the context of Bulgaria's tumultuous political history. She shows how the country's modern dietary and culinary transformations accelerated under a communist dictatorship that had the resources and will to fundamentally reshape what and how people ate and drank.
"Ingredients of Change provides exciting new ways to think about Eastern European modernity. Through her investigation of the successes of the socialist food economy in Bulgaria, Mary C. Neuburger uncovers new insights into what a life well-lived looked like under socialism, and what was lost with its collapse."
–Cristofer Scarboro, King's College, author of The Late Socialist Good Life in Bulgaria

"A delightful, compelling, and smartly conceived book, Ingredients of Change synthesizes a range of fascinating sources, resulting in an outstanding account of cultural practices in Bulgaria with vivid descriptions of everyday practices. Neuburger successfully conveys Bulgarians' cultural attitudes while bringing Balkans foodways into the larger story of global food."
–Yuson Jung, Wayne State University, author of Balkan Blues
Dr. Mary Neuburger is currently the Director of the Center for Russian, East European and Eurasian Studies, the Chair of Slavic and Eurasian Studies, Professor of History, and Associate Director of the Global (Dis)Information Lab, at The University of Texas at Austin. Her research focus is on modern Eastern Europe with a specialization in Southeastern Europe. Her research interests include urban culture, consumption, commodity exchange, gender and nationalism. She is the author of Balkan Smoke: Tobacco and the Making of Modern Bulgaria (Cornell University Press, 2016) and The Orient Within: Muslim Minorities and the Negotiation of Nationhood in Modern Bulgaria (Cornell University Press, 2011). She teaches courses on the history of modern Eastern Europe.

Discussants:
Dr. Joshua Frens-String
Assistant Professor of History
The University of Texas at Austin

Dr. Victor Petrov
Assistant Professor of History
The University of Tennessee, Knoxville
Sponsored by: Institute for Historical Studies in the Department of History; Center for European Studies; and Center for Russian, East European and Eurasian Studies
---
The views and opinions expressed in this article or video are those of the individual author(s) or presenter(s) and do not necessarily reflect the policy or views of the editors at Not Even Past, the UT Department of History, the University of Texas at Austin, or the UT System Board of Regents. Not Even Past is an online public history magazine rather than a peer-reviewed academic journal. While we make efforts to ensure that factual information in articles was obtained from reliable sources, Not Even Past is not responsible for any errors or omissions.