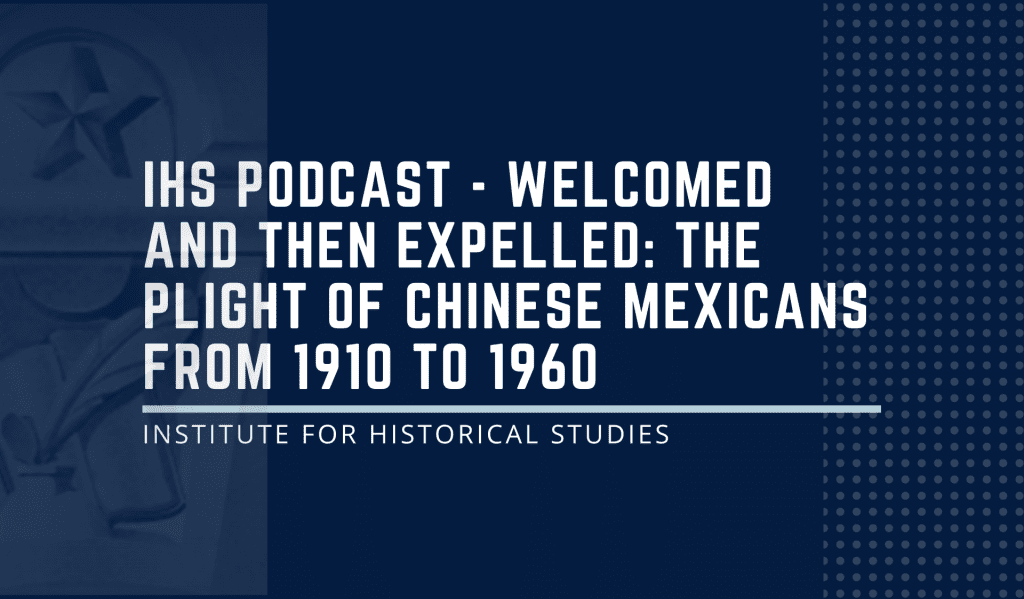 IHS podcasts are a new podcast series initiated by the Institute for Historical Studies' Director, Dr. Jorge Cañizares-Esguerra. They are paired with weekly workshops and are designed to foster discussion between graduate students and distinguished scholars in the field. Along with graduate students and guests, each episode features Dr. Cañizares-Esguerra and Ashley Garcia, a PhD Candidate in History at UT Austin. This podcast is recorded in connection with a roundtable, Reimagining Borders: Triangular Transnationalism and Chinese Mexicans, presented by Jian Gao 高堅, University of Texas at Austin, on October 4th. Details can be found here.
Introduction
Dr. Camacho's book, Chinese Mexicans: Transpacific Migration and the Search for Homeland 1910-1960, explores the arrival of some 20,000 Cantonese into Mexico in the three decades following the Anti-Chinese migration act of 1882 in the USA.
Dr. Camacho shows that this group of Chinese Mexicans became small merchants grocers in Sonora and Sinaloa, while keeping logistical and family connections to Arizona. Thousands of Chinese single males soon married Mexican women, including indigenous Yaqui, and created "mestizo" families, all with the support of the Mexican government.
While the revolution generated anti-Chinese violence, the Chinese Mexican community of Sonora survived and thrived until 1930-33. When tens of thousands of Mexican Americas were expelled from the United States as a response to the Depression, the long established yet ineffectual anti-Chinese party of Sonora responded by targeting Chinese Mexicans. Mobs and authorities "deported" these families back to the united states where they were in turn forced into exile to Canton. In Canton, Mexican women and their Chinese American children struggled over two generations to return to Mexico while creating and sustaining Catholic Iberian lives in Macao.
This podcast focuses on the contradictions of Mexican "mestizaje." Led by the Calles family (founders of the modern PRI), the anti-Chinese party of Sonora summoned commoner Mexican mestizos to humiliate and expel Chinese Mexicans in the name of defending Mexican mestizo males from foreigners. These commoners, paradoxically, did not target White "gringo" groups but whom they thought were gringo proxies: the Chinese grocers.
It was the humiliation of Chinese competition over Mexican women that mobilized the Callista anti-Chinese party. The Callistas felt emasculated and presented Chinese Mexicans as degenerate mestizos, while rejecting eugenics and arguing that the Mexican Indian-Hispanic mestizo was a super cosmic race. Strangely, such a narrow notion of mestizaje could not consider other forms of racial and cultural hybridity as anything other than degeneration.
~ Jorge Cañizares-Esguerra
Guests
Dr. Julia María Schiavone Camacho is an historian and a fiction writer. She teaches history courses centered on reading, discussion, and research about Latin America, Asian Americas, and world and transnational studies. She also teaches general education and writing courses. Dr. Camacho is also the author of Chinese Mexicans: Transpacific Migration and the Search for a Homeland, 1910-1960 (North Carolina, 2012). Julia's short fiction appears in The Florida Review. An excerpt from her historical novel manuscript, Across the Pacific—about the personal consequences of a vicious anti-Chinese crusade in Mexico—appears in The Hopper and was nominated for Best of the Net Anthology. An excerpt from A Sensible Man, a historical romance novel, appears in The Coachella Review Blog.
Jian Gao is a third-year PhD student at UT Austin. His primary research focuses on the transnational history of Chinese in Mexico during the first half of the twentieth century, and his secondary research focuses on the global dynamics of Latin America during the Cold War era. His works have appeared in The Latin Americanist, Asian Journal of Latin American Studies, The International Report on Drug Studies, and most recently History Compass. His papers have won multiple awards from Latin American Studies Association (LASA), Rocky Mountain Council on Latin American Studies (RMCLAS), Southeastern Council of Latin American Studies (SECOLAS), and the World History Association (WHA).
Hosts
Jorge Cañizares-Esguerra is Alice Drysdale Sheffield Professor of History at the University of Texas at Austin and the Director of the Institute for Historical Studies.
Ashley Garcia is a PhD candidate at the University of Texas at Austin. Her research includes 19th century political history, American communitarianism, and American political thought. Her dissertation, "An American Socialism: The Associationist Movement and Nineteenth Century Political Culture," explores America's most popular utopian socialist program: the Associationist movement of the 19th-century. Ashley has also completed a Portfolio in Museum Studies as her secondary PhD field.
---
The views and opinions expressed in this article or video are those of the individual author(s) or presenter(s) and do not necessarily reflect the policy or views of the editors at Not Even Past, the UT Department of History, the University of Texas at Austin, or the UT System Board of Regents. Not Even Past is an online public history magazine rather than a peer-reviewed academic journal. While we make efforts to ensure that factual information in articles was obtained from reliable sources, Not Even Past is not responsible for any errors or omissions.