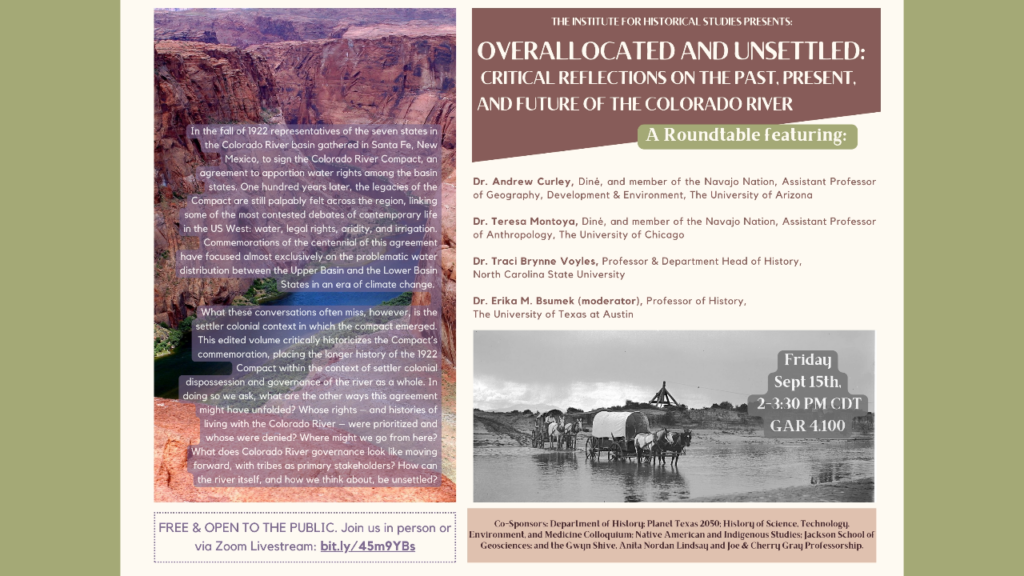 In the fall of 1922, representatives of the seven states in the Colorado River basin gathered in Santa Fe, New Mexico, to sign the Colorado River Compact, an agreement to apportion water rights among the basin states. One hundred years later, the legacies of the Compact are still palpably felt across the region, linking some of the most contested debates of contemporary life in the US West: water, legal rights, aridity, and irrigation. Commemorations of the centennial of this agreement have focused almost exclusively on the problematic water distribution between the Upper Basin and the Lower Basin States in an era of climate change.

What these conversations often miss, however, is the settler colonial context in which the compact emerged. This edited volume critically historicizes the Compact's commemoration, placing the longer history of the 1922 Compact within the context of settler colonial dispossession and governance of the river as a whole. In doing so we ask, what are the other ways this agreement might have unfolded? Whose rights – and histories of living with the Colorado River – were prioritized, and whose were denied? Where might we go from here? What does Colorado River governance look like moving forward, with tribes as primary stakeholders? How can the river itself, and how we think about it, be unsettled?


Featured Speakers:

Andrew Curley, Diné, and member of the Navajo Nation
Assistant Professor of Geography, Development & Environment
The University of Arizona
Teresa Montoya, Diné, and member of the Navajo Nation
Assistant Professor of Anthropology
The University of Chicago
Traci Brynne Voyles
Professor & Department Head of History
North Carolina State University
Moderator:
Erika M. Bsumek
Professor and Eugene C. Barker Centennial Chair in American History, and
UT System Regents Distinguished Teaching Professor
The University of Texas at Austin
_________________________________________________________________________________________
The views and opinions expressed in this article or video are those of the individual author(s) or presenter(s) and do not necessarily reflect the policy or views of the editors at Not Even Past, the UT Department of History, the University of Texas at Austin, or the UT System Board of Regents. Not Even Past is an online public history magazine rather than a peer-reviewed academic journal. While we make efforts to ensure that factual information in articles was obtained from reliable sources, Not Even Past is not responsible for any errors or omissions.