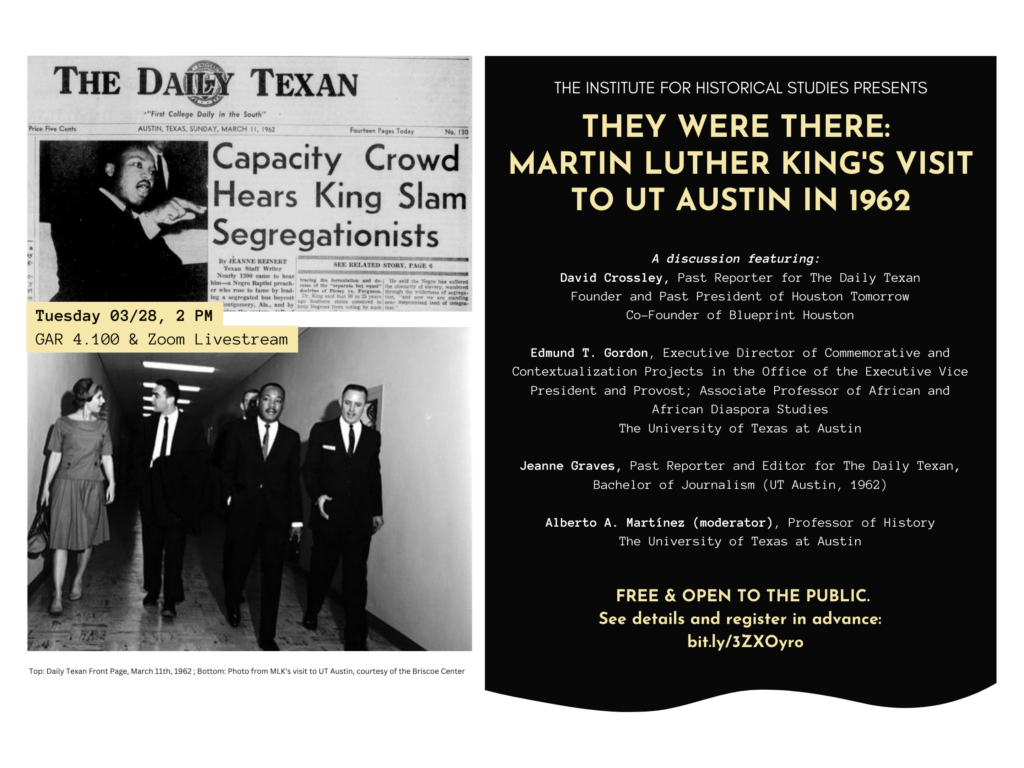 This month, exactly 61 years ago, Martin Luther King Jr. visited UT to speak out against racism and segregation. We will interview former UT students who were here back then, when they worked for The Daily Texan, to discuss Dr. King's visit and that historical moment in the struggle for integration, on campus, in businesses on the Drag (Guadalupe St.), and beyond, even in Mississippi, reporting that black students were suspended, student government was eliminated, and reporters were being beaten because of protests against segregation.
Featuring:
Jeanne Reinert Graves
Past Reporter and Editor for The Daily Texan
Writer for Science Digest (NYC)
Co-Founder of Zinn, Graves & Field Public Relations Firm

David Crossley
Past Reporter for The Daily Texan
Founder and Past President of Houston Tomorrow
Co-Founder of Blueprint Houston

Edmund T. Gordon, Discussant
Executive Director of Commemorative and Contextualization Projects in the
Office of the Executive Vice President and Provost; and
Associate Professor of African and African Diaspora Studies
The University of Texas at Austin
https://liberalarts.utexas.edu/aads/faculty/gordonet

Alberto A. Martínez, Moderator
Professor of History
The University of Texas at Austin
https://liberalarts.utexas.edu/history/faculty/aam829
---
The views and opinions expressed in this article or video are those of the individual author(s) or presenter(s) and do not necessarily reflect the policy or views of the editors at Not Even Past, the UT Department of History, the University of Texas at Austin, or the UT System Board of Regents. Not Even Past is an online public history magazine rather than a peer-reviewed academic journal. While we make efforts to ensure that factual information in articles was obtained from reliable sources, Not Even Past is not responsible for any errors or omissions.