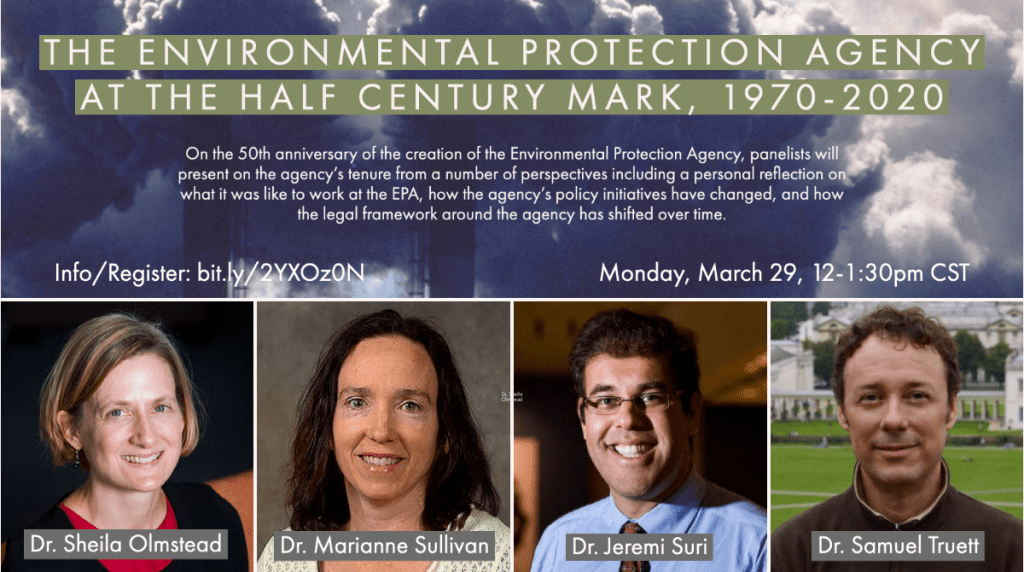 Institute for Historical Studies, Monday March 29, 2021
On the 50th anniversary of the creation of the Environmental Protection Agency, panelists will present on the agency's tenure from a number of perspectives including a personal reflection on what it was like to work at the EPA, how the agency's policy initiatives have changed, and how the legal framework around the agency has shifted over time.

Featured Speakers:

Sheila Olmstead
Professor of Public Affairs
University of Texas at Austin
https://lbj.utexas.edu/olmstead-sheila

Marianne Sullivan
Professor of Public Health, and Director, Global Public Health Honors Track
William Paterson University of New Jersey
https://wpconnect.wpunj.edu/directories/faculty/default.cfm?user=sullivanm19

Jeremi Suri
Mack Brown Distinguished Chair for Leadership in Global Affairs, and Professor of History
University of Texas at Austin
https://liberalarts.utexas.edu/history/faculty/js33338

Samuel Truett
Associate Professor of History
Director, Center for the Southwest
University of New Mexico
https://history.unm.edu/people/faculty/profile/samuel-truett.html
This talk is part of the Institute's theme in 2020-2021 on "Climate in Context: Historical Precedents and the Unprecedented."
Sponsored by: Institute for Historical Studies in the Department of History, and Planet Texas 2050
---
The views and opinions expressed in this article or video are those of the individual author(s) or presenter(s) and do not necessarily reflect the policy or views of the editors at Not Even Past, the UT Department of History, the University of Texas at Austin, or the UT System Board of Regents. Not Even Past is an online public history magazine rather than a peer-reviewed academic journal. While we make efforts to ensure that factual information in articles was obtained from reliable sources, Not Even Past is not responsible for any errors or omissions.