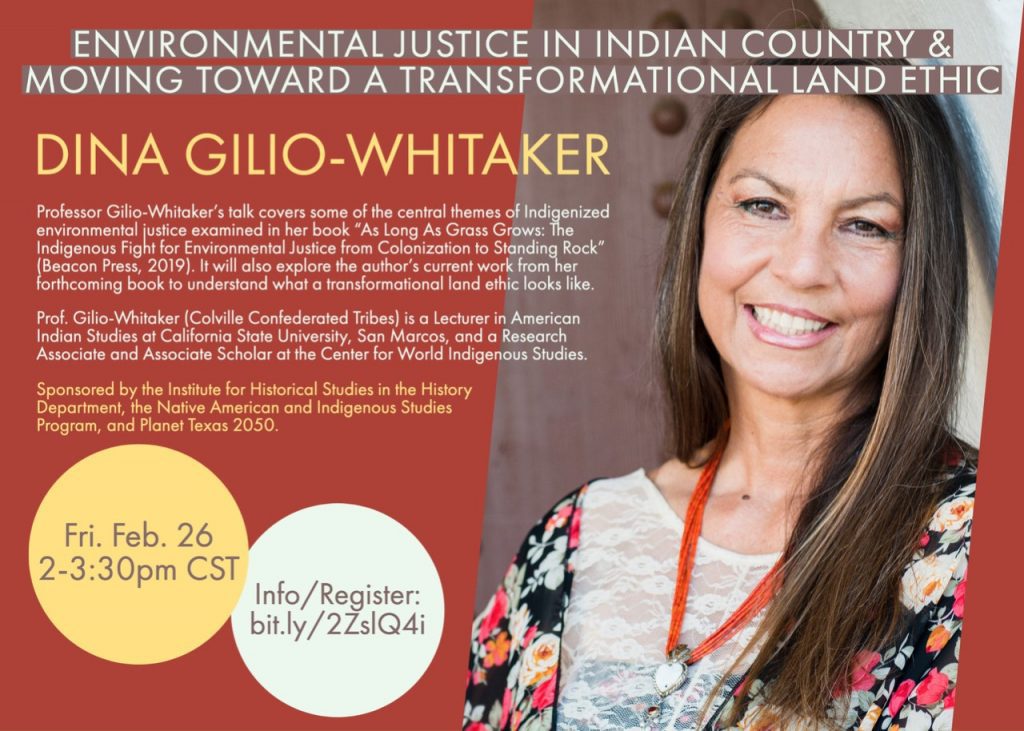 Institute for Historical Studies, Friday February 26, 2021

Drawing on the book's theorizing of an Indigenized environmental justice, this talk covers some of the central themes examined in Professor Gilio-Whitaker's recent publication As Long As Grass Grows: The Indigenous Fight for Environmental Justice from Colonization to Standing Rock (Beacon Press, 2019). It then leans into the author's current work from her forthcoming book to understand what a transformational land ethic looks like.
Dina Gilio-Whitaker (Colville Confederated Tribes) is an independent writer and researcher in Indigenous studies, having earned a bachelor's degree in Native American Studies and a master's degree in American Studies from the University of New Mexico, and also holds the position of research associate and associate scholar at the Center for World Indigenous Studies. Her work focuses on issues related to Indigenous nationalism, self-determination, and environmental justice. She is the author of As Long As Grass Grows (see above) and co-author (with Roxanne Dunbar-Ortiz) of "All the Real Indians Died Off" and 20 Other Myths About Native Americans (Beacon Press, 2016). An award-winning journalist, she is a frequent contributor to Indian Country Today Media Network and Native Peoples Magazine. Dr. Gilio-Whitaker is currently a Lecturer in American Indian Studies at California State University, San Marcos. Read more about her work on her website, and follow her research and publications on academia.edu.
---
The views and opinions expressed in this article or video are those of the individual author(s) or presenter(s) and do not necessarily reflect the policy or views of the editors at Not Even Past, the UT Department of History, the University of Texas at Austin, or the UT System Board of Regents. Not Even Past is an online public history magazine rather than a peer-reviewed academic journal. While we make efforts to ensure that factual information in articles was obtained from reliable sources, Not Even Past is not responsible for any errors or omissions.