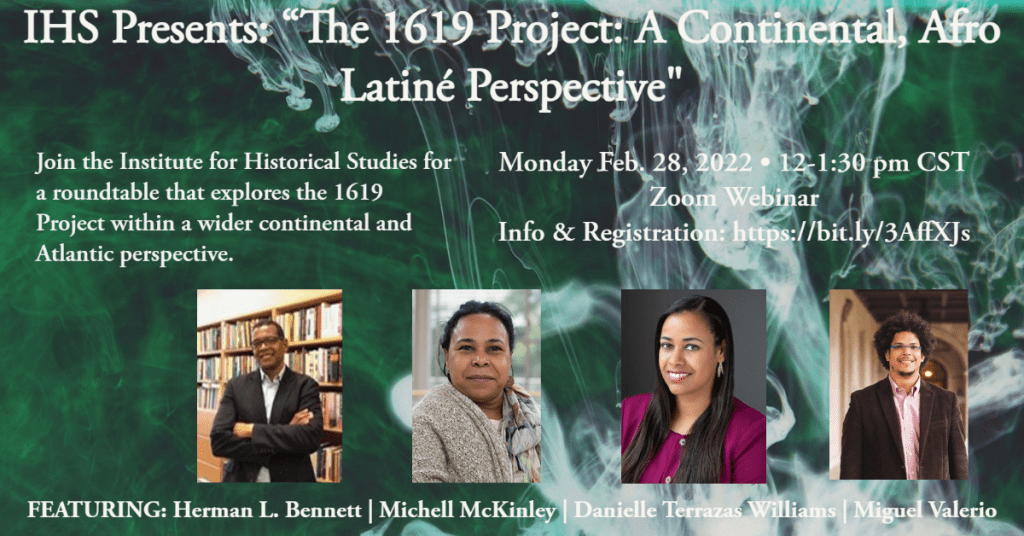 Institute for Historical Studies – Monday February 28, 2022
Notes from the Director
Drawing on the expertise of historians who specialize on the history of slavery, emancipation, and race in the Caribbean and the south Atlantic, this panel seeks to explore the 1619 Project within a wider continental and Atlantic perspective. In which ways would the 1619 Project benefit from a dialogue with the history of the Afro Latiné, Afro Caribbean, and South Atlantic? Does the history of slavery, emancipation, empire, and democracy in the Caribbean and Latin America offer alternatives to the undercurrent pessimism of the 1619 Project? Is American exceptionalism at its core a history of the exceptional enduring power of White Supremacy in one nation?
Featured Panelists:
Herman L. Bennett
Professor of History
The Graduate Center, CUNY

Dr. Michelle McKinley
Bernard B. Kliks Professor of Law; Professor of History and Latin American Studies; and
Director for the Center for the Study of Women in Society
University of Oregon

Danielle Terrazas Williams
Lecturer in History of the Global South
University of Leeds (United Kingdom)

Miguel Valerio
Assistant Professor of Spanish
Washington University in St. Louis
---
The views and opinions expressed in this article or video are those of the individual author(s) or presenter(s) and do not necessarily reflect the policy or views of the editors at Not Even Past, the UT Department of History, the University of Texas at Austin, or the UT System Board of Regents. Not Even Past is an online public history magazine rather than a peer-reviewed academic journal. While we make efforts to ensure that factual information in articles was obtained from reliable sources, Not Even Past is not responsible for any errors or omissions.