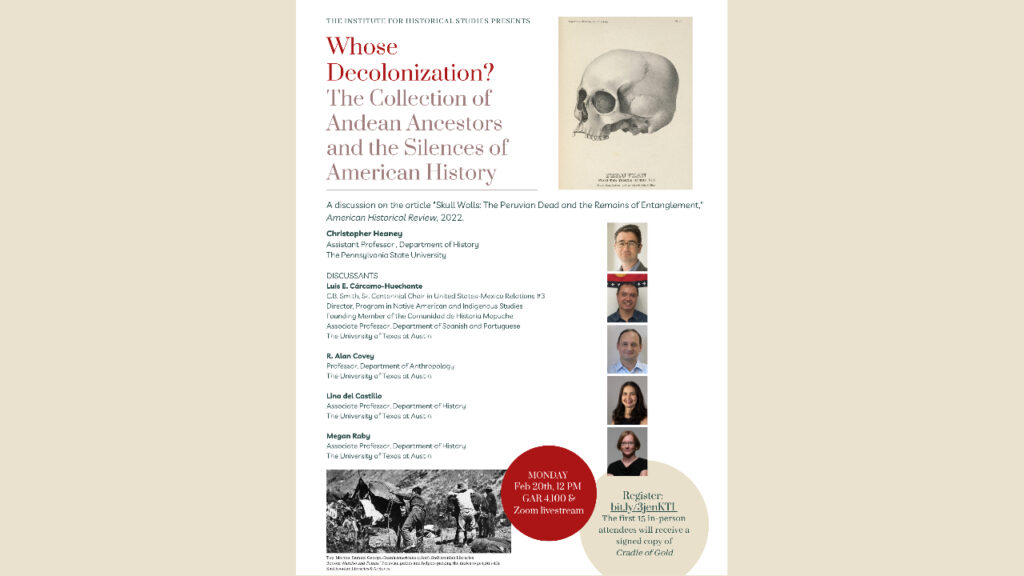 A discussion on Dr. Christopher Heaney's article "Skull Walls: The Peruvian Dead and the Remains of Entanglement," American Historical Review, 2022.
Christopher Heaney's "Skull Walls" offers a new history for the foundations of American anthropology and scientific racism, locating their paradigm of collecting Indigenous ancestors in early US encounters with Peruvian and Andean colonial and republican knowledge practices. These more entangled histories imply complex discussions of museums and their decolonization, as well as sensitivity on the part of scholars towards affected collectives. This discussion engages with the article's ideas as well as the necessarily long period of research, reflection, submission, re-submission and revision that its publication entailed.
Christopher Heaney is an Assistant Professor in the Department of History at The Pennsylvania State University. A historian of Latin America, with research interests in the history of science, indigeneity, museums, race, and deathways in the Andes, Americas, and the World, he is the author of Cradle of Gold: The Story of Hiram Bingham, a Real-Life Indiana Jones and the Search for Machu Picchu (2010), published in Peru as Las Tumbas de Machu Picchu: La historia de Hiram Bingham y la Busqueda de las últimas ciudades de los Incas (2012). He is currently at work on two monographs, both informed by research in museums and archives in Peru, the United States, the United Kingdom, and Spain. Empires of the Dead: Inca Mummies and the Origins of American Anthropology (Oxford University Press, forthcoming) is a history of the collection, circulation, study, and display of Inca mummies and ancient Peruvian skulls in the Americas, focusing on the 19th century but spanning the 16th century to the present. His third book, Grave Openings, will be a history of the colonial laws regulating grave-robbing in the Anglo-Iberian Atlantic World, and their assault upon Indigenous sovereignty. At Penn State, Dr. Heaney trains undergraduate and graduate students in Colonial and Modern Latin American history, the history of Peru and the Incas, the history of science, and the cultural history of United States-Latin American relations. His approach to teaching presumes a Latin America that has always been modern, and an Americas and Atlantic World shaped by movements, infrastructures, and knowledges of Native peoples. In 2012, he co-founded and was the Editor-in-Chief of The Appendix, a journal of narrative and experimental history. From 2016 to 2018 he was the Barra Postdoctoral Fellow at the McNeil Center for Early American Studies, at the University of Pennsylvania in Philadelphia. His writing has been featured by The New Yorker, The Atlantic, and The New York Times.
Dr. Heaney earned his PhD in Latin American History in 2016 at The University of Texas at Austin, where he worked with Jorge Cañizares-Esguerra and Seth Garfield on his dissertation "The Pre-Columbian Exchange: The Circulation of the Ancient Peruvian Dead in the Americas and Atlantic World." Read more about his work, publications, and projects at: https://history.la.psu.edu/directory/christopher-heaney/.
Discussants
Luis E. Cárcamo-Huechante
C.B. Smith, Sr. Centennial Chair in United States-Mexico Relations #3 Associate Professor
Director, Program in Native American and Indigenous Studies
Founding Member of the Comunidad de Historia Mapuche
Department of Spanish and Portuguese
The University of Texas at Austin
Profile | NAIS | Comunidad de Historia Mapuche
R. Alan Covey
Professor, Department of Anthropology
The University of Texas at Austin
Profile
Lina del Castillo
Associate Professor, Department of History
The University of Texas at Austin
Profile
Megan Raby
Associate Professor, Department of History
The University of Texas at Austin
Profile | Website