After serving in Jawaharlal Nehru's government for ten years, Sarvepalli Gopal opens his biography of India's first prime minister with a pledge to maintain objectivity.
 Gopal appears to overcome his biases, tracking Nehru from his privileged upbringing in Allahbad to his assumption of power in New Delhi in 1947. The author's focus on the evolution of Nehru's political thinking proves particularly compelling. We see Nehru as an enthusiastic young Congressman embrace Gandhian nationalism, writing in 1922: "In the golden days to come when the history of our times and our country comes to be written, the present will occupy a glorious chapter." Gopal dampens this trademark romanticism of Nehru's writings, putting his subject's assertions and musings into conversation with the correspondence and observations of a wide range of contemporaries. The sources depict a wavering politician becoming a respected national leader. Nehru steps out of the shadows of his father, Motilal, and Mohandas Gandhi, forging his own intellectual path and developing a concrete vision for an independent India. He maneuvers the cause of Swaraj (home rule) toward a call for independence, proves instrumental in negotiations with the British Raj, and deviates from Gandhian ideals, embracing notions of industrialization and democratic socialism.
Despite his balanced assessment of Nehru and his Congress allies, Gopal leaves a gaping hole in his analysis of Nehru's controversial role in India's partition. The author neglects to consult primary sources surrounding Muslim League leader Mohammad Ali Jinnah. Indeed, the papers of Muslim leaders fail to appear in Gopal's work while the collections of top Congressmen and British administrators garner manifold citations. The resulting imbalance paints Jinnah as obstinate and prideful, particularly in the Muslim League's rejection of the 1946 Cabinet Mission Plan. In spite of this substantial shortcoming in engaging available sources, Gopal's work provides an intimate and appropriately critical view of Jawaharlal Nehru's development as a nationalist leader and statesman.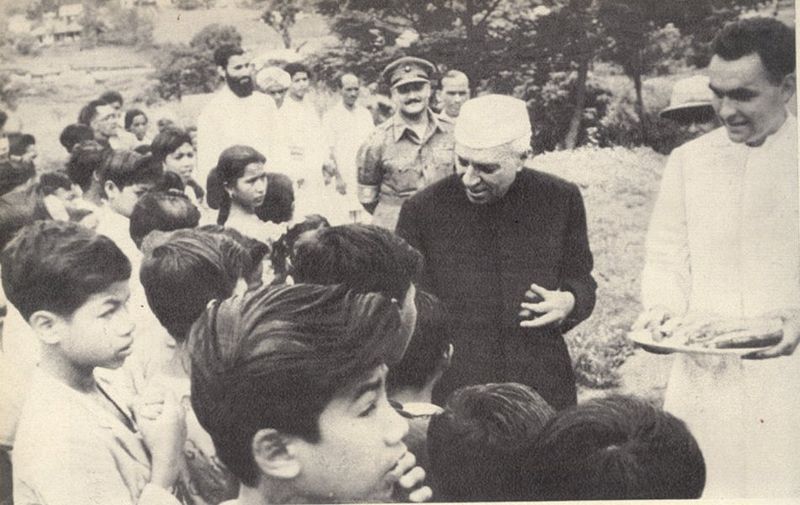 Photo credits:
Photographer unknown, "Jawaharlal Nehru hands out sweets to students at Nongpoh in Meghalaya"
Flickr user ktravasso via Wikimedia Commons
You may also like:
Amber Abbas' review of "Prejudice and Pride: School Histories of the Freedom Struggle in India and Pakistan."
Jack Loveridge's review of "Wavell: the Viceroy's Journal."
Voices of India's Partition, Part V: Interview with Professor Mohammad Amin
Voices of India's Partition, Part IV: Interview with Professor Masood ul Hasan
Voices of India's Partition, Part III: Interview with Professor Irfan Habib
Voices of India's Partition, Part II: Interview with Mr. S.M. Mehdi
Voices of India's Partition, Part I: Interview with Mrs. Zahra Haider