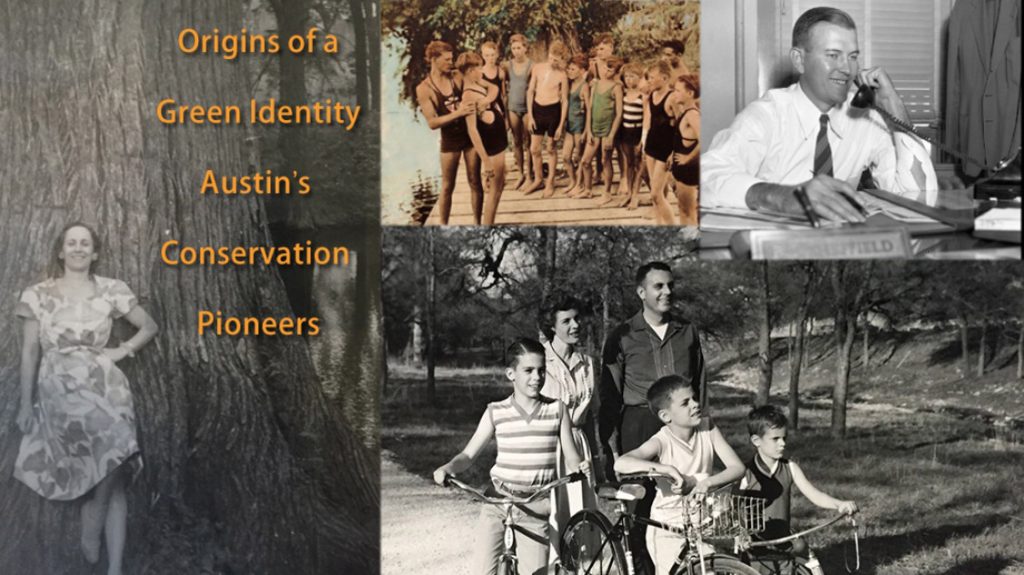 By Karen Kocher
Origins of a Green Identity is an hour-long documentary exploring Austin's earliest efforts to preserve Barton Springs and Barton Creek, and ultimately to create a city with publicly-accessible green spaces along Austin's waterways throughout the City. The film is narrated by Texas novelist, Sarah Bird and features original music from Austin's Graham Reynolds and guitarist, David Murray.
Rich in archival imagery, the story focuses on two primary architects at the center of efforts to protect Barton Springs, Barton Creek and to clean up and develop Ladybird lake, Chairman of the Austin Parks Board, Roberta Crenshaw and Director of the Austin Parks and Recreation Department, Beverly Sheffield.
Together they worked for over two decades to raise awareness about the ways in which Austin's post-war growth was threatening Barton Springs, Barton Creek, and indeed all of Austin's waterways. Another key aspect of their continued efforts was to purchase lands for the public along Austin's creeks, and to fight against the privatization of open space along these waterways. While Austin today prides itself on its parks and a green sensibility, in their day, Beverly and Roberta were working against the status-quo; a time when real estate and development interests steered the ship in Austin's city politics.
Roberta was a visionary thinker and woman of high society who refused to be intimidated, even as she clashed repeatedly with powerful political and business interests. Roberta's principle ambition was to preserve the best green open spaces for the citizens of Austin to use and enjoy regardless of their social or economic status. She fought tirelessly to safeguard Austin's natural treasures from the ill-effects of rapid and unregulated growth, even while facing open hostility and sexism. She had many successes but made some missteps along the way. It is perhaps due to the bridges that she burned that her efforts related to Austin's conservation scene are little remembered. Beverly Sheffield, fueled by his love of the out-of-doors, and driven by a deeply spiritual motivation, worked from within the system as the Director of the Parks and Recreation Department. Together Roberta and Beverly sounded the alarm bells, drawing attention to the need to protect Barton Springs and Barton Creek before they were destroyed by Austin's rapid growth, and cut off from public access.
Certainly, had Roberta and Beverly not laid the essential groundwork at such an early phase in Austin's development, it would not be the city it is today. The enduring natural state of Barton Creek and Barton Springs, for instance, can be traced directly back to their tireless efforts beginning five decades ago. Our video reveals for the first time in a documentary format Crenshaw and Sheffield's critical roles in the shaping of Austin's identity as a City with green at its heart.
Airing on 4/18/2020 at 1:00 pm and 4/22/2021 at 10:00 pm on KLRU
---
The views and opinions expressed in this article or video are those of the individual author(s) or presenter(s) and do not necessarily reflect the policy or views of the editors at Not Even Past, the UT Department of History, the University of Texas at Austin, or the UT System Board of Regents. Not Even Past is an online public history magazine rather than a peer-reviewed academic journal. While we make efforts to ensure that factual information in articles was obtained from reliable sources, Not Even Past is not responsible for any errors or omissions.