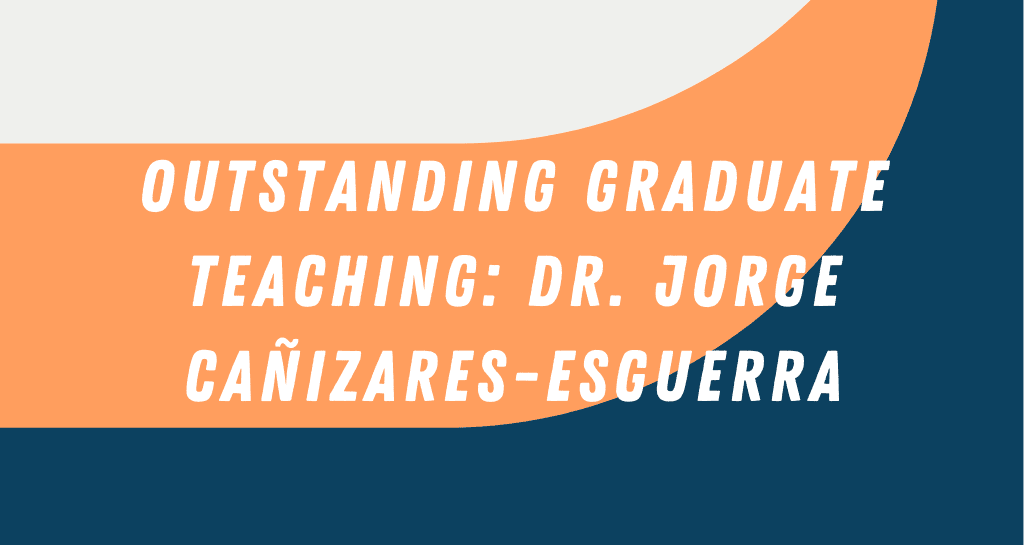 Not Even Past congratulates Dr. Jorge Cañizares-Esguerra, who received the Outstanding Graduate Teacher Award for 2021. The Outstanding Graduate Teaching Award recognizes the distinguished teaching of a graduate faculty member. It is one of numerous such awards for Dr. Cañizares-Esguerra, who also received the 2018 Nancy Lyman Roelker Mentorship Award from the American Historical Association. In their nomination letter for that award, a group of his students wrote:
"We […] honor Jorge's commitment to mentoring an entire generation of top-tier scholars, including graduate students, young scholars, and junior colleagues at UT Austin and around the world, regardless of background, age, country, or institutional affiliation. They carry with them his new paradigms of historical thinking, as well as his broad vision of global history beyond the field's conventional constrictions. They excel as graduate students, winning competitive national and international grants, succeeding in the job market with postdoctoral fellowships and tenure-track positions at top-tier universities. They also bring with them Jorge's lessons of intellectual and personal generosity. Bestowing Jorge with the Nancy Lyman Roelker Mentorship Award would enable a broad community of scholars to thank Jorge for enriching historical scholarship and many lives around the world; in [one professor's] words 'I know of no other graduate mentor so invested in their students' lives, no other teacher who has given so much of themselves to re-imagine what the history of the Americas could be.' As [another professor] explains, 'in terms of professional recognition and remuneration, mentorship of graduate students and early career scholars is almost literally a thankless task. And that is why Dr. Cañizares-Esguerra's unwavering commitment to his graduate students and to early career scholars in the United States, in Latin America, and elsewhere, is so impressive.'"
In recent years, students working with Dr. Cañizares-Esguerra have won a string of prestigious prizes. They include Dr. Bradley J. Dixon ('18) and Dr. Cameron Strang ('13) who were each awarded William and Mary Quarterly's Richard L. Morton prize; Dr. Adrian Masters ('18) who won the Conference on Latin American History's James Alexander Robertson Memorial Prize; and Dr. Kristie Flannery ('19) who won both the Lathrop Prize for Best Dissertation and the UT Graduate School's Outstanding Dissertation Award.
Dr. Cañizares-Esguerra has worked with numerous groundbreaking researchers, some currently in the graduate programs, others who have graduated. To help celebrate this award and as part of NEP's commitment to sharing the latest research we wanted to profile just a few of these students, current and former, who have worked with Dr. Cañizares-Esguerra.

Alexander Chaparro-Silva is a third-year PhD Student in History at UT-Austin. Drawing upon intellectual and cultural history, his dissertation analyzes how Latin American intellectuals came to the US, offered a sophisticated comparative reflection on democracy and race relations in both Americas, and crafted racialized continental differences during the nineteenth century. His project examines the creation of a vibrant continental public sphere, from Santiago de Chile to New York, and highlights the importance of transnational intellectual networks in the production of this comparative reflection between South and North. His peer-reviewed articles have been published in the US, Colombia, and Argentina. He is also a 2020 recipient of the James R. Scobie Memorial Award from the Conference on Latin American History.
Read more about Alexander's research here.
Diana Heredia-López is Ph.D. Candidate in the Department of History at UT Austin. She holds a B.Sc. in Biology from the National Autonomous University of Mexico (UNAM). Her interests have always revolved around how humans have studied nature and made use of it. This theme is particularly relevant for her since Latin America is usually seen as a site for extraction of natural resources and a place to find exotic plants and animals. Upon coming to the University of Texas at Austin she has explored different methodologies to incorporate new voices into global histories of science, commerce, and consumption.
Her dissertation project focuses on cochineal trading networks in early colonial Mexico. She examines the social and material culture transformations that Central and Southern Mexico communities underwent as they became embedded in early modern global commerce. The obtention of this highly specialized insect crop entailed establishing commercial relations with indigenous traders and producers, a process distinct from silver production but also quite profitable. By integrating the histories of dye producers, intermediaries, and merchants into the Atlantic world, she seeks to expand current understandings of early modern consumption and its ties to knowledge production.
Ernesto Mercado defended his dissertation in April and will be a Mellon Faculty Fellow and Assistant Professor of History of the Black Diaspora at Dartmouth College, starting in July 2021. Ernesto's work offers a revisionist history of Lesser Antillean geopolitics. He demonstrates how the autonomous community of Black Carib Indians shaped the early-modern Antilles as much as Spain, England, Holland, and France. The Black Caribs were a group of formidable seafarers, warriors, and diplomats. They emerged out of mixing between Antillean Indians, Africans, and Europeans brought into contact through captivity, intermarriage, and ritual adoption. By juxtaposing Spanish, English, and French official and missionary sources, Ernesto demonstrates how the Black Caribs evolved into independent slave traders, smugglers, and prolific planters, fully integrating themselves into the Atlantic World's politics and economy, between the Spanish conquest of Puerto Rico in the 1510s and the French Revolutionary Wars in the 1790s.

Kristie Flannery is a historian of the global Spanish empire and early modern Pacific worlds. She is interested in the contested connections that colonialism, capitalism, and faith forged between the Americas and Asia. Dr. Flannery sifts through scattered imperial archives to write history from above and below, recovering how subalterns experienced, imagined, challenged, and ultimately made the local and global communities that they inhabited. Her research also tries to analyze the early modern ideas and practices that, for better or for worse, persist and influence the way we see each other and our world today.
Her first book on piracy and empire in the Philippines is under contract with Penn Press. You can learn more about Dr. Flannery's articles and book chapters here. She is an editor-at-large of the Toynbee Prize Foundation blog, and a member of the Global Urban History Project's International Advisory Committee.
Dr. Flannery is a research fellow in the Institute for the Humanities and Social Sciences at Australian Catholic University. Previously, she held a postdoctoral fellowship at the University of British Columbia in Vancouver.
Read more about Dr. Flannery's work here.
Christopher Heaney is an historian of Modern Latin America, with research interests in the history of science, indigeneity, museums, race, and deathways in the Andes, Americas, and the World. He is the author of Cradle of Gold: The Story of Hiram Bingham, a Real-Life Indiana Jones and the Search for Machu Picchu (2010), published in Peru as Las Tumbas de Machu Picchu: La historia de Hiram Bingham y la Busqueda de las últimas ciudades de los Incas (2012). He is currently at work on two monographs, both informed by research in museums and archives in Peru, the United States, the United Kingdom, and Spain: a cultural and material history of the collection, circulation, study, and display of Inca mummies and ancient Peruvian skulls in the Americas; and an intellectual history of the legalization of grave-robbing in Peru and the Anglo-Iberian Atlantic World.
His approach to teaching presumes a Latin America that has always been modern, and an Americas and Atlantic World shaped by movements, infrastructures, and knowledge of Native peoples. In 2012, he co-founded and was the Editor-in-Chief of The Appendix, a journal of narrative and experimental history. From 2016 to 2018 he was the Barra Postdoctoral Fellow at the McNeil Center for Early American Studies, at the University of Pennsylvania in Philadelphia. His work has been featured by The New Yorker, The Atlantic, and The New York Times.
See more of Dr. Heaney's profile here.
Chloe Ireton is a Lecturer in the History of Iberia and the Iberian World 1500-1800 at University College London, and works on the histories of race, slavery, freedom, and empire in the early Southern Atlantic world. Dr. Ireton joined UCL in 2018, after completing a PhD at The University of Texas at Austin. Over the last few years, Chloe has also held institutional affiliations with the Departmento de Historia at Universidad de los Andes in Bogotá, the Instituto de Investigaciones Históricas at the Universidad Nacional Autónoma de México in Mexico City, and the Área de Historia Moderna at the Universidad de Pablo Olavide in Sevilla, and she has also been a fellow in residence at the John Carter Brown Library in Providence, Rhode Island, and the Huntington Library in San Marino, California. Dr. Ireton is currently at work on Intellectual History from Below: Slavery & Freedom in the Early Iberian Atlantic, a monograph that explores how free and enslaved Black men and women in the early Atlantic world conceptualized two strands of political thought – freedom and slavery. The monograph adopts a social history approach that explores Black voices in, and across, diverse historical archives to think about the possibilities of writing an intellectual history from below through fragmentary evidence and archival silences. Intellectual History from Below maps how enslaved and free Black Africans in the early Atlantic conceptualized and defined meanings of slavery and freedom as Black individuals and communities fought to obtain greater degrees of lived freedoms in colonial society through their work as litigators in court, as petitioners for royal justice, membership in trans-Atlantic communities, laborers, and in their daily lives across the early Atlantic world. The book explores how Black Africans and their descendants spearheaded diverse discursive landscapes about freedom and slavery in the early Hispanic Atlantic, and traces how their discourses and actions reshaped European political thought.
See more of Dr. Ireton's profile here.
---
The views and opinions expressed in this article or video are those of the individual author(s) or presenter(s) and do not necessarily reflect the policy or views of the editors at Not Even Past, the UT Department of History, the University of Texas at Austin, or the UT System Board of Regents. Not Even Past is an online public history magazine rather than a peer-reviewed academic journal. While we make efforts to ensure that factual information in articles was obtained from reliable sources, Not Even Past is not responsible for any errors or omissions.