by Julia Guernsey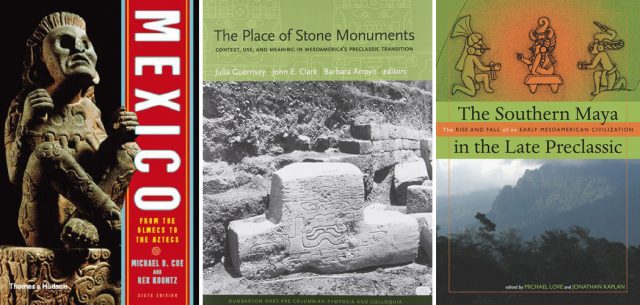 Michael D. Coe and Rex Koontz. Mexico: From the Olmecs to the Aztecs.
(Thames and Hudson, 2008 [6th ed]).
Julie Guernsey, John E. Clark, and Bárbara Arroyo, eds. The Place of Stone Monuments: Context, Use, and Meaning in Mesoamerica's Preclassic Transition. (Washington, DC: Dumbarton Oaks 2010).
Michael Love and Jonathan Kaplan, eds. The Southern Maya in the Late Preclassic: The Rise and Fall of an Early Mesoamerican Civilization.
(Boulder: University Press of Colorado, 2011).
Suzanne W. Miles, "Sculpture of the Guatemala-Chiapas Highlands and Pacific Slopes and Associated Hieroglyphs," in Handbook of Middle American Indians, vol. 2, ed. Gordon R. Willey.
(Austin: University of Texas Press, 1965).
Lee Allen Parsons,  The Origins of Maya Art: Monumental Stone Sculpture of Kaminaljuyu, Guatemala, and the Southern Pacific Coast.
(Washington, DC: Dumbarton Oaks, 1986)
Marion Popenoe de Hatch, "A Seriation of Monte Alto Sculptures." In New Frontiers in the Archaeology of the Pacific Coast of Southern Mesoamerica, eds.Frederick Bove and Lynette Heller. Arizona State University Anthropological Research Papers 39.
(Tempe: Arizona State University, 1989).