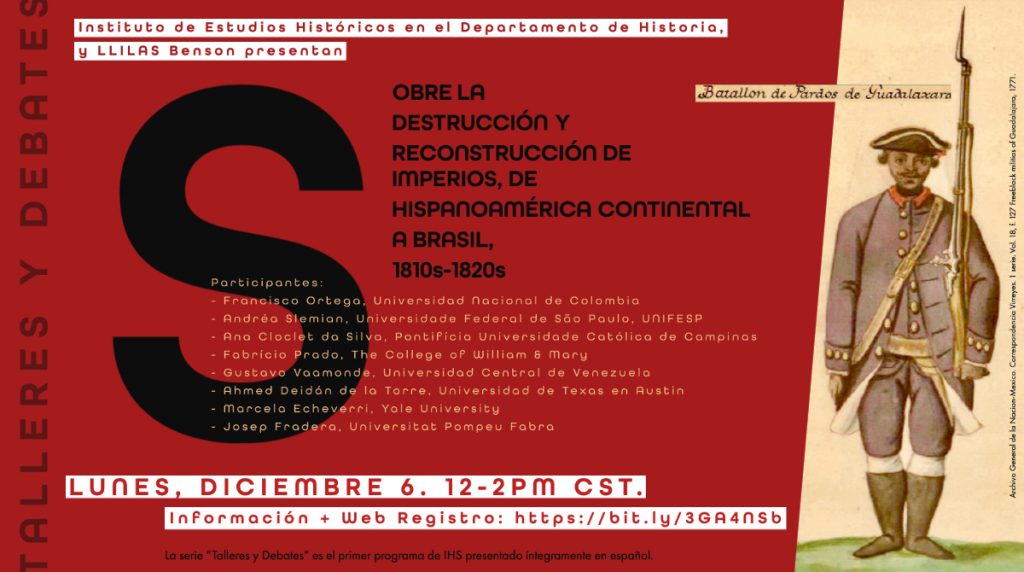 El Instituto de Estudios Históricos – Lunes, diciembre 6, 2021
Este es parte de un esfuerzo por cambiar culturalmente instituciones de la academia norteamericana caracterizadas por el colonialismo epistemológico y la falta de atención a tradiciones académicas en los países que estudian. El Instituto de Estudios Históricos busca en esta oportunidad traer historiadores hispano y luso hablantes de instituciones norteamericanas, latinoamericanas y europeas en una reflexión sobre los caminos divergentes de dos imperios de cara a la independencia.

Sobre la destrucción y reconstrucción de imperios, de Hispanoamérica continental a Brasil (1810s-1820s)

Este será un evento informal, una conversación alrededor de estos cuatro tópicos:
Los factores que llevaron a respuestas tan diferentes a la invasión napoleónica de la península: una, de migración del imperio y corona a Rio, y la otra, de revolución de ayuntamientos. ¿Las diferencias se debieron a desarrollos coloniales muy diferentes? Y de ser así, ¿cuáles?
La trayectoria monárquica de uno (Brasil) y republicana (Hispanoamérica continental) del otro. ¿Por qué?
La trayectoria diferente de la esclavitud en ambas independencias: En la de Brasil con su continuidad y profundización y, en la caso de la hispanoamericana continental, su disolución. ¿Por qué?
Por último, nos interesa una reflexión sobre como las historiografías de cada región lidiaron a lo largo del diecinueve con el período colonial previo, ya sea recordándolo como patrimonio imperial (Brasil) o activamente buscando olvidarlo (Hispanoamérica continental).
Participantes:
Francisco Ortega, Universidad Nacional de Colombia
Andréa Slemian, Universidade Federal de São Paulo, UNIFESP
Ana Rosa Cloclet da Silva, Pontifícia Universidade Católica de Campinas
Fabrício Prado, The College of William & Mary
Gustavo Vaamonde, Universidad Central de Venezuela
Ahmed Deidán de la Torre, Universidad de Texas en Austin
Marcela Echeverri, Yale University
Josep Fradera, Universitat Pompeu Fabra
La serie "Talleres y Debates" es el primer programa de IHS presentado íntegramente en español.
Sponsored by: Institute for Historical Studies in the Department of History; and Teresa Lozano Long Institute of Latin American Studies (LLILAS Benson)