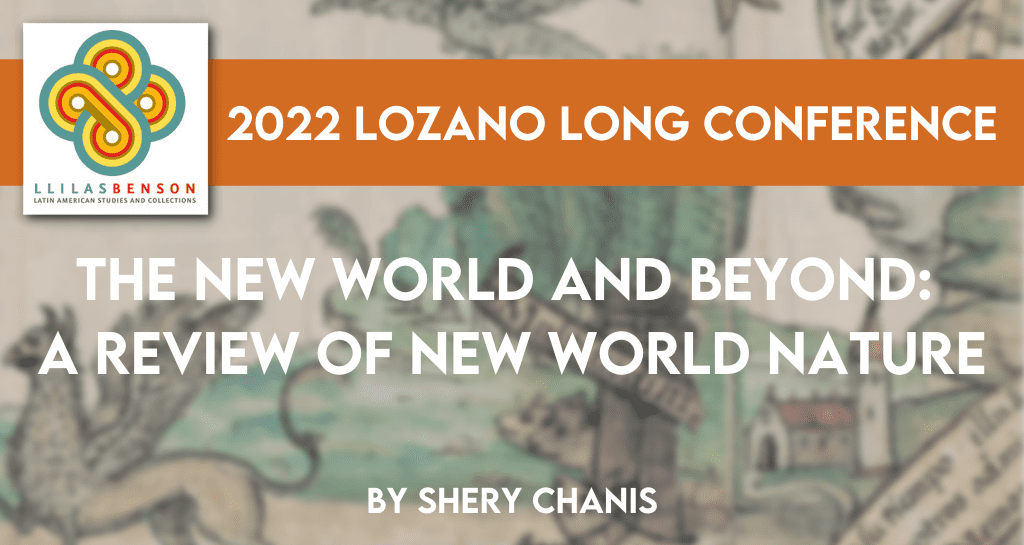 In honor of the centennial of the Nettie Lee Benson Latin American Collection, the 2022 Lozano Long Conference focuses on archives with Latin American perspectives in order to better visualize the ethical and political implications of archival practices globally. The conference was held in February 2022 and the videos of all the presentation will be available soon. Thinking archivally in a time of COVID-19 has also given us an unexpected opportunity to re-imagine the international academic conference. This Not Even Past publication joins those by other graduate students at the University of Texas at Austin. The series as a whole is designed to engage with the work of individual speakers as well as to present valuable resources that will supplement the conference's recorded presentations. This new conference model, which will make online resources freely and permanently available, seeks to reach audiences beyond conference attendees in the hopes of decolonizing and democratizing access to the production of knowledge. The conference recordings and connected articles can be found here.
En el marco del homenaje al centenario de la Nettie Lee Benson Latin American Collection, la Conferencia Lozano Long 2022 propició un espacio de reflexión sobre archivos latinoamericanos desde un pensamiento latinoamericano con el propósito de entender y conocer las contribuciones de la región a las prácticas archivísticas globales, así como las responsabilidades éticas y políticas que esto implica. Pensar en términos de archivística en tiempos de COVID-19 también nos brindó la imprevista oportunidad de re-imaginar la forma en la que se llevan a cabo conferencias académicas internacionales. Como parte de esta propuesta, esta publicación de Not Even Past se junta a las otras de la serie escritas por estudiantes de posgrado en la Universidad de Texas en Austin. En ellas los estudiantes resaltan el trabajo de las y los panelistas invitados a la conferencia con el objetivo de socializar el material y así descolonizar y democratizar el acceso a la producción de conocimiento. La conferencia tuvo lugar en febrero de 2022 pero todas las presentaciones, así como las grabaciones de los paneles están archivados en YouTube de forma permanente y pronto estarán disponibles las traducciones al inglés y español respectivamente. Las grabaciones de la conferencia y los artículos relacionados se pueden encontrar aquí.
Focusing on the development of early modern nature and science, New World Nature (https://nwn.dhinitiative.org) is a delightful online resource for anyone interested in the Spanish Americas, history of science, and an innovative comparative approach to history that connects the Spanish Americas from Europe to China. Website creator Dr. Mackenzie Cooley at Hamilton College intends for New World Nature to be a platform to highlight her multiple projects and collaborations. This website demonstrates how scholars in the humanities can maintain an organic online presence and a shared space for research.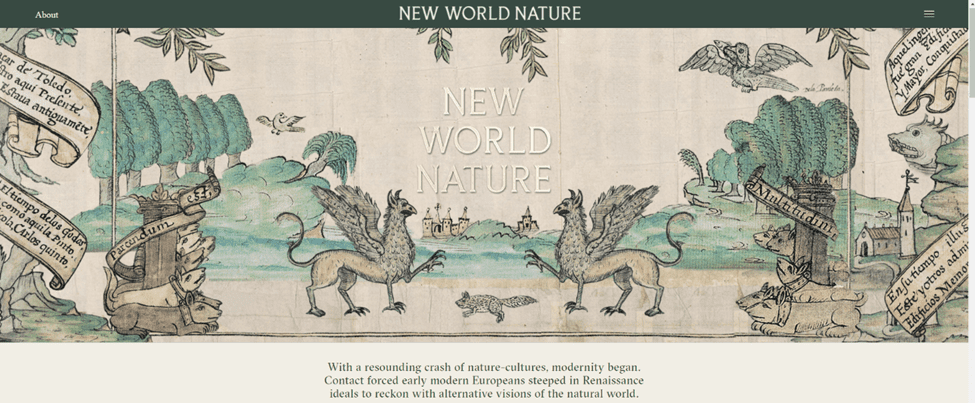 New World Nature makes several significant contributions. The first is creating a research tool for the Relaciones Geográficas, a corpus of responses collected for the 50-question survey sent to Spanish Americas in the 1570s during the reign of Spanish King Philip II.[1] Various Relaciones Geográficas in the Spanish empire are known, originating from Peru and the Caribbean to even Spain. The section "Searching the Relaciones Geográficas" (https://nwn.dhinitiative.org/search-archive/) offers René Acuña's magisterial critical editions from Mexico, Guatemala, Tlaxcala, Michoacan, Antequera, and Nueva Galicia. As a result of collaboration with student researchers on translation and data management, this tool not only assisted Cooley's students in their research but is also helpful for others who are interested in these documents.
The second contribution is its organic approach. Rather than an end product of a particular project, the website highlights Cooley's ongoing scholarship. After introducing the Lesser Antilles archives at Hamilton College and the Relaciones Geográficas, New World Nature spotlights Cooley's body of work which includes her manuscript-in-progress, The Perfection of Nature: Animals, Humans, and Race in the Renaissance (in press with The University of Chicago Press), her current research on sex, medicine, and empire this academic year, as well as Natural Things: Ecologies of Nature in the Early Modern World co-edited by Cooley, Anna Toledano, and Duygu Yildirim. This edited work has resulted from the project Natural Things/Ad Fontes Naturae (https://naturalhistory.stanford.edu/), an ongoing endeavor in global natural history that the aforementioned trio of scholars co-founded during Cooley's graduate training at Stanford University.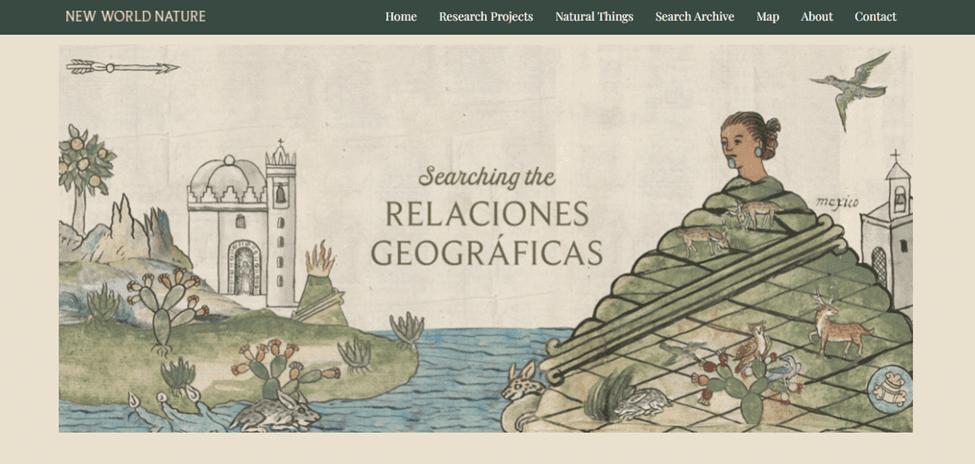 The third main contribution of New World Nature is its comparative approach that will appeal to audiences in various geographical fields. Beyond the Atlantic connection between the Americas and Europe, the comparison between the early modern Spanish and Chinese empires brings forth an innovative – and previously overlooked – perspective in the scholarship of the early modern world. In addition to the works mentioned above, Cooley has also co-edited another volume, Knowing an Empire: Imperial Science in the Chinese and Spanish Empires, 1500-1800 (under review). Through a pioneering comparison between the Relaciones Geográficas and local gazetteers (difangzhi), a centuries-long Chinese genre, this work connects early modern Spain and China via the broad themes of empire, science, and local epistemologies.[2] This work argues for the striking parallels between these two seemingly unrelated genres, offering a model of comparability and emphasizing the polycentricity of power. It also challenges the linear progression to modernity by seeking to understand the development of early modern Spanish and Chinese knowledge production that differed from the European experience. This work is a powerful intervention in the scholarship of the early modern world that connects two of the biggest empires of the time.
The team behind this website further speaks to the collaborative and global nature of this project. Through the efforts of the Australian designer Katie Dean, New World Nature features great images from the Relaciones Geográficas that immediately grasp the readers' attention.[3] Cooley has also been working with a team of student researchers with various academic interests at Hamilton College, including Latin American history, history of medicine, race, human rights, and archaeology. Cooley and her team have traveled to Europe and Latin America for research and co-published their works.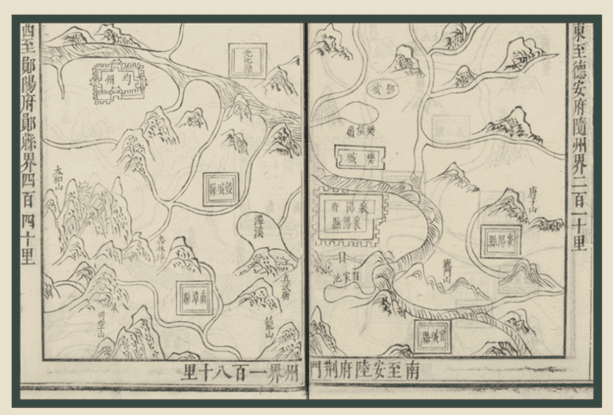 While an exciting series of works, two minor suggestions for the website might be helpful. The first is to feature an introduction that provides a road map highlighting the resources and multiple projects mentioned above. A quick orientation of the website content would help readers (especially first-time visitors to the website) more easily understand the rich resources available. Related to that, reframing and expanding the "About" section would help reflect the website's growth and scholarship over the years. The second suggestion would be to highlight Cooley's manuscript-in-progress more explicitly on the website.
New World Nature has created a visually appealing platform that not only aids in the research on the Relaciones Geográficas but also introduces multiple exciting works that help interested readers to further understand the dynamic nature of the early modern world.
A historian of science and ideas in early modern empires, Dr. Mackenzie Cooley is Assistant Professor at Hamilton College. Her research focuses on the natural world and the Columbian Exchange. In 2021-2022, she was a Deborah Loeb Brice Fellow at Villa I Tatti, the Harvard University Center for Italian Renaissance Studies. At the Lozano Long Conference, Dr. Cooley participated in a panel entitled "Modern Institutional Networks Visualize Early Modern Archives: The Case of the Relaciones Geográficas y Topográficas."
Shery Chanis is a doctoral candidate in the Department of History at UT Austin. She researches Ming China (1368-1644) and its connection with the early modern world. Chanis focuses on the sixteenth and seventeenth centuries. Her current project analyzes the Chinese elites' ordering and descriptions of the southernmost maritime province of Guangdong that were attentive to the people both inside and outside of its physical boundaries. She has presented her research at UT Austin, the Newberry Library in Chicago, the AHA Annual Meeting (poster session), and the University of Warwick in the United Kingdom. She has also published on H-Net and Not Even Past.
I wish to thank Dr. Mackenzie Cooley for the wonderful email exchange and for her thoughtful and enthusiastic input for this piece.
[1] The Benson Latin American Collection at UT Austin houses part of Joaquín García Icazbalceta's Collection of Relaciones Geográficas of Mexico and Guatemala from 1578 to 1586. See https://www.arcgis.com/apps/Cascade/index.html?appid=1fcabf740a844d9d80d5bf0248416f47. For more on Relaciones Geográficas, see Barbara E. Mundy, The Mapping of New Spain: Indigenous Cartography and the Maps of the Relaciones Geográficas (Chicago: University of Chicago Press, 2000). For additional analyses and bibliographical references on the Relaciones Geográficas and a more personal story, see Rafael Nieto-Bello's recent piece on Not Even Past (https://notevenpast.org/bringing-together-the-relaciones-geograficas-and-topograficas-of-the-spanish-empire/).
[2] Co-edited by Cooley and Huiyi Wu, Knowing the Empire in Early Modern China and Spain (under review) features essays from an interdisciplinary group of scholars including Maria Portuondo, Barbara Mundy, sinologist Joe Dennis, digital scholar Shih-Pei Chen, Mario Cams, He Bian, Marcella Hayes, and Stewart McManus. This volume follows the "Knowing the Empire" Conference in November 2019 at the Max Planck Institute for the History of Science in Berlin, sponsored by the MPIWG's Department III under the leadership of Dagmar Schäffer. (https://www.mpiwg-berlin.mpg.de/event/knowing-empire-imperial-science-early-modern-chinese-and-spanish-empires). The conference was inspired by Shih Pei Chen's work on early modern Chinese local gazetteers (https://www.researchgate.net/publication/343605827_Local_Gazetteers_Research_Tools_Overview_and_Research_Application) and Huiyi Wu's research on the appearance of Jesuits and the partial transmission of their European knowledge in these sources.
[3] Dean is also a design collaborator in Cooley's co-edited Natural Things: Ecologies of Nature in the Early Modern World, which includes twelve essays that explore the relationships among natural philosophy, science, medicine, and European colonialism to chart the expansion of natural science from 1500 to the early 1900s.
---
The views and opinions expressed in this article or video are those of the individual author(s) or presenter(s) and do not necessarily reflect the policy or views of the editors at Not Even Past, the UT Department of History, the University of Texas at Austin, or the UT System Board of Regents. Not Even Past is an online public history magazine rather than a peer-reviewed academic journal. While we make efforts to ensure that factual information in articles was obtained from reliable sources, Not Even Past is not responsible for any errors or omissions.