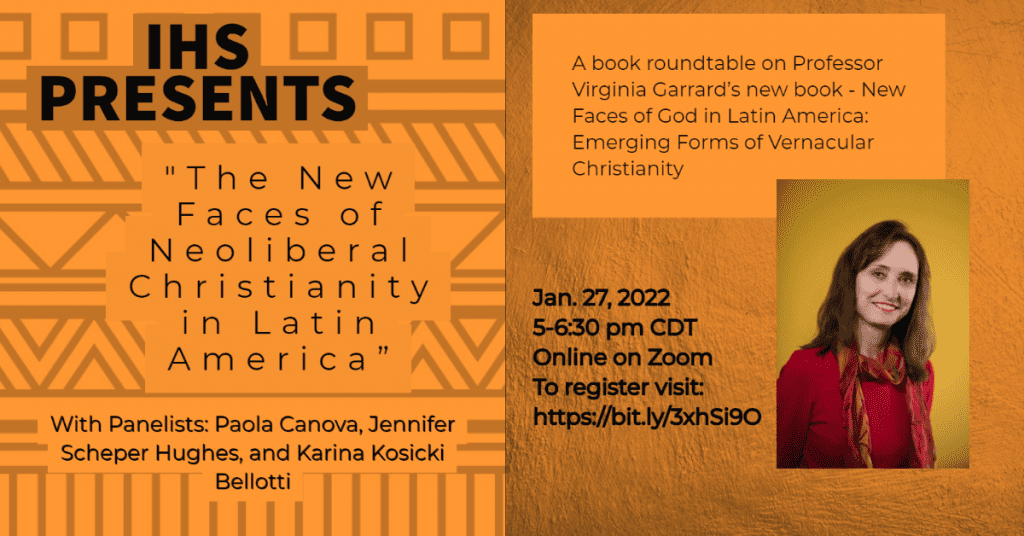 Institute for Historical Studies – Thursday, January 27, 2022
Notes from the Director
In New Faces of God in Latin America: Emerging Forms of Vernacular Christianity (Oxford University Press, 2020), Professor Virginia Garrard poses two questions: What are the "New Faces of God" in Latin America? In what way are these new manifestations of "vernacular" Christianity any different from previous ones?

Professor Garrard identifies various decentralized, bottom-up religious movements that, unlike previous movements, are controlled by local ministries whose ethnicity and backgrounds reflect that of the majority of the population: Indian, Black, Women. These movements reflect the actual racial, ethnic composition of local societies much better than did traditional forms of colonial Christian religion, usually in the hands of European, Creole elites or USA missionaries.

In one sense these movements are deeply anticolonial.

Studies of these new forms of religion in Africa and Asia cast these movements as peculiarly rooted in the "Global South."

Like previous manifestations of grass-roots, democratic theological experimentation and decentralization in the US, these spiritual movements rely on individual interpretations of the Old Testament and Pentecostal, demonological interpretations of the Act of the Apostles. These movements seek self-help and material success. They also seek to cut ties between individuals and traditional forms of communal, theological, or bureaucratic authority. These vernaculars movements are fast growing. They now represent a quarter of the population of Latin American.

Inspired by Garrard's new book, our panelists will explore the connections between these new religious movements and globalization-neoliberalism. They will probe whether the rise and global spread of these forms of right-wing-conservative-cum-anticolonial Christianity represent a challenge to prevailing theories of colonialism, modernity, and secularization.
Featured Discussants:
Dr. Paola Canova
Associate Professor of Anthropology and
Teresa Lozano Long Institute of Latin American Studies (LLILAS)
The University of Texas at Austin

Dr. Virginia Garrard
Professor, Department of History, and
Faculty Affiliate, Department of Religious Studies, and Teresa Lozano Long Institute of Latin American Studies (LLILAS)
The University of Texas at Austin

Dr. Jennifer Scheper Hughes
Professor, Department of History
University of California, Riverside

Dr. Karina Kosicki Bellotti
Professor, Department of History
Federal University of Paraná (Brazil)

Moderated by:

Dr. Jorge Cañizares-Esguerra
Alice Drysdale Sheffield Professor of History; and
Director, Institute of Historical Studies
The University of Texas at Austin

Introductions by:
Ashley N. Garcia
Graduate Research Assistant, Institute of Historical Studies; and
Doctoral Candidate, Department of History
The University of Texas at Austin
---
The views and opinions expressed in this article or video are those of the individual author(s) or presenter(s) and do not necessarily reflect the policy or views of the editors at Not Even Past, the UT Department of History, the University of Texas at Austin, or the UT System Board of Regents. Not Even Past is an online public history magazine rather than a peer-reviewed academic journal. While we make efforts to ensure that factual information in articles was obtained from reliable sources, Not Even Past is not responsible for any errors or omissions.