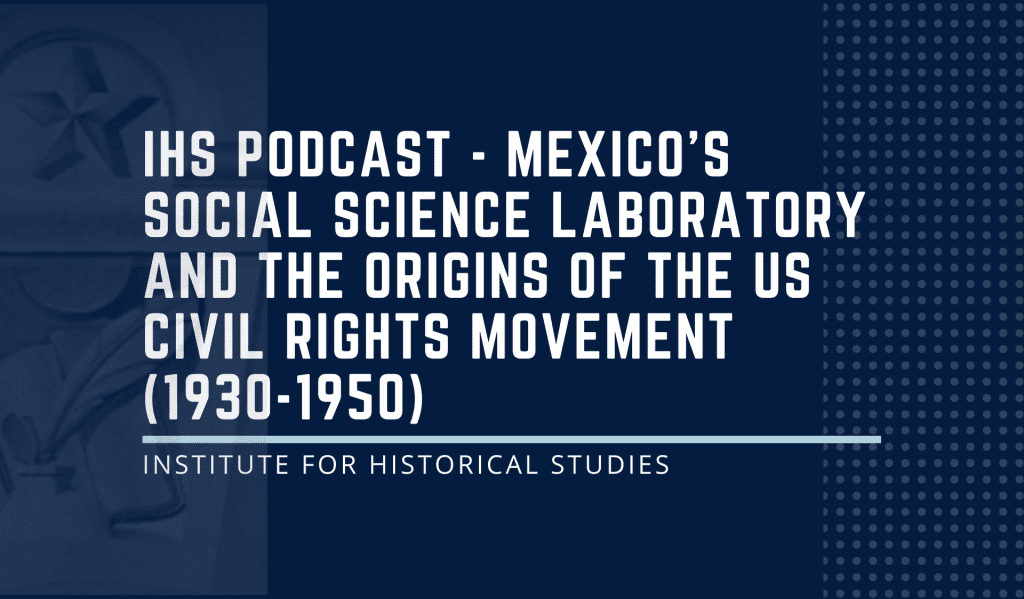 IHS podcasts are a new podcast series initiated by the Institute for Historical Studies' Director, Dr. Jorge Cañizares-Esguerra. They are paired with weekly workshops and are designed to foster discussion between graduate students and distinguished scholars in the field. Along with graduate students and guests, each episode features Dr. Cañizares-Esguerra and Ashley Garcia, a PhD Candidate in History at UT Austin. This podcast is recorded in connection with a roundtable, "Covarrubias' Crossings: Picturing the New Negro and the Making of Modern Mexico," presented by Rodrigo Salido Moulinié (University of Texas at Austin) on October 25th. Details can be found here.
Introduction
In this podcast, we discuss with Ruben Flores the impact of Mexico's revolutionary social science of education and anthropology in the struggles over school segregation in the South and Southwest. Flores's message is simple: Without the history of Mexico there is no understanding of the history of the United States.
Flores demonstrates that the Mexican Revolution created the conditions for state support of psychological and sociological research in public schools. The goal was the "forging" of a new Mexican via the "amalgamation" of cultures. Post-revolutionary Mexico became a 'lab-furnace' in which peoples became "citizens" of a new state that through the manipulation of state rural policies and school policies acculturated people without violence into a normative "Mexicano" citizen. The violence of a fragmented multi-racial and multi-indigenous colonial and nineteenth-century state was to give way to an acculturated-hybrid, "mestizo" nation through the magic of rural institutions such as cultural missions, children schools, and normales.
In the United States, the Mexican experiment mutated into an aspirational ideal of melting; legal post-Plessy segregation kept races and peoples separate, particularly Blacks, Whites, and Hispanics. Flores shows the intense traffic of ideas and peoples between New York and Mexico City with Columbia University in particular where Boas and Dewey trained both Mexicans and Americans. It was in New York city where the individuals who would later become involved in the desegregation of schools in Texas, California, Louisiana, and New Mexico first encountered the Mexican social sciences of education and anthropological acculturation.
The podcast explores the reception of these ideas among African American intellectuals, like DuBois and the members of the Harlem Renaissance. We seek to pinpoint the role of muralism both in the United States and Mexico in conveying the idea of amalgamation and forging. Ultimately there was no substantial difference between Rivera's murales and the US motto "e pluribus unum."
~ Jorge Cañizares-Esguerra
Guests
Dr. Ruben Flores is Associate Professor of history at the University of Rochester. He is an intellectual and cultural historian of the US and Mexico who studies social reform movements and the use of university and government institutions as tools for creating social consensus.
Rodrigo Salido Moulinié is a writer, photographer, and doctoral student in the Department of History at the University of Texas at Austin, where he is a Fulbright-García Robles Scholar and a Contex Doctoral Fellow. His work explores the interconnections between the histories of photography, science, and anthropology.
Hosts
Jorge Cañizares-Esguerra is Alice Drysdale Sheffield Professor of History at the University of Texas at Austin and the Director of the Institute for Historical Studies.
Ashley Garcia is a PhD candidate at the University of Texas at Austin. Her research includes 19th century political history, American communitarianism, and American political thought. Her dissertation, "An American Socialism: The Associationist Movement and Nineteenth Century Political Culture," explores America's most popular utopian socialist program: the Associationist movement of the 19th-century. Ashley has also completed a Portfolio in Museum Studies as her secondary PhD field.
---
The views and opinions expressed in this article or video are those of the individual author(s) or presenter(s) and do not necessarily reflect the policy or views of the editors at Not Even Past, the UT Department of History, the University of Texas at Austin, or the UT System Board of Regents. Not Even Past is an online public history magazine rather than a peer-reviewed academic journal. While we make efforts to ensure that factual information in articles was obtained from reliable sources, Not Even Past is not responsible for any errors or omissions.